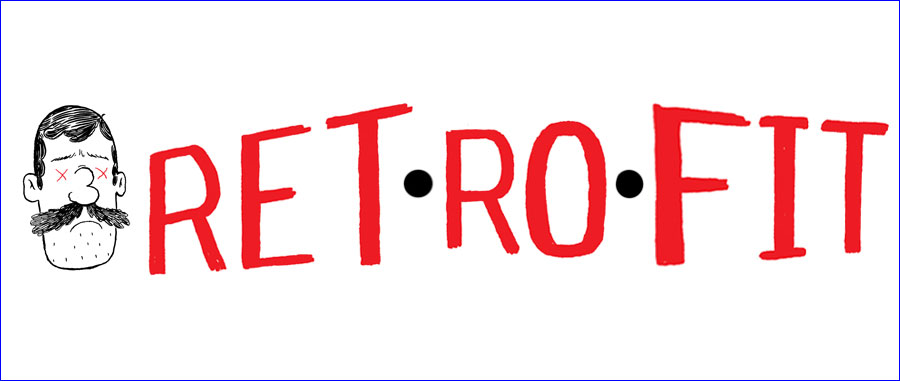 One of the things that's pleased me most about comics this year has been the discovery of small press subscription services. While the Internet makes it easy(-ish) to keep tabs on emerging talents, it's still a pleasure to hold a nicely produced piece of work in your hand.
One micro-publisher that's working along similar lines is Retrofit Comics, launched in 2011 by the prolific cartoonist Box Brown. The successful initial pitch for the project on Kickstarter promised 17 "small, cheap, alternative floppy comics", in an environment where that kind of material was becoming increasingly defined by less affordable and less accessible graphic novels.
Brown added at the time: "Retrofit aims to highlight the importance of the floppy comic to retailers, fans and the industry… The floppy comic allows artists to experiment and work on comics while building an audience. For retailers, the cheap and frequent publication of floppy comics creates an incentive for people to visit the shop on a regular basis… For fans it means more and more frequent content."
Retrofit's first wave of creators included some of brightest lights of alt-comics, including James Kochalka, Joe Decie, Noah Van Sciver, Colleen Frakes, John Martz and Liz Baillie. And when phase one of the project was concluded earlier this year, Brown showed no signs of letting up, announcing a new slate of projects for 2013 and, a few months later, a deal with Big Planet Comics (a small retail chain around Washington DC), under which he'd remain creative and editorial head while they'd take on the financial end and distribution duties.
A quick look at this year's output from Retrofit demonstrates the range and quality of the material. 2013 kicked off with We Will Remain by Andrew White, a 44-page collection of intriguing but accessible short stories, delivered in a variety of styles that epitomises the very best of the alt-comics world. The title story is an eight-page tour-de-force that could only work in comics, telling the history of a sacred site over 14,000 years through a overlapping grid system that recalls Richard McGuire's famous story 'Here', published in Raw back in 1989.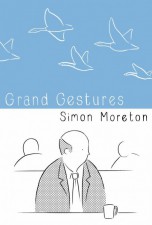 The next issue was Grand Gestures by Simon Moreton. Another 44-pager, this marked the culmination of the stripped-down, evocative style that the UK cartoonist has been perfecting in his self-published comic Smoo. The narrative is almost ambient, as a ghost-like, alienated middle-aged man travels and looks on with envy at the apparent freedom of birds. Moreton's confident illustrative choices give the comic an almost synaesthetic sense of musicality, especially in the beautifully measured progression over the last few pages of the final segment, 'November'.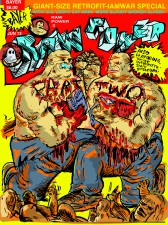 If Simon Moreton's work could be compared to that of Brian Eno, then the sound of Josh Bayer's – in Raw Power 2 – is probably more akin to something that would have been blasted from the stage of CBGB's in the late 70s or early 80s. This is a follow-up to his original Raw Power comic for Retrofit, delivered in a wild expressionistic style that makes each page an onslaught of words and lines. The story, following the release from prison of the Cat Man, a damaged and violent vigilante, is heavy going, but it exerts a grip on the reader as its nastiness unfolds.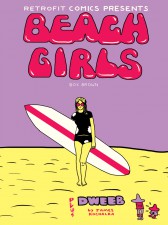 It was nice that amid all his hard work on the line, Box Brown managed to get the chance to shine with Beach Girls, his low-key but highly enjoyable tale of summer at a small beach town. Brown's chunky, confident, tone-heavy cartooning looks a lot simpler on first glance than it really is, and he provides an enjoyable little vignette of life in a small, isolated community reliant on outsiders. (As a bonus, Beach Girls also included 'Dweeb', a related little story by James Kochalka.)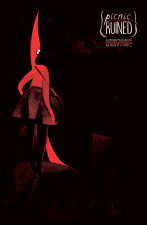 But hang on – let's not allow that musical analogy to escape without being pounded to death. The most recent release at the time of writing – Picnic Ruined, by Russian-born, San Francisco-based illustrator Roman Muradov, swings us firmly back into Belle and Sebastian territory*; a fey, pretentious caricature of the author struggles with questions of art, happiness and the meaning of life during a hallucinatory nocturnal ramble around the city. I probably found this to be the least engaging of the titles so far, but Muradov's illustration is lovely; the pages are an absolute pleasure to let your eyes glide across.
(*I'd actually typed that before thumbing through the comic again and recalling that B&S actually get a name-check…)
With Keep Fresh by Ze Jian Shen having made its debut at Comic Arts Brooklyn in early November and Alhambra by Sophia Foster-Diminio still to come before the end of 2013, the above should give you a taste of the variety and quality of work you can pick up from Retrofit.
Calling Retrofit's titles 'floppies' or 'mini-comics' does them a bit of a disservice; they're substantial and very nicely produced publications. Obviously not every title will float your boat, but it's a great way to take a curated sample of some of the most interesting alternative cartoonists out there. Hats off to Box Brown, and here's to 2014.
Further details of all of these titles and how to purchase them (including international distributors) are available at the Retrofit Comics site.