Surreal music industry send-up Hitsville UK was one of the earliest books to be covered in 'Small Pressganged' so I was particularly pleased when I heard that Adam Cadwell and Marc Ellerby's bold and exciting publishing venture Great Beast had picked up this little gem from the talented creative partnership of John Riordan and Dan Cox. With the first issue now republished via Great Beast it seems a most appropriate time to revisit that review and lure a whole new group of readers into becoming Hitsville groupies. Let's stretch that music biz analogy a little further and call this one a "golden oldie" from the Broken Frontier back catalogue…
The following write-up was first published on Broken Frontier on January 12 2012: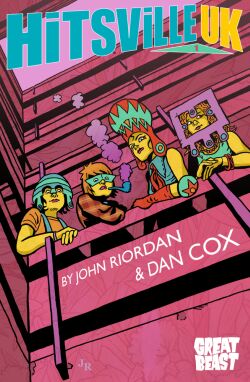 Welcome to Hitsville UK – an independent record label owned by Gerry Corden (a gent who seems somewhat out of his time, yearning for the bands that played down the Legion "You know, good bands. With songs") and his "super-producer" Greg Studio (a cynical music biz sort with an apparently dark past and soundbites like "Music is NOT fun" and "This is the shite we will turn into gold"). Together with their netherworldly accountant Stan Van Horne, these chaps are our guides to a world of the weirdest bands imaginable as they seek to find the acts that will bring Hitsville the success they crave.
And what a glorious grouping of misfits and oddballs those performers are: The Carrie Nation's Revenge, a band who have Scooby-Doo style adventures fighting the undead and the supernatural when not performing; Jack Spatz, a Flash Harry-type cheeky chappie whose musical oeuvre is Spiv Hop; socially awkward country singer Gwillum who bears an uncanny resemblance to a certain ring-obsessed Tolkien character; bespectacled, schoolboy DJ "Haunted By Robots" who appears to have a phantom automaton whispering ominous, revenge-fuelled thoughts in his head, and so many others…
This is the sort of strip that would have been very at home in the pages of the influential, late, great '90s comics/style mag Deadline. Mad as a bag of rabid ferrets, Hitsville UK is Vertigo does Jabberjaw and the Neptunes on acid; less a coherent narrative and more a maniacal, freaky stream-of-consciousness kind of thing. Indeed, there are few, if any, concessions made to providing any level of lucidity in terms of story structure and that's half the fun of the book. It's a furious, frantic procession of reality-challenged protagonists with a unique pull all of its own.
It's just too, too easy to use words like psychedelic and surreal to describe John Riordan's art here. He jumps tracks so often in terms of style and feel to fit each segment's mood that I had to flip back to the credits at one point to double-check that the book didn't have a jam of artists working on it. Hitsville's visuals are an intoxicating and vibrant fusion of Shaky Kane and Brendan McCarthy, imbued with extra life by the gorgeous, kaleidoscopic colouring.
In Hitsville UK, Cox and Riordan have united to create something quite unlike anything else you're likely to read this year. A riotous, frenzied whirlwind of a comic book. I'll be pre-booking my tickets for the next gig!
For more on Hitsville UK check out the Great Beast site here. The first issue is available here priced £3.50 for a print copy and 99p for a digital version here.