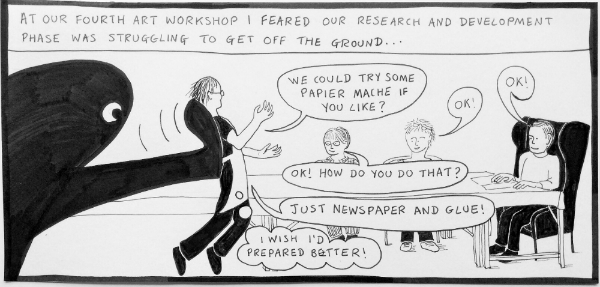 There's something delightfully layered about using as inclusive a medium as comics to talk about the wider subject of inclusivity in the arts, as Eve Turner-Lee does in her self-published The Making of Art Lady. Of late I have perhaps over-quoted Karrie Fransman's similar observations from our BF interview last year but they're particularly relevant here. As Fransman said then "there are very few barriers to entry when it comes to comics – you don't need money to make them or any formal education" and it's that sense of democracy and DIY culture that makes them such an accessible medium for many practitioners.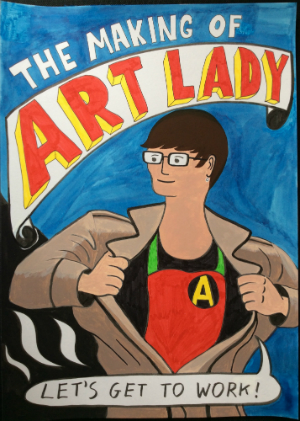 Turner-Lee describes The Making of Art Lady as "my creative response to the research project I created for the MA Inclusive Arts Project at the University of Brighton." That project investigated isolation and loneliness in a sheltered housing scheme through a series group art workshops and one-to-one sessions with seven residents aged over 55. The comic is a fictionalised account of the time she spent with the group but it's based on the reality of those experiences.
Turner-Lee casts herself slightly in the role of traditional colourful comics protagonist in these pages with vague super-heroic visual references for her "Art Lady" project leader persona and a narrative that echoes back to the unsure loner of the classic era of 1960s Marvel comics. Those trappings aside The Making of Art Lady is predominantly a slice-of-life offering that follows the development of the group as both a community and a collective of debutant practitioners. It details their breakthroughs and achievements on the way to working towards a final show but, crucially, also covers the trials and tribulations of the process and those moments of indecision and self-doubt of both participants and organiser.
Throughout the comic's 28 pages Turner-Lee's recurring crises of confidence are embodied by gelatinous shadowy intruders lurking in the panels that she describes as her "fearful fancies". It's an effective visual metaphor that underlines her insecurities but also distils her worries into a tangible presence for the readership to root against and to cement their empathy with her on-page avatar.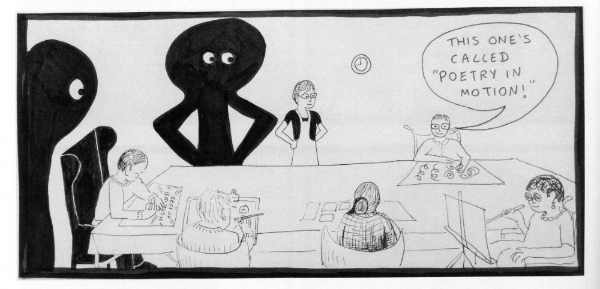 How you view The Making of Art Lady as an example of comics craft will depend on the perspective you approach the comic from. Turner-Lee's art and page layouts are, admittedly often unrefined and she has a tendency to swamp her panels with large amounts of exposition giving her speech balloons a bloated and intrusive character to them. For all its charm as a narrative, ultimately it's often naive in terms of presentation and page structure.
But, returning to those points at the beginning of this review, as a piece of expressive pure DIY culture The Making of Art Lady is an appealing record of how art can be utilised to forge connections between people and practice, and the benefits and positivity of community art projects. It's also one of those rare examples where falling back on the cliché of the super-hero as the dominant driving force of the medium actually works in a playful and endearing manner.
For more on Eve Turner-Lee's work and details on how to obtain a copy of The Making of Art Lady visit her site here. You can also follow her on Twitter here.
For regular updates on all things small press follow Andy Oliver on Twitter here.