It's almost Wednesday, and you know what that means: a fresh load of comics and graphic novels! With so many publications hitting your local comics store or digital storefront, the BF staff is here to lead you through the woods with our weekly staff picks. Satisfaction guaranteed.
Comic of the Week
No Mercy #1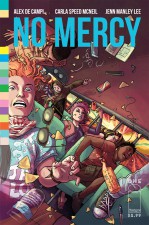 Relentless. Grueling. Visceral. These are all words that ably describe Alex De Campi's (Smoke/Ashes, Sensation Comics, Grindhouse) latest creator-owned series for Image Comics.
This week, De Campi teams up with one of the most influential female artists of the last 20 years in Carla Speed McNeil (Finder, Sensation Comics) to present one of the most gut-wrenchingly satisfying comics of the year. Chronicling the violent, tragic journey of a group of not-so-typical students on their altruistic trip to build schools in rural Mexico, No Mercy definitely lives up to its billing.
De Campi and McNeil are indeed merciless towards their youthful charges, pitting them against an unforgiving Mexican outback, starvation, and a serious lack of adult supervision. Plagued by insecurity, injury, and dwindling supplies, the group's biggest, most dangerous challenge may just come from their inability to work together.
With a vicious pace, razor-sharp character development, and absolutely stunning visuals, No Mercy is unlike anything else on the shelves today. Follow De Campi and McNeil on this harrowing journey into these millennials' heart of darkness at your own peril!
Alex De Campi (W),Carla Speed McNeil (A) • Image Comics, $3.99
– Jason Wilkins
Space Riders #1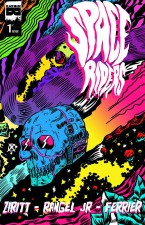 Just one look at artist Alexis Ziritt's website was enough to convince me. His art takes the best of the seventies underground and merges it with a Jack Kirby design sensibility (if Kirby was a death metal rocker, at least).
Written by Fabian Rangel of Doc Unknown fame, Space Riders is about Capitan Peligro and his fearless crew, sailing the cosmos in the Skullship Santa Muerte. They deal harsh justice to the scum of the galaxy while searching for the forbidden truths of the universe!
And while all of you are drumming in front of your LCS to obtain a copy, I can enjoy a brisk walk to the store because I pre-ordered this little gem. Enjoy!
Fabian Rangel (W), Alexis Ziritt (A) • Black Mask Comics, $3.39
– Bart Croonenborghs
UFOlogy #1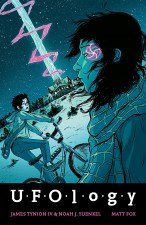 Remember the E.T. movie poster where he and Elliot touch fingers? Elliot's life never would remain the same after experiencing, uhm, first-hand the existence of alien life. So it is for Becky Shaw, the teenage heroine of UFOlogy, a new BOOM! miniseries by James Tynion IV, Noah J. Yuenkel and Matt Fox.
After being touched by an alien, she and her high school friend Malcolm are hurled into a decade-old mystery that somehow involves both of their parents and is deeply rooted in their small Wisconsin town of Mukawgee.
Pulling from their own wonder years in Wisconsin, childhood friends Tynion and Yuenkel have crafted a world that is part E.T., part X-Files: like Mulder and Scully, Becky and Malcolm don't really get along, but they can't deny nor run away from what's right in front of them.
Keep an eye on Matt Fox by the way. He's an artist to watch.
James Tynion IV & Noah J. Yuenkel (W), Matt Fox (A) • BOOM! Studios, $3.99
– Frederik Hautain
2000 AD Prog 1924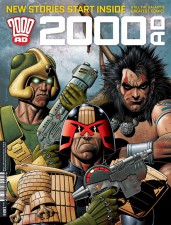 It's that time of the year again (here in the northern hemisphere, anyway) when the Attic warbler pours her throat, the bud is on the bough and the Galaxy's Greatest Comic aims to entice new and lapsed readers with a jump-on issue of fresh Thrills.
Behind a cover by veteran art droid Brian Bolland (which could have appeared at pretty much any time in the past 30 years), the line-up seems primarily designed to appeal to old Squaxx dek Thargo. It includes grizzled veterans Slaine and Strontium Dog (as well as the ever-present Judge Dredd, natch), as well as a throwback to Meg-history in Orlok, Agent of East-Meg One and the return of the alien encounter procedural Grey Area.
Given the comic's range, it's slightly disappointing that Tharg isn't offering us something a bit fresher. However, no-one knows the DNA of 2000 AD better than creators like Pat Mills, John Wagner and Carlos Ezquerra, who have been there since the start, and this promises to be a solid return to what the comic has done best down the years.
Various (W/A) • Rebellion, £2.45
– Tom Murphy
Avengers: Rage of Ultron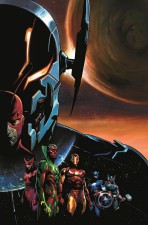 Marvel has assembled some top-tier creators for its intermittent line of original graphic novels, but Avengers: Rage of Ultron is especially noteworthy for reuniting the acclaimed Uncanny X-Force team of Rick Remender and Jerome Opeña. It's also slated to serve as an introduction to Hank Pym's artificially intelligent offspring in advance of his big-screen debut next month.
Rage of Ultron is more than just a simple retelling, though, fitting in with Remender and Opeña's previous continuity-juggling in UXF. This time, Ultron has crash-landed on Titan and turned an entire planet to his whims. Who should enter the fray but Titan-based fan-favorite Starfox?
Remender's name-dropped The Killing Joke when it comes to the self-contained Rage of Ultron's "long-lasting ramifications." Strong words, perhaps, but also just one more reason I'm excited to check this one out this week.
Rick Remender (W), Jerome Opeña (A), Dean White (C) • Marvel Comics, $24.99
– Paul Mirek
Convergence #0
DC has been teasing about the event that will touch all of its heroes on all of its worlds, and on April 1, the story that ties into every DC story ever told begins.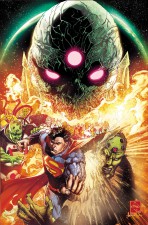 After the events of "Future's End," Brainiac is out of the picture, but his evil apprentice, Tellos is about to unleash an unfathomable mayhem. Brainiac had captured multiple worlds and housed them on Tellos, a living planet. Domes separate the worlds, and those trapped within believe themselves to have only been inside for about a year. The heroes of these worlds are trying to escape but are unaware that they have been captive for various lengths of time, even generations. That is about to change.
Scribes Jeff King and Dan Jurgens are joined by artist Ethan Van Sciber as they bring the history of the DC Universe into one tale where everything and every story matters.
Jeff King, Dan Jurgens (W), Ethan Van Sciver (A) • DC Comics, $4.99
– Karen O'Brien
Weirdworld: Warriors of the Shadow Realm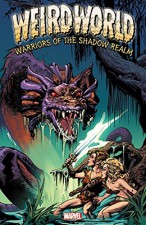 If you could be sure of one thing from Marvel in the 1970s/early '80s it was that a surge of public interest in any pop cultural phenomenon or revival – however fleeting it may have been – would quickly be exploited as the premise for a comic.
Hence we saw a burgeoning horror line, a plethora of martial arts books, comics about stuntmen, characters based on the disco and CB radio crazes, and so on. The fantasy genre was no different and the House of Ideas made a number of largely unsuccessful attempts in both its colour and black and white lines of the time to promote its Weirdworld heroes.
Marvel's latest crossover event Secret Wars is just around the corner, and some of the odder, lesser seen areas of the Marvel Universe are being revisited as a result. With a tie-in series using at least the Weirdworld title in the works, this trade paperback collection of the original adventures of the elvish duo Tyndall and Velanna alongside their belligerent dwarf companion Mud-Butt represents a welcome repackaging of some classic material.
Join creators of the calibre of Doug Moench, Mike Ploog and John Buscema in this compilation of stories from Marvel Super Action, Marvel Premiere, Epic Illustrated and more. A reminder of a classic era of the MU when its vast and sprawling environs embraced more than just the long since played-out sagas of half a dozen or so stale franchises.
Doug Moench (W), Mike Ploog and John Buscema (A) • Marvel Comics, $34.99
– Andy Oliver
Terrorist: Gavrilo Princip, the Assassin who Ignited World War I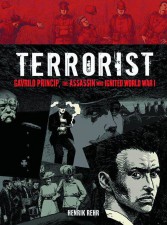 On June 28th 1914, Archduke Franz Ferdinand of Austria-Hungary was murdered. It was the spark that sets the world on fire.
Artist and writer Henrik Rehr has burrowed into the life of the Archduke's assassin, Gavrilo Princip, and created a must-read volume in quite a pile of sublime WWI graphic novels since last year. Henrik Rehr's art merges the best of Joe Sacco with the detailed line work of Bryan Talbot with a healthy dose of classic woodcutting art by way of Frans Masereel. His pages are expertly layout with not a single line out of place.
Give this one a try, you won't regret it. If you have any doubts, check out my review of the Dutch edition in Crossing Borders.
Henrik Rehr (W/A)  Lerner Publishing Group, $11.99
– Bart Croonenborghs
The Age of Selfishness: Ayn Rand, Morality, and the Financial Crisis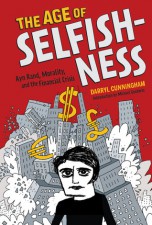 The 2014 Broken Frontier Awards saw British writer/artist Darryl Cunningham triumph in the category for 'Best Writer – Independent/Creator-Owned' for Supercrash: How to Hijack the Global Economy, his long-awaited work of graphic journalism on the reasons behind the global financial collapse of the 2000s.
That original edition of this meticulously researched work was published by the acclaimed Myriad Editions in the UK but now US readers will also get the chance to experience first hand Cunningham's deft ability to make even the most complex and involved issues accessible in comics form. Abrams have retitled the book The Age of Selfishness: Ayn Rand, Morality, and the Financial Crisis for the American market.
The impact of Cunningham's analysis of the origins of the politics of selfishness and the philosophy of Ayn Rand, the reasons behind that financial nosedive of the last decade and who was responsible, and the global state of play post-crash, remains the same however. Astonishing clarity is brought to a notoriously convoluted topic in one of 2014's most important and vital uses of the medium.
Darryl Cunningham (W/A) • Abrams, $17.95
– Andy Oliver