As we recover from two weeks of South London Comic and Zine Fair coverage and the SLCZF weekend we're very grateful to Fantagraphics and MSX: Mangasplaining for giving us an easy day's posting with this exciting announcement. Check out more on upcoming manga titles Search and Destroy and Wandering Cat's Cage below.
Fantagraphics and MSX: Mangasplaining Extra Unveil Two Exciting New Manga Titles
Fantagraphics Books Inc. and MSX: Mangasplaining Extra are thrilled to announce the forthcoming English-language publication of two groundbreaking manga by esteemed creators Atsushi Kaneko and Akane Torikai (respectively). Search and Destroy by Atsushi Kaneko is a three-volume sci-fi punk epic based on Osamu Tezuka's best selling manga Dororo. Wandering Cat's Cage by Akane Torikai is a thought-provoking graphic novel exploring a post-apocalyptic matriarchal society. Both works will captivate readers with their unflinching explorations of the human condition.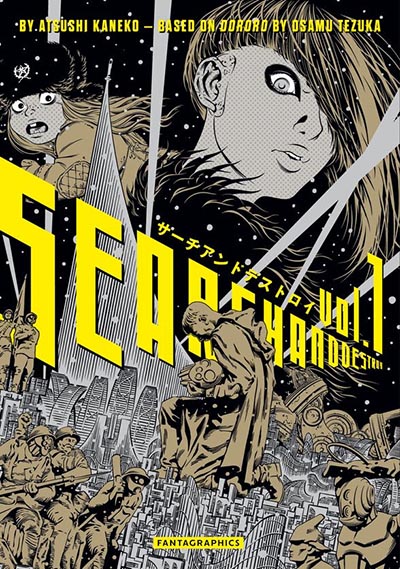 Search and Destroy (not final cover)
Starting this summer, both titles will be serialized digitally on MSX: Mangasplaining Extra's platform (mangasplainingextra.com). Following the digital serialization, Fantagraphics will release the print editions of these remarkable works in 2024. This partnership expands upon the existing collaboration between Fantagraphics and MSX, which currently features Susumu Higa's Okinawa, releasing in print on August 22nd, 2023.
Search and Destroy, crafted by the visionary mind of Atsushi Kaneko (known for Bambi and Her Pink Gun), presents a contemporary reimagining of Osamu Tezuka's Eisner Award-winning manga Dororo. Transplanting the vengeful action from feudal Japan into a dystopian future, where mercenary robots known as "creatures" serve the elites and oppress the desperate masses, Kaneko delivers a visually stunning and timely narrative. With a cast of scrappy heroes and chilling monsters set against a high-contrast backdrop, Search and Destroy confronts the timeless question of humanity's essence. Combining Tezuka's dark yet playful storytelling with Kaneko's eclectic influences—from cartoonists like Daniel Clowes and Charles Burns to filmmakers like David Lynch—this sci-fi masterpiece promises a thrilling and visually rich experience.
Search and Destroy is created by Atsushi Kaneko, based on the work Dororo by Osamu Tezuka. The English edition is translated by Ben Applegate, and will be serialized weekly through the MSX Newsletter, commencing in August 2023. The three-volume softcover edition from Fantagraphics will debut in January 2024, allowing fans to delve into the gripping world Kaneko has meticulously crafted.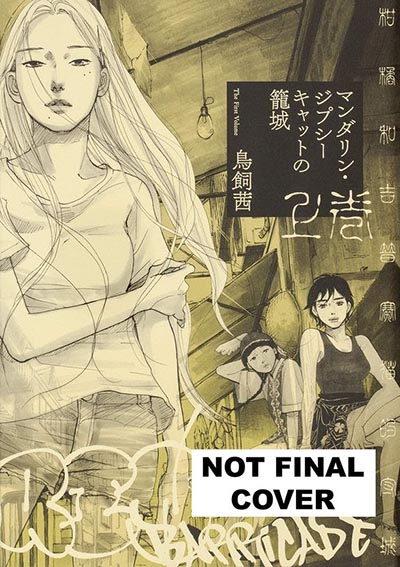 Wandering Cat's Cage (not final cover)
In Wandering Cat's Cage, daring manga creator Akane Torikai presents a thought-provoking exploration of dystopia, sexual freedom, and societal fealty. Torikai's intricate storytelling weaves a series of interconnected stories set in a dystopian world dominated by women. In this society, the body of a man remains an enigma, and a lone man in the slums sells his nights to women for survival. When a runaway human trafficking victim seeks refuge with him, they unwittingly unravel the true nature of their society: the near-extinction of male births. As the matriarchal society grapples with preserving humanity, difficult choices regarding freedom and reproduction emerge. With elements reminiscent of The Handmaid's Tale and a gorgeous naturalistic art style, Torikai's work challenges the notions of forced-birth and control within a society led by women who fiercely resist such measures.
Wandering Cat's Cage is drawn and illustrated by Akane Torikai, author of Sensei's Pious Lie (now available from Kodansha). The English edition of Wandering Cat's Cage is translated by Jocelyne Allen, and will be serialized weekly through the MSX Newsletter, debuting in August 2023. Originally published in two volumes in Japanese, Fantagraphics will release a comprehensive one-volume hardcover graphic novel edition in Fall 2024, allowing readers to immerse themselves fully in Torikai's compelling story.
Fantagraphics and MSX: Mangasplaining Extra's partnership promises to bring innovative and thought-provoking manga works to a wider audience.