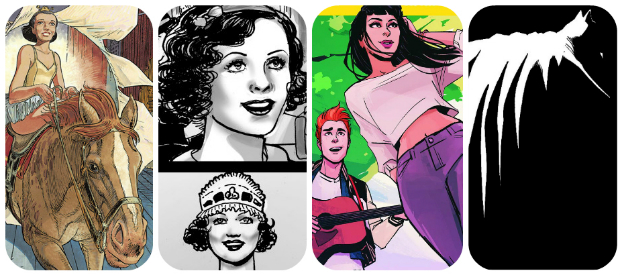 It's nearly Wednesday, and you know what that means: a fresh load of comics and graphic novels! With so many publications hitting your local comics store or digital storefront, the BF staff is here to lead you through the woods with our weekly staff picks. Satisfaction guaranteed!
Comic of the Week
Elsie Harris Picture Palace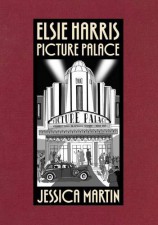 Jessica Martin is a creator whose progress we have been following for the last couple of years at Broken Frontier through her astonishingly rapid rise from minicomic self-publisher to full-fledged graphic novelist. We were the first site to cover her work, and her It Girl and Vivacity comics – examining the lives of film stars Clara Bow and Vivien Leigh – both made my annual 'Ten UK Small Press Comics You Need to Own!' round-ups for 2013 and 2014. You can also read my comprehensive interview with Martin last year at BF here.
Her debut GN Elsie Harris Picture Palace takes Martin's particular area of interest – the classic era of cinema – and expands it into a full-blown 150-page narrative. The book was shortlisted for the 2014 Myriad First Graphic Novel Competition and follows the story of Londoner Elsie Harris as she begins a journey that will take her from Lyons Corner House waitress to 1930s Hollywood. Illustrated in Martin's stunning retro style this is a graphic novel that will have genuine crossover appeal for both traditional and non-traditional comics audiences alike. You can order Elsie Harris Picture Palace online here.
Jessica Martin (W/A) • Miwk Publishing, £17.99
– Andy Oliver 
Magic Whistle Vol. 3 #1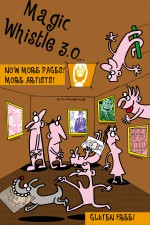 Sam Henderson's long-running compilation of funny drawings, witticisms, and occasional insights gets a fresh coat of paint just in time for the holiday season.
Why? Henderson says it best in a blog apologetic: "I wanted it to continue with #16, but it will continue as Magic Whistle 3.0. It should sell more copies that way."
Rest assured that Henderson's in no danger of selling out, though, as this issue's expanded page count is packed to the gills with high-quality humor content. In addition to the 20-something pages from Henderson, Magic Whistle #1 also features contributions from John Brodowski, Jesse McManus, Leah Wishnia, and more—including a written appreciation of the late Douglas Bagge's tabloid work by his brother, Peter.
Sam Henderson, John Brodowski, Manuel Gomez Burns, Jesse McManus, Ansis Purins, Leah Wishnia (W/A) • Alternative Comics, $5.99
– Paul Mirek
Ringside #1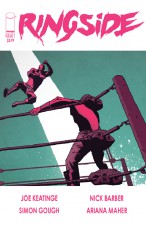 While filled with great reverence for professional wrestling, this new series by no means glorifies the industry or the lifestyles of those involved with it.
Daniel Knossos has been chewed up and spat out by the sport he dedicated his life to. Once know as the Minotaur, Daniel has spent the last few years training up-and-comers in Japan. When he gets word that an old friend needs his help, Daniel returns to the world he had hoped to leave behind him in order to settle the score.
The creative team of Joe Keatinge and Nick Barber clearly know their stuff and have a passion not only for wrestling but also for comics and storytelling. It's a slow burn, but this over-sized first issue is worth your time.
Joe Keatinge (W), Nick Barber (A)  • Image Comics, $3.99
– Tyler Chin-Tanner

The Art of Alfredo Alcala: Secret Teachings of a Comic Book Master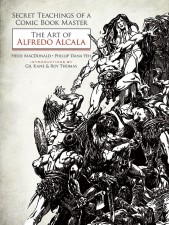 This week, Dover Publications releases a retrospective art book celebrating one of the most accomplished inkers ever to pick up a brush, Filipino artist Alfredo Alcala. As one of a number of artists recruited by Marvel and DC in the 1960s, Alcala and fellow Filipinos Nestor Redondo, Tony DeZuniga, and Alex Nino brought a fresh and exciting perspective to a stagnant North American marketplace.
Over the course of his long career, Alcala would either draw or ink some of the most popular characters of the day, including: Batman, John Constantine, Swamp Thing, Conan, Dracula, the Hulk, and Kamandi. Dover's book features introductions by Roy Thomas and Gil Kane, as well as a wonderful collection of interviews, pointers, and pages of Alcala's rich, atmospheric compositions.
Arriving just in time for the holidays, this beautifully produced and insightful collection is a must-have for not only the legions of Alcala acolytes out there, but also anyone who enjoys peeking behind the veil of the artistic process.
Heidi MacDonald, Phillip Dana Yeh (W), Alfredo Alcala (A) • Dover Publications, $14.95.
– Jason Wilkins
Dark Knight III: The Master Race #1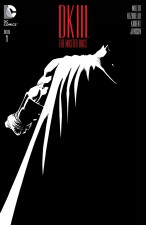 Here's everything you need to know:
Dark Knight III: The Master Race #1 is the first issue in the epic conclusion to The Dark Knight saga.
Here's the rest of the details:
Frank Miller is joined by Brian Azzarello on the writing duties.
Andy Kubert and Klaus Janson are handling the art.
It's an eight-issue series that will be released bi-weekly.
If none of this information has you running for your local comics shop on Wednesday or reaffirming your oh-so-wise decision to pre-order the title months ago, nothing I write here will help you understand the significance of this series.
Enjoy, Bat-fans!
Frank Miller and Brian Azzarello (W), Andy Kubert and Klaus Janson (A) • DC Comics, $5.99
– Karen O'Brien
The Magician's Wife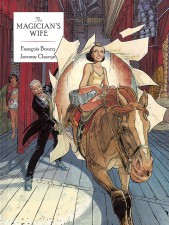 When La Femme du magicien was originally published back in 1986, it won the Prix Alfred at Angoulême and the Grand Prix at Sierre (Switzerland). The English-language version of the book has been out of print for nearly three decades, but those treasure-hunters at Dover Publications are bringing it back for a new generation of readers.
A collaboration between the highly decorated American author Jerome Charyn and French artist François Boucq (a regular collaborator with Alexandro Jodorowsky), The Magician's Wife spans multiple decades and continents to tell the surrealistic tale of the wife of a philandering magician and her struggles with terrifying demons, both real and imaginary.
Dover Publications – and editor Drew Ford specifically – are doing a great job in bringing classic comics material back into print. Check out The Magician's Wife for a lush, mesmerising storytelling experience described by the LA Times as "A dark, menacingly brilliant tale, tinged with the erotic… a kind of film noir between covers, directed by Fellini."
Jerome Charyn (W), François Boucq (A) • Dover Publications, $14.95
– Tom Murphy
Archie #4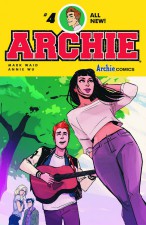 Most traditionalists (myself included) probably engaged in some seriously ostentatious eye-rolling when it was announced that decades of historic numbering would be abandoned in an effort to give Riverdale's most famous son a more relevant new beginning in a rebooted series with an inevitable new #1.
The results can't be argued with, however, as Mark Waid and Fiona Staples have updated the world of Archie Andrews for a new generation of readers without ever losing the intrinsic heart of the character, his sprawling supporting cast and that much-loved hometown.
Archie #4 sees the arrival of new artist Annie Wu for one issue and finally answers the question of just what the "lipstick incident" that broke up Archie and Betty actually was…
Mark Waid (W), Annie Wu (A) • Archie Comics, $3.99
– Andy Oliver