It's almost Wednesday, and you know what that means: a fresh load of comics and graphic novels! With so many publications hitting your local comics store or digital storefront, BF is here to lead you through the woods. These are the books that need to be on your pull list this week.
Comic of the Week
The Woods #1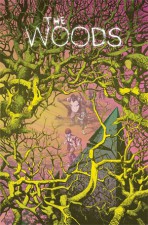 James Tynion IV might be already well known by many for his work on DC's Batman Eternal and Red Hood and the Outlaws but this year he'll be seeping outside the Batman Universe to write his first original,  creator-owned, serialised title The Woods. The new comic evokes a Stephen King-esque eerie small-town horror vibe, alongside a classic teenage coming-of-age type narrative but on a much bigger – in fact intergalactic – scale.
October 16th, 2013 is set to be a completely normal day – until an entire midwestern American Preparatory High School – 437 students, 52 teachers and 24 other staff members – vanishes without warning and without a trace. Unbeknownst to a baffled Earth, light years away on the far edge of the known universe, all 513 people have reappeared in a strange, ancient, alien, wooded wilderness. They have no idea where they are, how they got there or why they are there in the first place… but somehow they must form a new society and order out of the chaos and the danger. And in the woods, everything is dangerous.
James Tynion IV (W), Michael Dialynas (A) • BOOM! Studios, $3.99
– Conori Bell-Bhuiyan
Nailbiter #1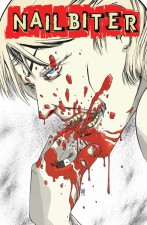 Buckaroo, Oregon has been the birthplace for sixteen of the vilest serial killers in the world. FBI criminal profiler, Charles Kohl, had been determined to figure out why. But just as he began to uncover the truth, Charles went missing. Now his trusted friend and NSA agent, Nicolas Finch, must take on the case, and this means working with the notorious serial killer, Edward "Nailbiter" Warren, to find his friend and uncover the mystery of the small town that seems to breed serial killers.
Writer Joshua Williamson (Ghosted, Captain Midnight), and artist Mike Henderson (Venom, TMNT), worked together previously on the Masks and Mobsters series published digitally through MonkeyBrain Comics. With Nailbiter, they continue their work in the crime genre, but take on a storyline with a more eccentric cast of characters as they look at not just how the actions of a serial killer effects the families of the victims, but also the families of the killers.
Joshua Williamson (W), Mike Henderson (A) • Image Comics, $2.99
– Tyler Chin-Tanner
Detective Comics #31
Draw the blinds against the spring sun, 
silence the radio and sit at your table. Take a slim volume out from a plastic bag and lay it out in front of you. For Detective Comics #31 is here and nothing should distract you from the Batman you-time to be had.
"Oh Lady", – you protest – "how fickle you are! Only last week you were bemoaning the bloody bats round bloody Gotham'. True, but a) I am in a better mood than last week and b) 'Tec #30 was a revelation; a symphony of colour, symbol and meaning all cleverly laid out so to spell 'I AM BATMAN'. So methinks this comic will be sublime.
This is the paragraph where I regurgitate the solicits: At the end of the previous issue we witnessed a woman seemingly burned from the inside out running into Wayne Manor. Bruce is firmly in the frame for this murder. He is also going to run into someone called Sumo.
But, to be honest, none of that matters. Well it does, because Buccellato and Manapul are telling us it matters. But if they decided to make this issue 'Bruce Wayne joins a knitting circle', it would make it so that we could not imagine Batman without his Aran sweater ever again. And that's because this pairing is going to define the Dark Knight in some vital way. Therefore, you should take part in that this Wednesday.
Brian Buccellato (W), Francis Manapul (W/A) • DC Comics, $3.99
– Joe Krawec
Miles Morales Ultimate Spider-Man #1
The last new series of the revamped Ultimate Comics line arrives. Contrary to Ultimate FF and All-New Ultimates, the latest incarnation of the Ultimate Spider-Man series is not so much a new beginning, but a continuation of the story mainstay scribe Brian Michael Bendis has been crafting for well over a decade.
Also returning is artist David Marquez, whose work we recommended earlier this year on Archaia's The Joyners in 3D. Bendis and Marquez have Morales face Peter Parker's greatest enemy in an issue of which they say it will make readers 'flip' and 'scream'. Be warned.
Brian Michael Bendis (W), David Marquez (A) • Marvel Comics, $3.99
– Frederik Hautain
The New 52: Futures End #1
A time-travelling Batman Beyond must stop Brother Eye and his cyborg apocalypse before it ever starts. Though DC Comics' newest weekly series technically kicked off with Free Comic Book Day's #0 issue, Futures End gets off to a proper start this week.
The New 52 debut of Terry McGinnis is exciting in and of itself, but pitting him against Brother Eye is the perfect set up, as it essentially pits him against one of Eye's architects, Batman. Throw in a creative team that includes Brian Azzarello, Jeff Lemire, Keith Giffen, and Dan Jurgens – not to mention the early success of DC's other weekly, Batman Eternal – and this series has the potential to be something great.
Jeff Lemire, Brian Azzarello, Dan Jurgens, Keith Giffen (W), Patrick Zircher (A) • DC Comics, $2.99
– Reid Vanier
Madame Frankenstein #1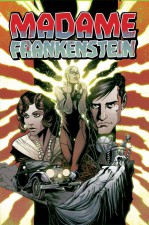 After so many reworkings of the Frankenstein and Pygmalion stories, is there really room for another? Well, when it comes from the pen of writer Jamie S Rich, then the answer is probably yes. The writer of 12 Reasons Why I Love Her and A Boy and a Girl has made his name from finding the truth of human relationships in unusual contexts.
His collaborator on this seven-part series is Megan Levens, an experienced commercial artist who is becoming a breakthrough comics talent. She pitched the idea to Rich when they were working together on Ares & Aphrodite, an upcoming book from Oni Press. With strong, expressive black-and-white art, Madame Frankenstein pitches us back to 1932 (the golden age of Universal monster movies) for a dark blend of love, obsession, death and mad, bad science.
Jamie S. Rich (W), Megan Levens (A) • Image Comics, $2.99
– Tom Murphy
Batman/Superman #10
In a change from its original plans for issue #10 that was to include a Greg Pak-penned story containing a new perspective about the last days of Earth 2's Superman and Batman, DC Comics changed direction and presented an interesting one-shot from writer Jeff Lemire (Justice League Dark) and artist Karl Kerschl. In the issue, the Dark Knight faces a microscopic threat and it's up to Dr. Ray Palmer and Superman to shrink down and neutralized it.
This sci-fi adventure will feature The Atom's first appearance in this volume of Batman/Superman, and I'm excited to see how his unique talents are put to use.
Jeff Lemire (W), Karl Kerschl (A), DC Comics, $3.99
-Karen O'Brien