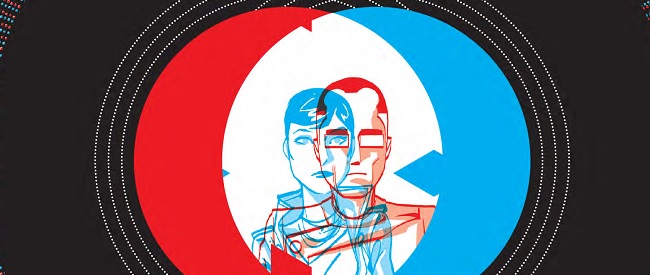 The Joyners brings us family drama, corporate intrigue, and fleshed-out characters in a gorgeous, if not quite groundbreaking, package.
Engineer and tech mogul George Joyner, whose marriage to his wife Sonia is rapidly heading toward a divorce, has just cracked the secret of human flight, finalizing the production model for his company's new flight suit. As if that weren't enough, George also has his eye set on an attractive family therapist, whose boyfriend just happens to work for Joyner's biggest business rival.
This might sound like the start of a typical, if grounded, sci-fi story, but The Joyners quickly proves to be anything but. Blending family drama and the finer points of corporate drudgery into a cohesive whole, the story leaves the reader feeling a lot like a fly on the wall, watching as the characters try (and, only occasionally, succeed) to solve their problems, more often than not at the expense of others. Though accompanied by the familiar accoutrements of flying cars, robotic babysitters, and the like, this comic makes it easy to forget you're reading a sci-fi story at all.
What R. J. Ryan and David Marquez have created is a graphic novel that draws on familiar tales of twenty-first-century corporate America as much as on its closer cousins of the science fiction persuasion. The Joyner family themselves are, in more than a few ways, an upside-down, dysfunctional version of the Jetsons, a decidedly imperfect family in a world of astounding technology. George himself himself, the closest thing this story has to a protagonist, is equal parts technology guru and all-too-human, a revolutionary inventor and creative genius for whom interpersonal relationships aren't exactly a specialty.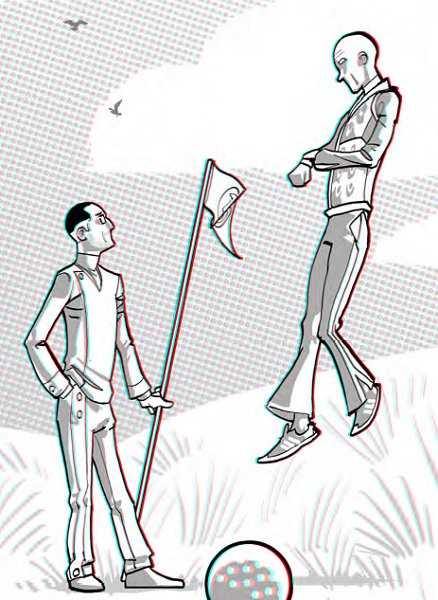 The tone of this comic isn't quite cyberpunk, though it touches on the fringes of related themes from time to time. Instead, this graphic novel offers us a look at a time that is thoroughly polished on the outside, but subject to every bit the same sleaze and corruption as our own. And that's a big part of what makes "science fiction" almost a misnomer when applied to The Joyners; while the setting and the technological concepts leave it firmly embedded in the genre, the story and characters themselves could easily be transferred to another setting entirely with hardly a change, save in the finest details. The Jetsons is one comparison that is hard to leave behind, and it would be surprising if the creators didn't intend us to draw at least a few (delightfully twisted) parallels there.
It would be an oversight to end this review without discussing the art of The Joyners, presented here in anaglyphic 3D. Many people, including myself, have already formed strong negative opinions on the use of 3D, particularly in film, but it is admittedly an entirely different animal when it comes to comics. Marquez's art would be dynamic enough to hold its own in any case, but the 3D gives it a unique quality. While the artwork is not quite detailed enough to give the full feeling of depth seen in 3D films, the outlines do pop off the page in a way that, while probably not setting a standard for 3D comics to come, at least helps to keep things engaging when the writing drags.
As you might have guessed from the above, those looking exclusively for hard sci-fi may want to turn elsewhere. The Joyners, defined most honestly, is a drama in traditional sci-fi trappings, but that isn't a bad thing by any stretch of the imagination. While some of the scenes drag on a bit too long, descending into dialogue that wouldn't be entirely out of place in a soap opera, the story, the art, and the book as a whole just works in a way that's hard to explain. Like Sinclair Lewis' novel Babbitt, this book succeeds in capturing not only the milieu of a (fictional) time and place, but also in sketching a believable portrait of a man caught between family, work, and the world at large.
R. J. Ryan (W), David Marquez (A) • Archaia, February 19, 2014, $29.95