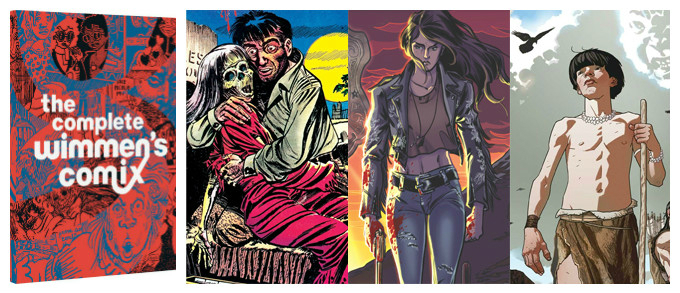 It's nearly Wednesday, and you know what that means: a fresh load of comics and graphic novels! With so many publications hitting your local comics store or digital storefront, the BF staff is here to lead you through the woods with our weekly staff picks. Satisfaction guaranteed!
Comic of the Week
The Complete Wimmen's Comix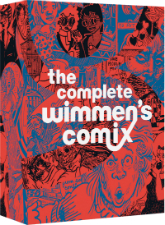 This newly recovered classic from Fantagraphics is particularly timely, given the ongoing discussions of representation in the industry. Wimmen's Comix was the first all-woman comics anthology when it launched in 1972, providing an outlet for some of the most exciting female voices in the country.
Fantagraphics' slipcased set reintroduces long out-of-print work from the likes of Mary Fleener, Phoebe Gloeckner, Carol Tyler, and more. The collection also includes It Ain't Me, Babe, a 1970 precursor to Wimmen's Comix and the first comic book ever produced entirely by women.
This handsome collection is well worth the investment on its own merits, as well as a critical entry in the comics medium's emergence as a space for disenfranchised voices – a transformation which continues to this day. Trina Robbins provides an insightful introduction.
Carol Tyler, Mary Fleener, Dori Seda, Phoebe Gloeckner, et al. (W/A) • Fantagraphics, $100
– Paul Mirek
Bart Simpson #100
With its retro DC 80-Page Giant-influenced cover, Bart Simpson #100 is both a celebration and a send-off in comics form for the adventures of Springfield's most mischievous tearaway. We're told that this will be the last issue of one of the longest-running books in the history of Bongo Comics (for now, anyway), but the Bartman is going out in style. This 48-page issue promises a Homer-induced disaster that threatens the town's existence and some unlikely inter-linked time-travellers from the future.
In an era of constantly and tediously relaunched Big Two books, a comic reaching a centennial issue is a rare event indeed. Bongo have been putting out consistently entertaining yet often overlooked material for well over two decades now, and while it's sad to bid farewell to one of their flagship books, this looks like a fine all-ages romp to finish on!
Ian Boothby & Nathan Kane (W), Nina Matsumoto (A) • Bongo Comics, $4.99
– Andy Oliver 
Haunted Love #1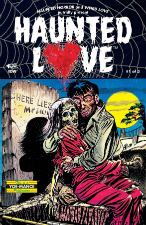 The IDW/Yoe Books collections of lurid archive comics material in Haunted Horror and Weird Love have become one of the great guilty pleasures of many a comics fan's trip to the LCS over the last couple of years.
Sensationalist reprints of forgotten comics from decades past, the stories contained within their pages have boasted such unforgettable titles as 'I Tortured My In-Laws', 'Horror-Go-Round', 'I Joined a Teenage Sex Club!' and 'Bride of Death'.
Continuing in this vein, Haunted Love is a three-issue limited series of reprints that merges the supernatural and romance themes of Haunted Horror and Weird Love. Expect loathsome love stories, putrid passion and corrupted courtships in this latest strangely alluring compilation of '50s ephemera from the IDW/Yoe stable.
Various (W/A) • IDW Publishing/Yoe Books, $4.99
– Andy Oliver 
Wynonna Earp #1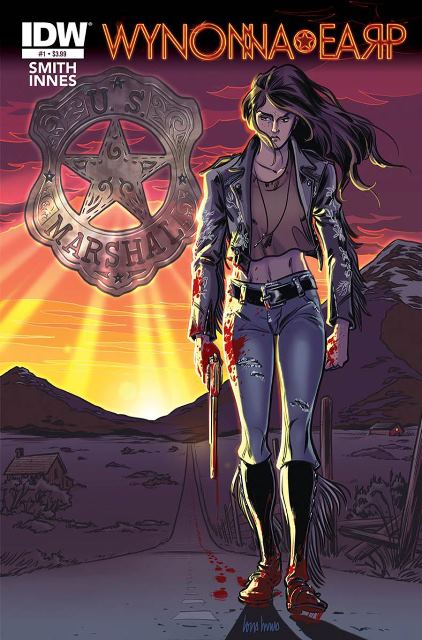 Writer Beau Smith created Wynonna Earp as a comic-book series in 1996. His protagonist is a direct descendant of legendary lawman Wyatt Earp and follows in his footsteps as a U.S. Marshall. Wynonna, however, works for the Black Badge Division, which is primarily tasked with hunting down troublemakers of a supernatural nature. In the original comic, Earp's lead villain was Bobo Del Rey, a demon gangster. And for the new series, Earp will be facing his brother, Mars Del Rey, who runs the black market for high-end body parts required by discerning vampires, zombies, and paranormal entities.
Smith has teamed up with artist Lora Innes (The Dreamer) for this new series from IDW Publishing. He has a knack for adding elements of humor into his action-oriented stories, and with Wynonna Earp, he will also blend horror into the mix. Smith's humor usually cuts the tension in scenes and adds likeability to his characters, and I'd expect the same here. Meanwhile, Innes has a gift for convincing facial expressions, so expect the art to drive the storytelling in this series as much as the dialogue.
(If you like what you see, SyFy channel is debuting a Wynonna Earp television series in April, based on the characters from the original comic series.)
Beau Smith (W), Lora Innes (A) • IDW Publishing, $3.99
– Karen O'Brien
Mezolith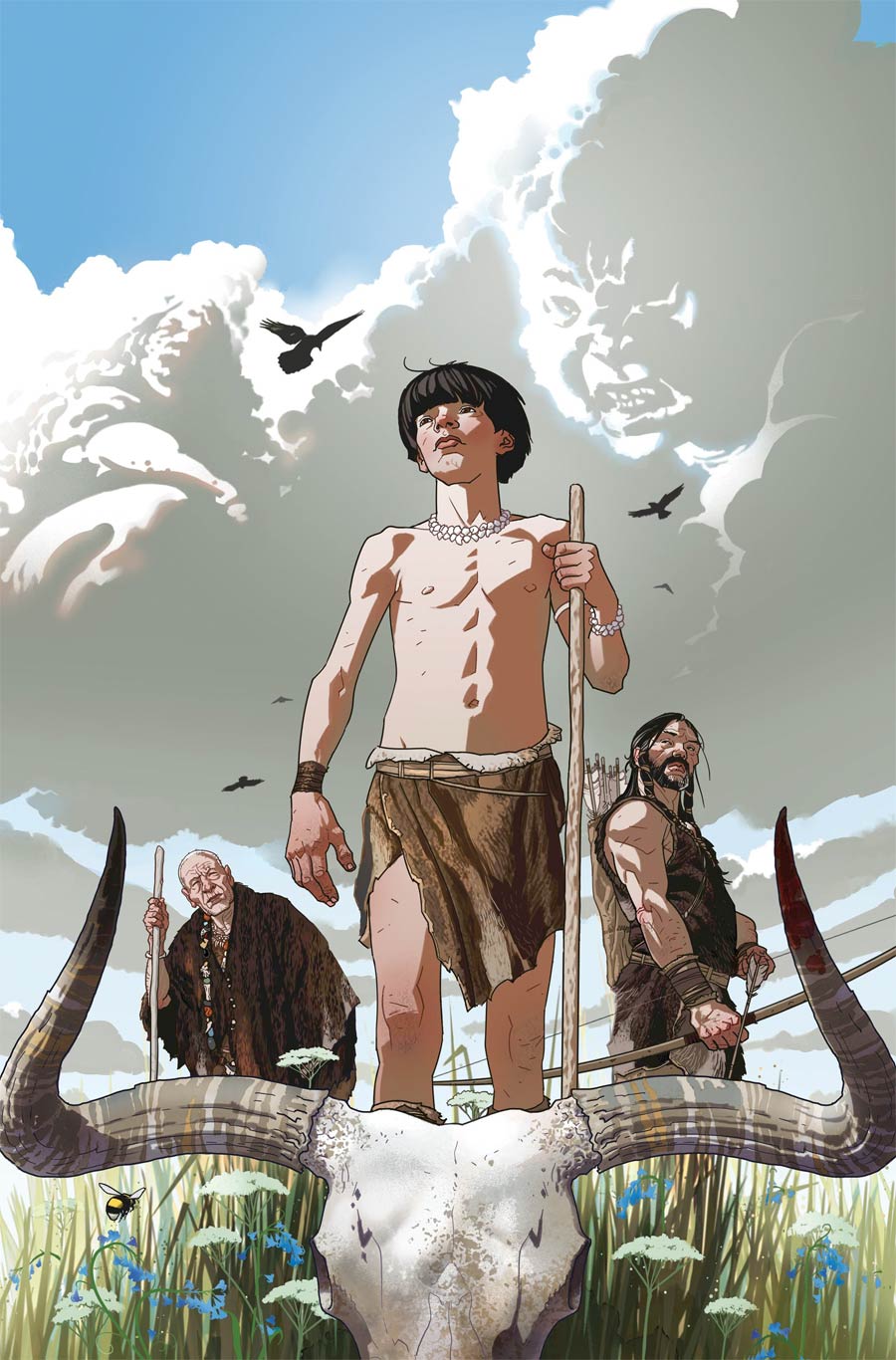 Originally published in the UK in 2010, by Random House, this cinematic action adventure epic takes place 10,000 years ago in ancient Britain. The plot follows an adolescent boy named Poika, of the coastal Kansa, tribe as he embarks on an adventure of self-discovery, searching for his place among his people.
As a renowned performance storyteller of folktales and legends from around the world, writer Ben Haggarty brings a unique perspective to the graphic narrative format, breathing life into a distant past where magic, mystery, and new discoveries permeated every aspect of life.
His artistic collaborator, Adam Brockbank, has honed his considerable talents as a storyboard and concept artist for numerous popular film franchises, such as Harry Potter, X-Men, and Captain America. Brockbank's artistic pedigree serves him extremely well here. He brings a sweeping, widescreen vision to Poika's world, each massive panel packed full of glorious detail set against breathtaking vistas.
A gorgeous book with more action and adventure than you could shake a spear at, it's no wonder Archaia snatched up this critically acclaimed UK gem for publication across the pond.
Ben Haggarty (W), Adam Brockbank (A) • BOOM! Studios/Archaia, $24.99
– Jason Wilkins
The Ark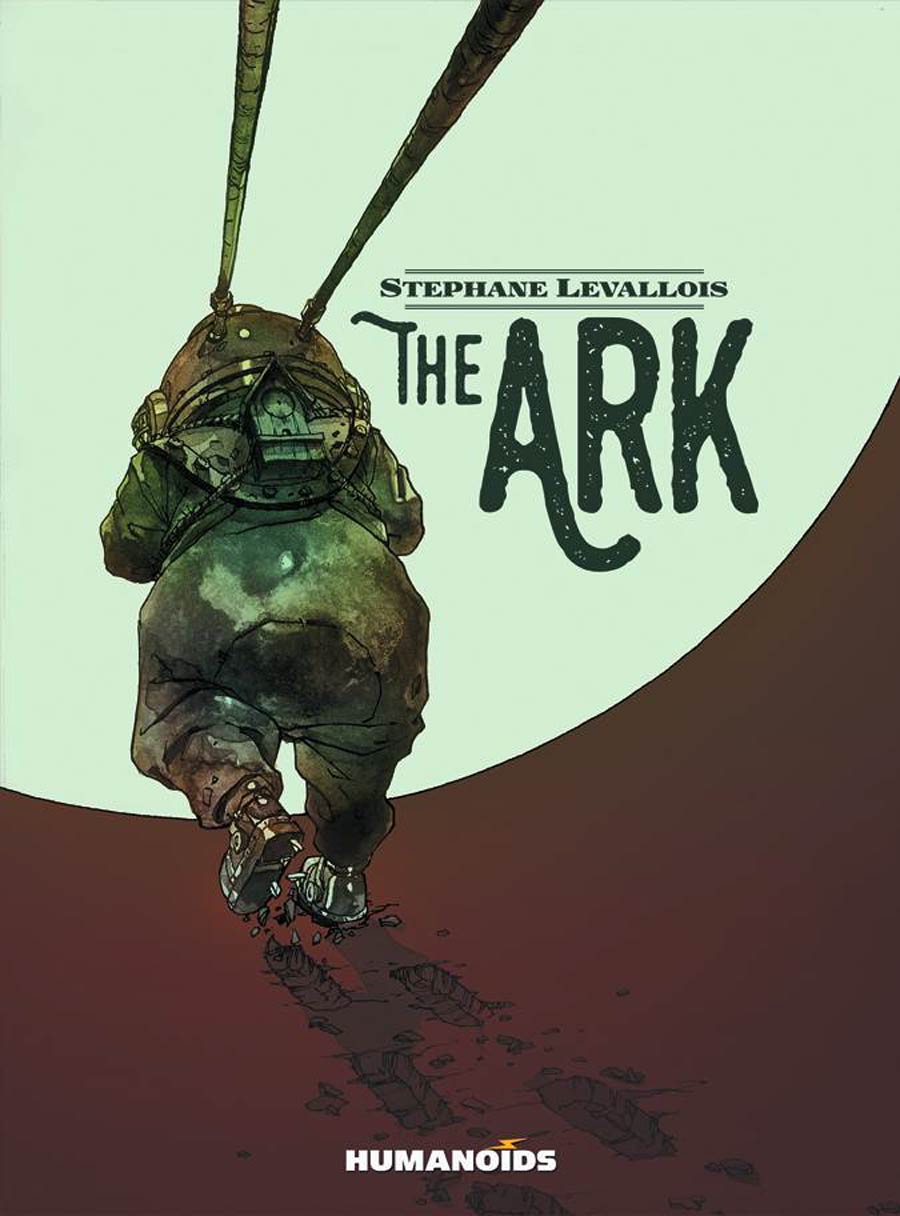 Writer-artist Stéphane Levallois explores the boundaries of the graphic narrative in this near-silent allegorical tale that follows the journey of a lone man in a diving suit dragging an ark across a barren desert wasteland.
Around him Bedouins and soldiers do battle in the sweltering heat, while high above an airship prowls the sky, its crew under the sway of mysterious caged women. All of these disparate threads are woven together into a lyrical tapestry of mystery and wonder that is sure to lure readers in with its high-level graphic vocabulary and haunting visuals.
Supremely well-crafted and alluring, this hypnotic tale of speculative fiction is a must for students of the form – or anyone else who relishes the discovery of new frontiers in graphic storytelling.
Stéphane Levallois (W/A) • Humanoids Publishing, $24.95.
– Jason Wilkins