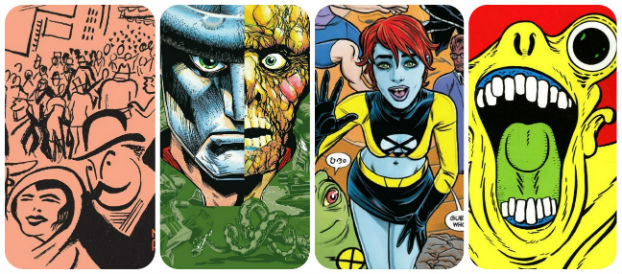 It's Wednesday, and you know what that means: a fresh load of comics and graphic novels! With so many publications hitting your local comics store, comics event or digital storefront, the BF team are here to lead you through the woods with our weekly staff picks. Satisfaction guaranteed!
Comic of the Week
Second Coming #1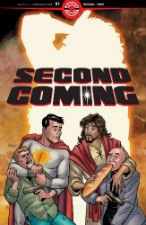 When original publisher Vertigo Comics stepped back from Second Coming a few months ago it seemed an ominous portent for the future of that groundbreaking imprint. But where corporate comics could not deliver, indie publisher Ahoy Comics has stepped in and filled the void.
Mark Russell and Richard Pace's satire hit shelves this week, reaching the audience it deserves and giving us the version of the story the creators intended. Jesus Christ returns to Earth and finds himself roommate to the world's most powerful super-hero Sunstar in this observational comedy. This is your must-buy comic of the week because in books like Prez, The Flintstones and Exit Stage Left: The Snagglepuss Chronicles, Broken Frontier Award-winning Russell has proved himself the finest satirical social commentator in comics since the late Steve Gerber.
Mark Russell (W), Richard Pace (A) • Ahoy Comics, $3.99
– Andy Oliver
Alay-Oop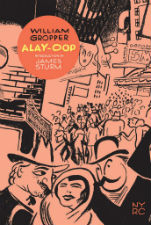 William Gropper's fascinating life could make a graphic biography in itself. The illustrator, newspaper cartoonist and political activist would eventually be blacklisted by the House Un-American Activities Committee. He was also responsible for one of the very first books that could truly be labelled as a graphic novel; Alay-Oop way back in 1930.
Alay-Oop tells the story of a love triangle between two circus acrobats and the scheming individual who comes between them. Presented in silent one-page illustrations (with blank pages facing them) this almost forgotten yet pivotal work is reproduced for a new audience by New York Review Comics. Pick up a bit of comics history!
William Gropper (W/A) • New York Review Comics, $24.95
– Andy Oliver
Death Wish Vol. 1: Best Wishes
Debuting in the short-lived Speed in 1980, the Death Wish strip would go on to be featured in both Tiger and Eagle as the various weekly comics that hosted it merged into each other; a common practice of the era. Featuring racing driver Blake Edmonds, it charted the former handsome racing driver's life after a terrible crash left him horribly disfigured.
Going on to a new life as a risk-taking stuntman who no longer cared about his mortality, Edmonds' story is one of the darker entries in the IPC line of the time. Written by British comics stalwart (and now legendary Twitter presence!) Barrie Tomlinson and drawn by Vanyo, this first volume collects the stories from Speed in another eagerly anticipated Treasury of British Comics album.
Barrie Tomlinson (W), Vanyo (A) • Rebellion/Treasury of British Comics, £14.99
– Andy Oliver
Reaver #1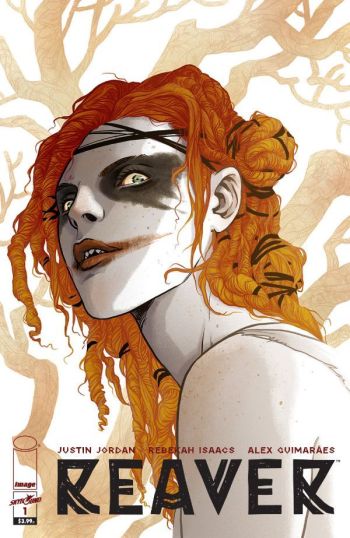 The once-promising continent of Madaras is ripped apart by 200 years of near-constant warfare, and now there's a darkness building in the shadows of the conflict's wake. And this darkness must be stopped at all costs. The Imperials decide that the best option is to fight darkness with darkness and they assemble a team of six prisoners, known as Hell's Half Dozen, to accomplish the impossible. Consisting of a sorcerer and his bodyguard, a traitor, a skin-eater, a serial killer, and the Devil's Son, this team will make the Suicide Squad look like school kids.
Writer Justin Jordan (Luther Strode) teams up with artist Rebekah Isaacs (Buffy: the Vampire Slayer) for a dark fantasy set in a grim new world.
Justin Jordan (W), Rebekah Isaacs (A) • Image Comics/Skybound, $3.99
– Karen O'Brien
Giant-Size X-Statix #1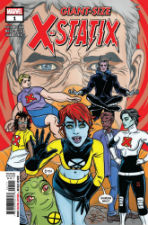 There's very little to get excited about in the Big Two super-hero universes these days but every so often something pops up that reminds us of the days when there were less than 37 Avengers teams, tedious crossover series weren't totally derailing the momentum of the few books still grabbing our imaginations, and the number #1 was a rarity on the cover of super-hero comics not their default setting.
So hurrah for new Milligan and Allred(s) X-Statix this week! The oddball mutant book always did its own thing and was a hugely refreshing X-Men spin-off in its day. The X-celebrities are back, there's a new U-Go-Girl, and we don't really care that the solicitation details are so sparse. It's X-Statix and it will be splendidly weird. Just buy it!
Peter Milligan (W), Michael and Laura Allred (A) Nate Piekos of Blambot Studios (L) • Marvel Comics, $4.99
– Andy Oliver
Unearth #1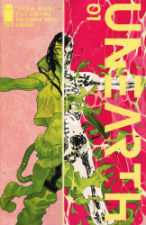 Cullen Bunn has become one of the most reliable go-to sources for strong horror comics fare in recent years and he's joined on this new Image book by co-writer Kyle Strahm and artist Baldemar Rivas for what looks set to be a taut new thriller series.
A flesh-warping disease, a remote village in Mexico, an aggressive ecosystem, and a scientific team who may be out of their depth dealing with a supernatural terror…  the ingredients are all here for an enticingly disturbing journey into the unknown. Definitely one to check out in your LCS this week!
Cullen Bunn & Kyle Strahm (W), Baldemar Rivas (A), Crank! (L) • Image Comics, $3.99
– Andy Oliver
Blubber #5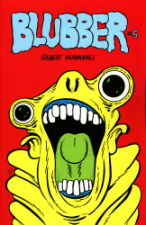 It's been over two years since the last issue of Gilbert Hernandez's peripheral project but a new number hits shelves this week. Our own Tom Murphy has said of this series "We've said it before and we'll say it again: there really is no stopping Gilbert Hernandez … Blubber highlights the amazing longevity and tireless creativity that mark out Gilbert Hernandez as one of our living comics treasures."
We always trust the judgement of as astute a comics commentator as Tom! Expect underground-style bizarreness, totally OTT sex comedy and the odd monster or two in another outrageous Gilbert offering. Outrageous in a good way obviously…
Gilbert Hernandez (W/A) • Fantagraphics Books, $3.99
– Andy Oliver