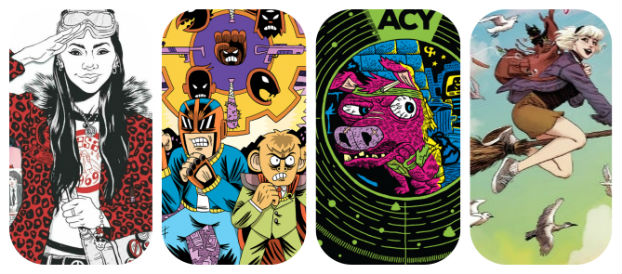 It's nearly Wednesday, and you know what that means: a fresh load of comics and graphic novels! With so many publications hitting your local comics store, comics event or digital storefront, the BF team are here to lead you through the woods with our weekly staff picks. Satisfaction guaranteed!
Comic of the Week
Rad Erwank/Conspiracy Dog
Our 'Comic of the Week' is lots of fun in both content and presentation this week! Published by Alternative Comics, Rad Erwank/Conspiracy Dog (previewed here at Broken Frontier) comes in a flip-book format for all you lovers of physical comics playfulness.
With its slightly underground vibe, the two stories in this indie offering are linked by the involvement of Polish creator Lukasz Kowalczuk in both. He writes Rad Erwank which is described as "an epic story of heroes and villains with mundane problems" and is illustrated by cult comics favourite Jack Teagle. Conspiracy Dog is written by 2000 AD's Kek-W with art from Kowalczuk and features "a gruff, chain-smokin, poop-sniffin' pooch chewing on the trouser-leg of Truth."
If you're looking for a respite from all the big super-hero anniversary hoopla this week this is the perfect antidote!
Lukasz Kowalczuk & Kek-W (W), Lukasz Kowalczuk & Jack Teagle (A) • Alternative Comics, $5.99
– Andy Oliver
Sabrina The Teenage Witch #1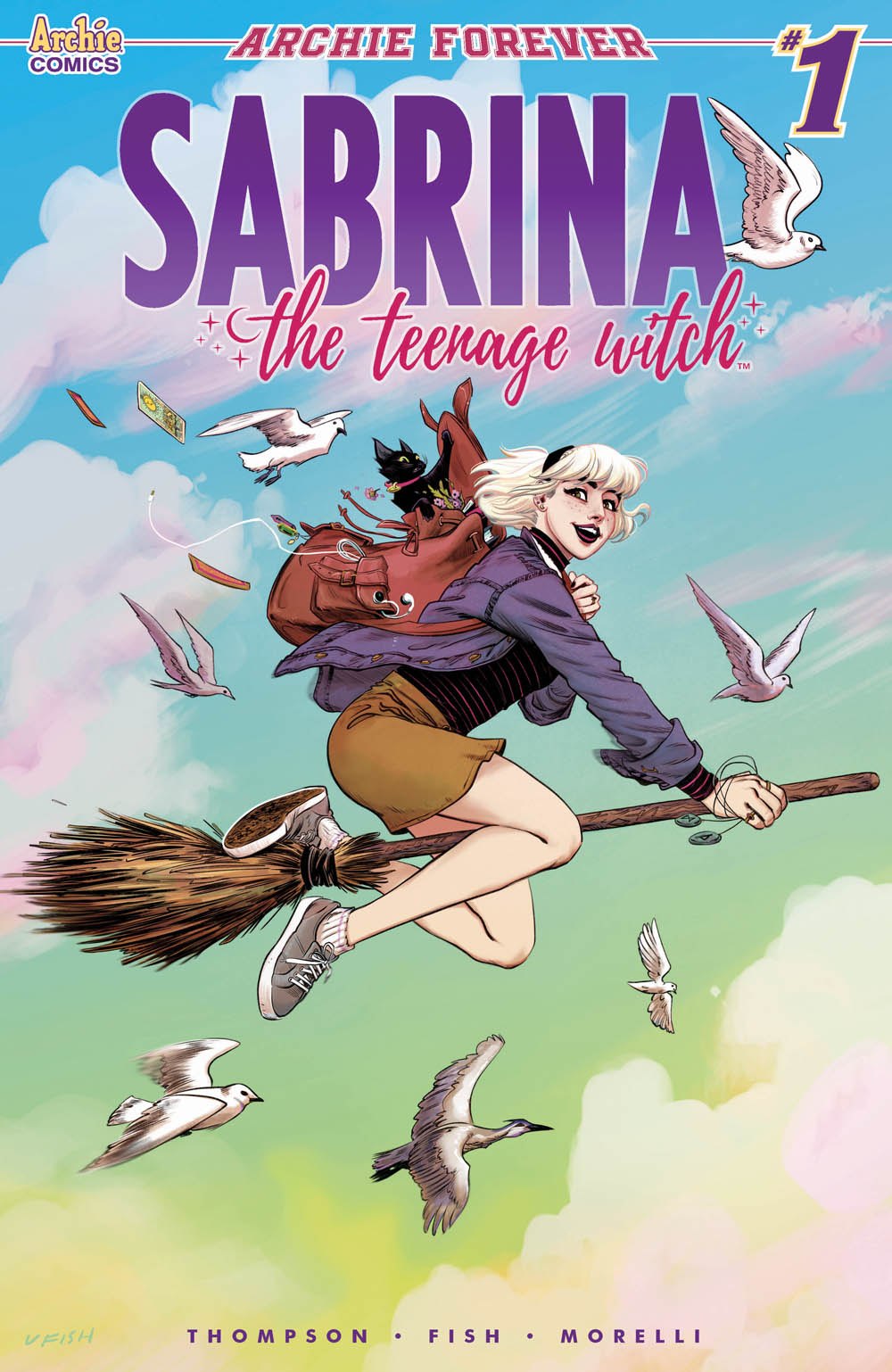 Navigating high school is challenging enough, but when you're also a witch struggling to find a balance between your school work and emerging magical talents, it can be a nightmare. Sabrina has just relocated to Greendale with her aunts (also witches) Hilda and Zelda. Being the new girl in town means she'll have to make the best of "two intriguing love interests, an instant rivalry, a couple of misfits that could turn into BFFs, and trying to save the high school (and maybe the world) from crazy supernatural events."
This brand new series from writer Kelly Thompson (Jem and the Holograms, A-Force) and artist Veronica Fish (Spider-Woman, Archie) handles the horrors of high school with a blend of humor, humanity, and the dash of romance that have come to characterize the revolutionized world of Archie titles. If you haven't checked out an Archie-verse book in a while, you're in for a treat.
Kelly Thompson (W), Veronica Fish (A) • Archie Comics, $3.99
– Karen O'Brien
Detective Comics #1000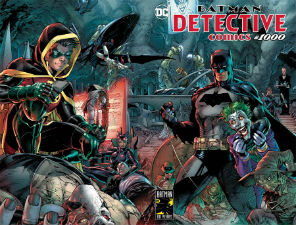 "After 80 years, it's here-the 1,000th issue of DETECTIVE COMICS, the title that literally defines DC! "
That's part of DC's  blurb for this celebratory issue though, as we are all aware, that 1,000th issue landmark sadly doesn't actually mark a thousand issues of continuous numbering thanks to 2011's continuity-shattering New 52 (which we try very hard not to think about too much here at BF Towers!). Numbering, renumbering and renumbering again nonsense aside, though, this is still a moment to reflect on the long publishing history of this venerable title and its importance as the book that gave DC its name. (If you're wondering how Action Comics hit this milestone earlier it's thanks to its Action Comics Weekly scheduling in the late '80s).
We're promised a story that will honour the past, present and future of Batman in these pages and the first appearance of major new player the Arkham Knight. With names like Brian Michael Bendis, Paul Dini, Warren Ellis, Geoff Johns, Tom King, Dennis O'Neil, Peter Tomasi, Doug Mahnke, Neal Adams, Greg Capullo, Kelley Jones, Andy Kubert and many more involved there's lots on offer here for both the current capes and cowls fanbase and the pure nostalgists.
Peter Tomasi et al (W), Doug Mahnke et al (A) • DC Comics, $9.99
– Andy Oliver
Sgt. Fury and His Howling Commandos Epic Collection Vol. 1 – The Howling Commandos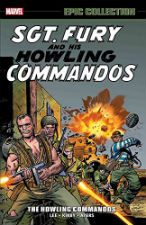 While always in the shadow of DC's grittier and more considered Sgt. Rock in terms of its somewhat sanitised depiction of the realities of warfare, Sgt. Rock and His Howling Commandos is nevertheless still regarded with great fondness by Silver Age fans. With its colourful collection of characters, and that particular brand of 1960s Marvel melodrama on show, it's not hard to see why.
This bumper collection compiles the first 19 issues introducing us to the cast and featuring appearances from such notable Marvel mainstays as Captain America and Bucky, Baron Strucker and Baron Zemo. A chance to explore one of the early Marvel books that is arguably often forgotten in comparison to the super-hero titles of the time.
Stan Lee (W), Jack Kirby & Dick Ayers (A) • Marvel Comics, $39.99
– Andy Oliver
Femme Magnifique: 10 Magnificent Women Who Changed the World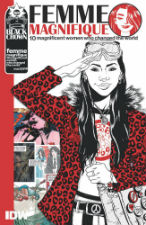 Selected from the Femme Magnifique: 50 Magnificent Women Who Changed the World anthology this one-shot re-presents a fifth of that collection in celebratory biographical shorts that feature women who have "shattered ceilings and continued to empower, educate, and promote equality."
With creators including Cecil Castellucci, Philip Bond, Lucy Knisley, Alisa Kwitney, Jamie Coe and many others tackling inspiring subjects like Harriet Tubman, Kate Bush, Margaret Hamilton and Sally Ride this is either the perfect introduction to the larger volume or a fitting standalone special to tie into Women's History Month.
Anthology – Various creators • IDW Publishing/Black Crown, $4,99
– Andy Oliver