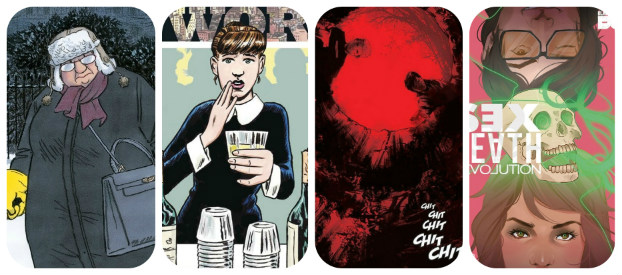 It's nearly Wednesday, and you know what that means: a fresh load of comics and graphic novels! With so many publications hitting your local comics store, comics event or digital storefront, the BF team are here to lead you through the woods with our weekly staff picks. Satisfaction guaranteed!
Comic of the Week
Cassandra Darke
Publishers Jonathan Cape are understandably pushing the fact that Cassandra Darke is the first new Posy Simmonds book in over a decade. From the author of Gemma Bovery and Tamara Drewe that in itself of course marks this out as this week's major comics release. In a year of hugely anticipated comics practice there will be few books quite as eagerly anticipated.
Taking A Christmas Carol as its inspiration it tells the story of the titular and unlikeable Chelsea art dealer whose life disintegrates through both her own folly and the actions of her young ex-lodger. Expect another clever re-imagining of classic literature with a very contemporary twist in a graphic novel that will doubtless be getting plenty of literary supplement/broadsheet coverage in the weeks to come.
Posy Simmonds (W/A) • Jonathan Cape, £16.99
– Andy Oliver
Sex Death Revolution #1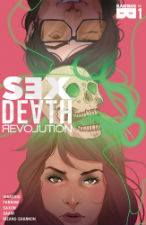 After the roaring success of the Eisner- and GLAAD-nominated Kim & Kim (with artist Eva Cabrera), breakout writing star Magdalene Visaggio is back with the hip young gunslingers at Black Mask Comics for Sex Death Revolution – an urban fantasy collaboration with Becca Farrow (Ladycastle) and colourist Harry Saxon that Visaggio promises will be "the most overtly trans thing [she's] ever written".
In this 52-page opener, we meet Esperanza – a Manhattanite sorceress who's struggling to rebuild her life after the sudden collapse of her cover. However, when those around her start to accuse her of saying and doing terrible things that she's sure never happened, Esperanza finds the story of her life being rewritten, in what looks like a timely tale of identity, memory and transformation.
Magdalene Visaggio (W), Becca Farrow (A), Harry Saxon (C) • Black Mask Comics, $5.99
– Tom Murphy
Through a Life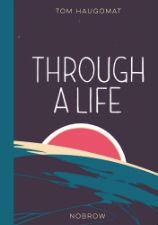 It's been a strong year for Nobrow Press who have published a varied and, dare we say it, eclectic range of titles this year. From the measured slice-of-life of Jon McNaught's Kingdom to the gorgeous folklore of Alexander Utkin's Gamayun Tales through to breakout star Hamish Steele's DeadEndia: The Watcher's Test they've put out must-buy book after must-buy book in 2018.
Next up on their slate of new releases is Tom Haugomat's Through a Life, another beautifully constructed piece of haunting graphic storytelling with carefully chosen colours and considered pacing. It follows the life of Rodney who fulfils his life ambition of becoming an astronaut until one pivotal moment changes his perspective forever. Need we say you can look forward to a full review at BF in the not too distant future?
Tom Haugomat (W/A) • Nobrow Press, £16.99
– Andy Oliver
Live/Work #2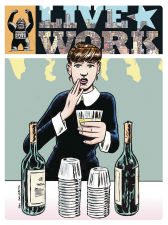 (Read Robin Enrico's full review of Live/Work here at Broken Frontier)
These two issues of Live/Work are the perfect short story of young people at the time of peak chaos and excitement in their lives in New York City. If you are living or have lived that moment you recognize yourself in the trials and tribulations of these aspiring artists. Even if you haven't their persistence in the face of all the obstacles life throws at them makes them endearing, faults and all.
In a year full of strong debuts this is one of the strongest. Palermo is an accomplished cartoonist whose storytelling is confident and effecting. But most impressive is that the reader comes away from these two issues with the same level of empathy for the characters and their world as Palermo has for them.
Pat Palermo (W/A) • Adhouse Books, $6.00
– Robin Enrico 
Wytches: Bad Egg Halloween Special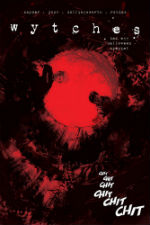 It seems only right to finish up this week's Staff Picks with something seasonal and what could be more fitting than this Wytches one-shot acting as a prequel to volume 2 of the acclaimed Scott Snyder/Jock horror collaboration?
The children of witch hunters and witches respectively, Sebastian and Jackson find themselves on opposing sides of a timeworn divide. Are their destinies already determined by this ancient enmity or can they form a friendship regardless?
You're not going to find a more suitably atmospheric comic on the shelves for Halloween tomorrow! Those in London are reminded that there's a special signing for the season at Gosh! Comics with Jock and Ram V. More details here.
Scott Snyder (W), Jock (A), Matt Hollingsworth (C), Clem Robins (L) • Image Comics, $7.99
– Andy Oliver