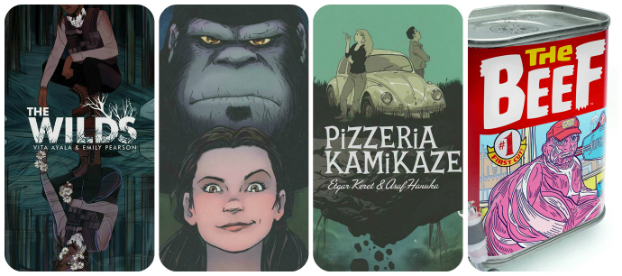 It's nearly Wednesday, and you know what that means: a fresh load of comics and graphic novels! With so many publications hitting your local comics store, comics events or digital storefront, the BF team are here to lead you through the woods with our weekly staff picks. Satisfaction guaranteed!
Comic of the Week
The Beef #1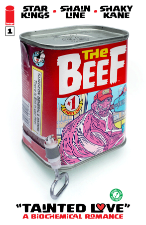 The Shaky Kane Renaissance has been a remarkable thing to behold over the last few years as the work of this great unsung genius of British comics has been reappraised and introduced to new audiences. Particularly welcome last year was Breakdown Press's collection Good News Bible: The Complete Deadline Strips of Shaky Kane which was nominated in our 2017 Broken Frontier Awards.
This week sees the latest Image Comics book to sport Kane's ever striking pop culture-inspired visuals when miniseries The Beef hits shelves. Richard Starkings and Tyler Shainline's tale focuses on meat factory worker Chuck's love for strawberry picker Mary Lynn, and the turn their lives take when the comic's antagonists the Vodino Brothers enter the picture. Expect something far more offbeat than that brief synopsis promises though. The Shaky Kane/John Roshell cover should give you a pretty good idea of what you're going to get from this brilliantly bizarre "biochemical romance"…
Richard Starkings and Tyler Shainline (W), Shaky Kane (A) • Image Comics, $3.99
– Andy Oliver
Rick Veitch's The One #1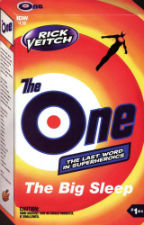 The Pop Arty optical illusion of the cover to this book is unusual enough to pique my interest without already knowing a thing – it looks like a box of washing powder. While the appeal of such retro iconography is arguably timeless, tales of cold war era nuclear conflict are understandably enjoying a period of renaissance and much as the recently re-kindled Watchmen universe is namechecked in the blurb here, Veitch's take on the subject is arguably more radical, whimsically comical, and international in its outlook.
When a power mad billionaire triggers World War III, a lot of the outcomes are unexpected, such as the mysterious disappearance of both the US and USSR's nuclear arsenals, the majority of humanity falling into an unexplained sleep, and the appearance of The One. If you've got love for radical worldviews that were born in the Eighties, check this out for your own wry enjoyment.
Rick Veitch (W/A) • IDW Publishing, $4.99
– Jenny Robins
Motor Girl Omnibus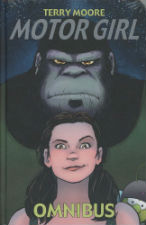 Writer and artist Terry Moore is a master of creating female lead characters possessed of compassionate humanity, searing wit, and shrewd grace under pressure–and he outdid his own high standards with Samantha in Motor Girl. A Marine veteran currently turning wrenches in a desert junkyard, Sam's life changes when a UFO crashes nearby. She repairs the ship to the delight of its diminutive alien occupants and sends them on their way. Unfortunately, an industrialist wants to buy the property and install an anti-UFO weapon–and he's not taking no for an answer.
Sam and her buddy Mike, a 600-lb. gorilla, are determined to defend the aliens. But Sam's already wrestling with her PTSD and the shrapnel in her head that now threatens her life. Sometimes we need to be reminded that the most important relationship we have is with ourselves. With Mike's help, Sam will courageously face her most difficult battle–reality.
The Motor Girl Omnibus collects all ten issues of Terry Moore's unforgettable story and will be available in softcover or hardcover editions. Of course, it includes a gallery of sketch pages and other extras, so even if you have the individual issues, you'll still enjoy the features in the collection. If you didn't get in on ordering the limited edition directly from Moore (mine arrived last week, thanks Terry!) your local comics shop will have it this week. Enjoy!
Terry Moore (W/A) • Abstract Studios, $39.99
– Karen O'Brien
The Wilds #1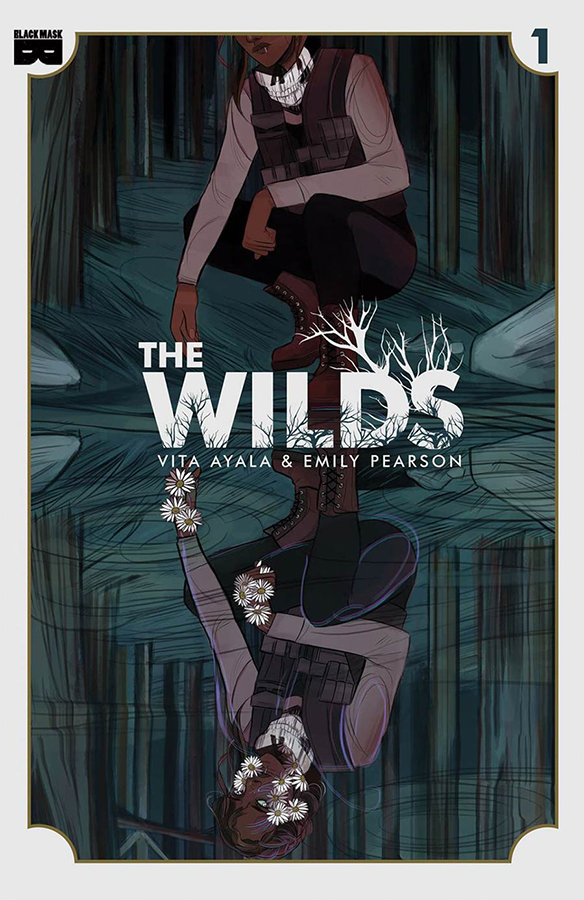 After a cataclysmic plague bonds humans with wild vegetation, those unaffected by the disease huddle together behind closed-off communities. It's a Runner's job to ferry items and people between the settlements as well as forage through the ruins to find usable goods and avoiding contact with the Abominations.
Daisy Walker is the best Runner the Compound has. Dedicated to the job, she always completes her route on time. That is until her lover, another Runner named Heather, goes missing. Desperate to find her, Daisy can no longer speed through the outer territories. She must spend some time searching the wild.
Vita Ayala (W) Emily Pearson (A) Marissa Louise (C) • Black Mask Comics $3.99
– Tyler Chin-Tanner
Pizzeria Kamikaze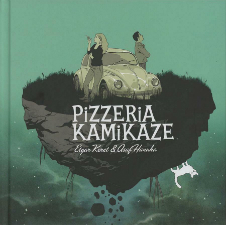 Another relaunch of a cult classic comic, this new full colour hardcover edition of Pizzeria Kamikaze may breath fresh life (pun intended) into the tale of post-suicidal screw ups in a purgatory especially for people that ended their own lives. Israeli writer Etgar Keret (The Seven Good Years) first explored the concept in short story form in 2001, and later as a longer written book.
This inspired both Asaf Hanuka (Eisner winner, The Realist) to adapt the story in his shared series Bipolar with his twin brother Tomer, and also a film inspired by the same story in 2006: Wristcutters: A Love Story starring Patrick Fugit out of Almost Famous. The subject matter could easily be either insensitive or maudlin, but if the reviews are to be believed, and in the best black comedy vein, this book manages to be both offbeat cynical and upliftingly life-affirming
Etgar Keret (W), Asaf Hanuka (A) • BOOM! Studios, $24.99
– Jenny Robins
Juniper Jupiter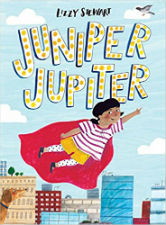 We've been big fans of Lizzy Stewart's slice-of-life comics here at Broken Frontier over the years, including her examination of long summer adolescent days in Dog Walk and the interlocking vignettes of It's Not What You Thought It Would Be. Stewart is probably better known, though, for her children's work with her award-winning There's a Tiger in the Garden receiving much acclaim a couple of years back.
This week sees the debut of her new kids book Juniper Jupiter which tells the story of a young super-hero in search of the one thing missing from her crime-fighting lifestyle – a reliable sidekick! Those wanting to get a signed copy of the book can do so from Lizzy herself this Friday March 2nd at the book's official launch night at Gosh! Comics.
Lizzy Stewart (W/A) Frances Lincoln Children's Books, £11.99
– Andy Oliver