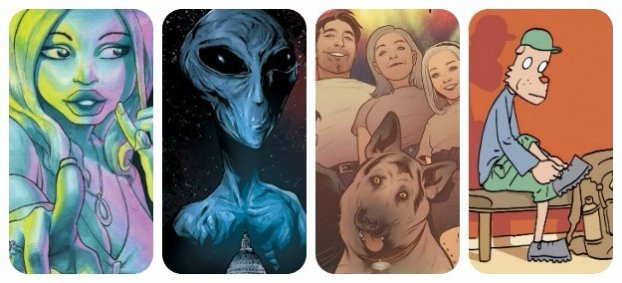 It's nearly Wednesday, and you know what that means: a fresh load of comics and graphic novels! With so many publications hitting your local comics store or digital storefront, the BF team are here to lead you through the woods with our weekly staff picks. Satisfaction guaranteed!
Comic of the Week
Livestock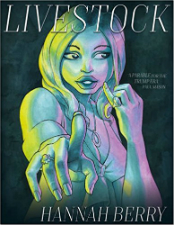 It's been five years since Hannah Berry's last graphic novel Adamtine skulked out of the stygian darkness of the most terrifying recesses of her imagination to chill and disturb us all. This week sees the debut of her long-awaited third book Livestock – a biting social commentary on celebrity culture and the political climate – that looks to be, in a very different way, just as disquieting as its predecessor.
Publisher Cape have teased the book in the following terms: "Excitement is building for this year's Twammies and Clementine Darling is hotly tipped to win Best Female Singer and Political Spokesperson! The government is embarrassed about the leak of a confidential email exchange, but have you heard about Clementine's new beau Devon Ayre? Yes, human cloning appears to have been legalised, but wasn't Devon once together with Clementine's arch rival Coral Jerome? And does it really matter what dubious corporate connections helped get this bill into place while Clementine and Coral are locking horns in a violent feud?"
Full-length Hannah Berry offerings don't come around that often but when they do they are always worth the wait. The book launches at London's Gosh! Comics this Friday 26th May.
Hannah Berry (W/A) • Jonathan Cape, £16.99
– Andy Oliver
On the Camino

Norwegian cartoonist Jason (John Arne Sæterøy) decided to do something special to commemorate his 50th birthday and walked the historic pilgrimage route of the Camino de Santiago (a.k.a. St. James' Way), a pilgrimage trail in Spain that was widely used by Christians during the Middle Ages. On the Camino is the product of the nearly 500-mile 32-day journey and marks a creative departure for the cartoonist—this is an autobiographical tale. Jason (Tell Me Something, If You Steal, and many others) recounts the changing landscape of Spain, the people he met along the way, the hostels where he stayed, and the myriad thoughts that come through solitude and the simple act of putting one foot in front of the other.
Known for his clean, uniform line work and his use of anthropomorphic characters, Jason remains delightfully true to his style. But he will likely surprise longtime fans with the quantity of dialogue and shared thoughts he includes, as the panels are less concerned with showing you the Camino and more concerned with sharing the impressions it made upon the artist.
Jason (W/A) • Fantagraphics Books, $24.99
– Karen O'Brien
Your Black Friend

Nominated for an Eisner award this year for best single story/one-shot, Ben Passmore's Your Black Friend is a necessary contribution to the dialogue around race in the United States done in comic book form. It's described as an open letter from your black friend to you about race, racism, friendship and alienation.
Originally published in December of last year by Silver Sprocket Press, copies are now being distributed in the direct market through Adhouse Books. You can read a preview of it here and order it directly from the publisher here.
Ben Passmore (W/A) • Silver Sprocket/Adhouse Books, $5.00
-Tyler Chin-Tanner
Saucer State #1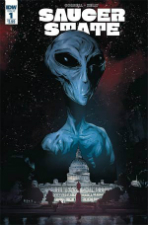 It's always heartening to see publishers picking up critically acclaimed series that were dropped by their contemporaries. Such is the case this week with Saucer State from IDW which continues Paul Cornell and Ryan Kelly's Vertigo series Saucer Country four years after its final instalment.
A combination of political thriller and UFO conspiracies, Saucer State returns us to the world of alien abductee (and President of the United States!) Arcadia Alvarado as she seeks to discover the reality of what happened to her. IDW promise a new reader-friendly jumping-on point for this Hugo Award-nominated series as it returns for a concluding run.
Paul Cornell (W), Ryan Kelly (A) • IDW Publishing, $3.99
– Andy Oliver
The Normals #1

Although not much is known about the specifics of AfterShock Comics' new creator-owned series from Adam Glass (Rough Riders), solicitations promise The Normals questions the very nature of reality and to what lengths one would go to save the world they've come to know and love, even if it happens to be entirely false.
Teamed up with Dennis Calero (X-Men: Noir), Glass promises this is a personal tale that will challenge readers to take a hard look at the world they live in and examine just how far they would go to maintain the status quo. What would you do to save a world you know isn't real? The Normals might just have the answer!
Adam Glass (W), Dennis Calero (A) • AfterShock Comics, $3.99
– Jason Wilkins
Viewpoint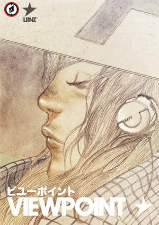 It takes not only talent, but also hours of hard work and personal exploration to execute an artistic idea. However, sometimes you can look at a piece and know immediately that there is something beyond all that, something more artistically innate and instinctual within the artist that causes their work to shine brighter than others.
LRNZ (the nom-de-art of Italian illustrator Lorenzo Ceccotti) is just such an artist, and this week Magnetic Press releases Viewpoint, a compendium of some of his best work over the past decade. Known for his dystopic sci-fi graphic novels Golem and Astrogamma, LRNZ's characteristically expressive style employs a whole host of artistic methods to achieve fantastic effects and inspiring imagery. His work clearly demonstrates that he's not only a talented artist, but that he also strives to break with convention to deliver a fresh viewpoint with his work and take illustration to new levels.
Viewpoint is available in a nice quality hardcover edition that will surely be a great way to experience the work of this contemporary master.
Lorenzo Ceccotti (W/A) • Magnetic Press, $29.99
– Matthew Box
Scooby-Doo Team-Up #26
This may seem an odd choice for a Broken Frontier recommendation but bear with me…
Over the last few years, under the guidance of writer Sholly Fisch, Scooby-Doo Team-Up has recaptured the nostalgic excitement of 1970s mainstream team-up comics with a sense of joy and energy that has been a delight to behold.
It's paired up the crew of the Mystery Machine with classic animated characters like the Flintstones, the Jetsons, Quick Draw McGraw and Secret Squirrel, along with a host of retro angst-free versions of DC super-characters like Superman, Batman, Harley Quinn and the Super Friends. In the latter case it's pretty much proven to be the last recognisable vestige of the pre-2011 DC Universe still in existence and has been all the more welcome for that.
Clever but accessible stories full of Easter Egg references ensure that this is a genuinely all-ages comic that kids and adults can enjoy on different levels. This month sees Scooby and co meet up with the legendary Hong Kong Phooey. If you're looking for a complete story that combines comfort reading with uncomplicated escapism you can't go wrong with Scooby-Doo Team-Up #26 this week.
Sholly Fisch (W), Scott Jeralds (A) • DC Comics, $2.99
– Andy Oliver