After an Ignatz win in 2022 for Outstanding Minicomic and a 2023 nomination for Outstanding Artist, there's far, far more than just a growing buzz around Caroline Cash's PeePee-PooPoo anthology series. With a new issue on the autumnal horizon it's a fitting moment to look at the most recent edition of an ongoing series with such a deliciously dismissive tongue-in-cheek numbering system that it makes Marvel numbering look almost comprehensible in comparison.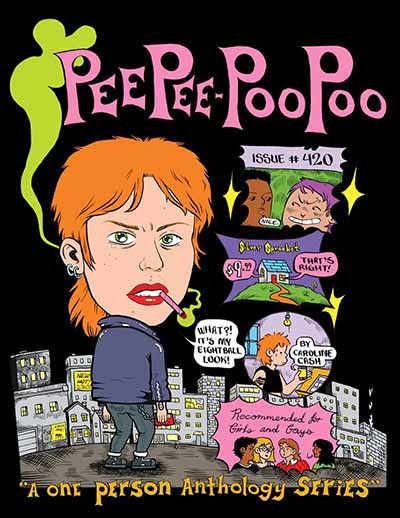 Published by Silver Sprocket, PeePee-PooPoo #420 is the closest you could find to something that embodies the contradiction in terms of "deluxe format DIY culture". It blends the sensibilities of alt, autobio, experimental, underground and genuinely indie comics. But it emerges from that mix as a project with its own distinctive voice. As narrator, Cash imparts slice-of-life truths with a neatly detached and casual air. The minutiae of life writ large; existence's seemingly trivial moments given an oddly beguiling significance.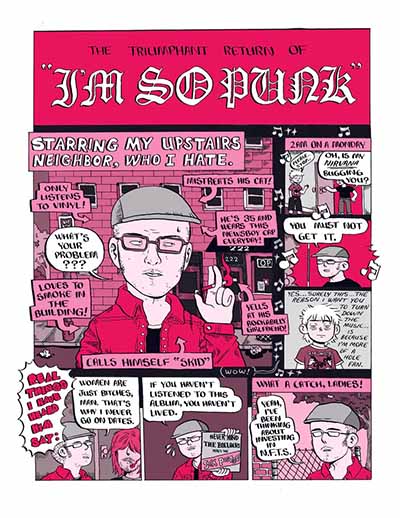 In PeePee-PooPoo #420 oddball characters and familiar scenarios converge. We meet an upstairs apartment neighbour whose affected posing is more pathetic than pretentious in 'The Triumphant Return of I'm So Punk', while a foray into the local area in 'The Walk' sees Cash interacting with an environment/community in ways that are on the one hand pedestrian and unremarkable, and yet on the other quietly profound.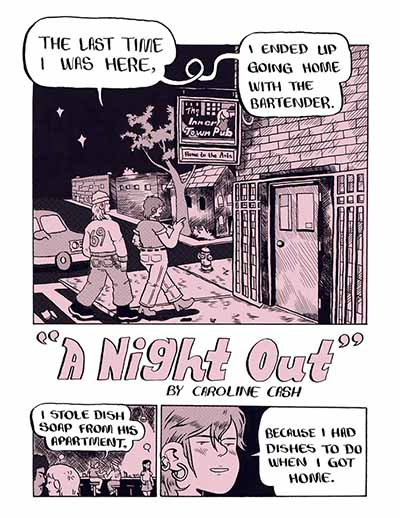 Some of the strips build up to simple and abrupt, yet perfectly timed punchlines like the bar-situated short 'A Night Out'. Others use brutal visual metaphor to communicate the artist's emotional reactions on a more visceral level like 'Tax Season' where the frustrations of filling in tax returns are given extra resonance with the use of suitably angry red colouring.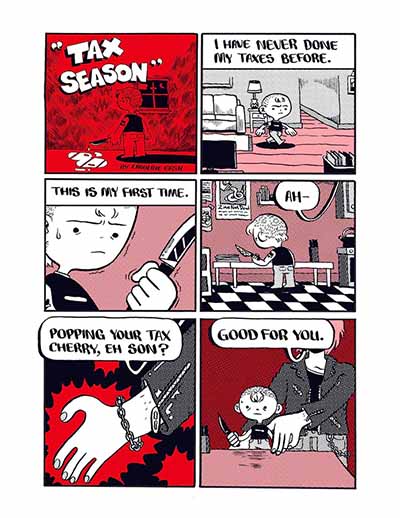 What's especially intriguing about PeePee-PooPoo is that we as readers may consider these seemingly throwaway reflections as speaking to us on a familiar and universal level, but one gets the feeling that Cash's on-page persona wouldn't be particularly interested in any over-analysis or indulgent existential dissection. That in itself is one of the most inviting qualities of this collection, alongside Cash's chameleon-like cartooning that so fluidly shifts from loose realism to exaggerated absurdity to suit the tone and subject matter of each strip.
Caroline Cash (W/A) •  Silver Sprocket, $9.99
Review by Andy Oliver