Alison Bechdel's The Secret to Superhuman Strength is undoubtedly one of the most anticipated releases of 2021. Published in the UK this May by Jonathan Cape, the cover to the UK version of this new Bechdel graphic memoir is revealed below. Don't forget that our friends at Gosh! Comics are already taking orders for an exclusive bookplate edition here.
The incredible ALISON BECHDEL returns this May with THE SECRET TO SUPERHUMAN STRENGTH, an extraordinary, laugh-out-loud chronicle of the conundrums we all grapple with as we seek our true place in the world.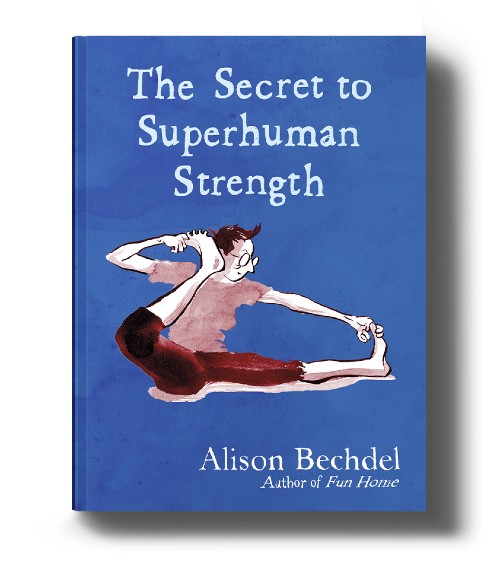 A GUARDIAN AND OBSERVER 'BOOKS OF 2021' PICK
'The long-anticipated return of… one of the most acclaimed authors in the genre, this should be one of the year's highlights' – BOOKSELLER *Graphic Novels Spotlight*
All her life, Alison Bechdel has searched for an elusive secret.
The secret to superhuman strength.
She has looked for it in her favourite books, the lives of her heroes, celibacy, polyamory, activism, therapy, and most obsessively, in her lifelong passion for exercise. Skiing, running, karate, cycling, yoga, weight lifting – you name it, she's tried it. "Oh, to be self-sufficient! Hard as a rock! An island!"
But as she gets older, her body isn't getting any stronger. And in a changing, sometimes overwhelming world, are "cantaloupe-sized guns" all a person needs? Maybe the all-important secret is not where she expected to find it . . .
In this, her third graphic memoir, Alison Bechdel has written a deeply layered, personal story about selfhood, self-sabotage, mortality, addiction, bliss, wonder, and the concerns of a generation. This is an extraordinary, laugh-out-loud chronicle of the conundrums we all grapple with as we seek our true place in the world.
Alison Bechdel is the author of two internationally acclaimed graphic memoirs, Fun Home: A Family Tragicomic and Are You My Mother?: A Comic Drama. Fun Home was a New York Times bestseller, won an Eisner Award and was a finalist for the National Book Critics Circle Award. It was named a Best Book of the 21st Century by the Guardian, was adapted to a Broadway musical which won five Tony Awards and is currently being adapted for cinema.
For twenty-five years, she wrote and drew the comic strip Dykes to Watch Out For, a visual chronicle of modern life – queer and otherwise – which inspired The Bechdel test (a measure of the representation of women in fiction). In 2014 she was named as one of the recipients of the MacArthur 'Genius' Award. She is a feminist and lesbian icon.