With a deliciously morbid wit, debut graphic novelist S.J. Harris delivers a biting satire on the skewed mores of 1930s Britain in Eustace, his dark comedy of manners, published by Jonathan Cape.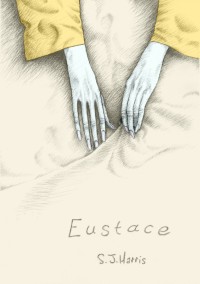 Eustace, our titular protagonist, is a sorry sight indeed. This ailing child is confined to his sickbed with nothing to do all day but stare at the walls and let his imagination run away with him. His days are broken up only by the routine of the chain smoking, ash spilling family cook bringing him another bowl of her gruesomely unappetising soup, or by the infestation of aunties who arrive together every so often like a coven of shrieking harridans to pinch his cheeks, clean his face with spit-drenched hankies, and fuss over him.
This tiresomely predictable lifestyle comes to an abrupt end, however, when Eustace's Uncle Lucien, or "Lucy" as he prefers to be known, arrives with his secretary Peter in tow. Lucy, on the run from the authorities, takes up residence under Eustace's bed and a new dynamic is formed between pallid nephew, errant uncle, and the multitude of ne'er-do-wells that suddenly descend upon his tiny personal space. With his bedroom now a communal arena for Lucien's vast social circle of madams, prostitutes, and gloriously realised reprobates, Eustace's loneliness is turned on its head and events begin to spiral out of control…
Eustace evokes memories of being ill as a child when suddenly your whole world became your bed and the surrounding four walls of your bedroom, and everything outside those environs might as well have been occurring on another planet. Harris provides a surreal yet acutely observed child's eye view of the world in these pages, particularly in the early chapters; that disassociation with the arcane rituals of the adult world and sense of impotence in the face of its injustices.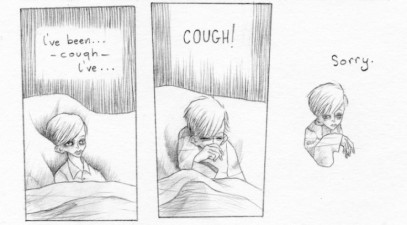 As the book progresses the bizarre elements also begin to expand. There's a degree of embracing the great traditions of British dramatic farce with secretaries lurking under the bed and partygoers ensconced in the wardrobe. Eustace is also a stinging send-up of the hypocrisies of post-Edwardian Britain; an era where "family values" are at the forefront and yet children are to be "seen and not heard" and have closer relationships with their family servants than they do with their own parents.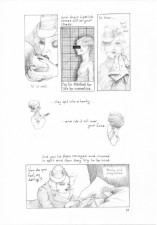 Harris's sketchy and shadow-filled penciled art brings Eustace's world to a macabre and melancholic life. There's something very H.M. Bateman meets Edward Gorey to the visuals. They're morose yet impeccably mannered in construction with Eustace's sly fourth wall-breaking moments being particularly effective. You can read the first chapter for free online here to see more.
Cape has a proven track record when it comes to bringing breakout graphic novels to the U.K. market. From Joff Winterhart's Days of the Bagnold Summer to Ravi Thornton and Andy Hixon's The Tale of Brin & Bent and Minno Marylebone they've introduced us to so many new and exciting comics talents over the last couple of years. In S.J. Harris's Eustace we undoubtedly have yet another conspicuously distinct Cape-discovered storytelling voice to watch out for in the years to come.
S.J. Harris (w/a), Jonathan Cape, £14.99, 7 March 2013