It's pleasing indeed to see such an exciting and distinctive newer talent as Grace Wilson getting the attention their work so readily deserves.
Whenever I have encountered the work of Grace Wilson in the past two things have stood out about her comics. Firstly how keenly observed her slice-of-life narratives are and secondly her remarkable ability to connect so fundamentally with the reader, allowing them see the world on such a fundamentally empathetic level with her on-page avatars. It was evident in Eyes Peeled – her excellent anthology of comics, illustrations and prose reviewed by me here at Broken Frontier – and in shorts like her contributions to Off Life and Mould Map.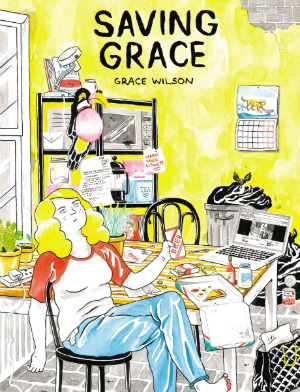 Saving Grace is Wilson's debut graphic novel, published by Jonathan Cape, and one that re-enforces that early promise. Set in a contemporary and very recognisable London, it follows the fortunes of four women in their twenties – Vicky, Maxine, Jess and the book's protagonist Grace – in the wake of their sleazy landlord's ultimatum that within the space of a month they have to leave the house they have been sharing.
Thematically there are echoes of Rachael Smith's House Party here but applied through a perhaps rawer filter; that same feeling of post-university aimlessness, of struggling to discover your place in the world, and that uprooted sensation of loss that follows those pivotal years. The book may follow the fortunes of all four housemates but the central role is reserved for the (presumably at least partially autobiographical) Grace character's on-page journey as she navigates dead-end jobs, the demoralising search for accommodation and an all-pervading air of uncertainty about her future.
Ostensibly Saving Grace is about the housing crisis but its layered topicality ranges far wider than the horrors of dilapidated flats, disturbing potential co-residents, and the appalling and endless ordeal of trying to find a home in a city like London. It's also a book about everyday sexism, casual racism, overworked doctors, police brutality and a collapsing education system; all signifiers of 2016 Britain that Grace and her supporting cast encounter in these pages.
Wilson is a subtle enough narrator, though, to know that no preaching is needed to make her points on any of these subjects; those injustices are left to speak for themselves in all their stark reality without any contrived over-elaboration. This is social commentary delivered with a dry resignation and is all the more recognisable and resonant for it.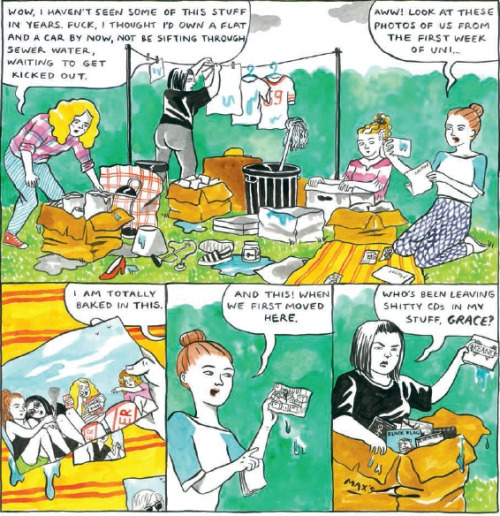 That's not to say that Saving Grace isn't also a very funny graphic novel. The black comedy is painfully sharp in places. Whether that be in the destructive slapstick of the housemates' final blow-out party and its hospital-bound ramifications or the cringe-inducing student panel that Grace is subjected to when applying for a job in a secondary school. Bleakly witty material that, once again, succeeds in ensuring the reader feels every last iota of the main character's embarrassment and awkwardness.
Wilson's art is loose and expressive with a vibrant use of colour to enhance mood and occasionally a conversely more muted palette to provide an altogether more sombre tone. Visual characterisation is a particular delight here with one simple look speaking volumes – whether it be the features of a ranting bigot or the stoically judgemental visages of that aforementioned panel of school children. And, once again, those moments where Wilson abandons panelled storytelling to give us splash page studies of her players are simply sublime as multiple mini-narratives weave in and out of each other.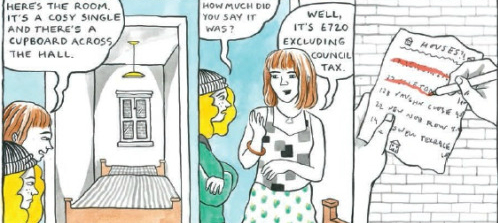 Saving Grace is a story of the cycle of endings and beginnings that make up our existences. Arguably its episodic nature may make it feel a little disjointed and it's certainly not a rigidly structured piece in and of itself. But on another level that's wholly appropriate in its simple and honest reflection of the untidy nature of life itself. When I chose this book as our 'Comic of the Week' earlier this month I said it was representative of "the vibrant health of the UK self-publishing scene in 2016 as yet another small presser is given recognition by a major publisher." It's pleasing indeed to see such an exciting and distinctive newer talent as Grace Wilson getting the attention their work so readily deserves.
Grace Wilson (W/A) • Jonathan Cape, £17.99
Grace Wilson is a guest artist at the next Gosh! Comics and Broken Frontier Drink and Draw on Tuesday 29th November. More details here.