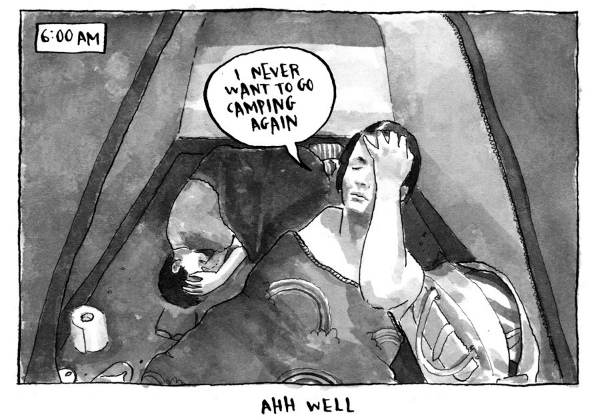 Collecting Sticks is the perfect showcase offering for the singular talents of this most distinctive practitioners of autobio comics.
I will confess to never having heard the term "glamping" before I read Joe Decie's latest offering Collecting Sticks, published this month by Jonathan Cape. If you're similarly ignorant of its meaning it's a conflation of "glamorous" and "camping" – two words whose placement together in the same sentence is so incongruous that it would seem a positive celebration of the phrase "contradiction in terms".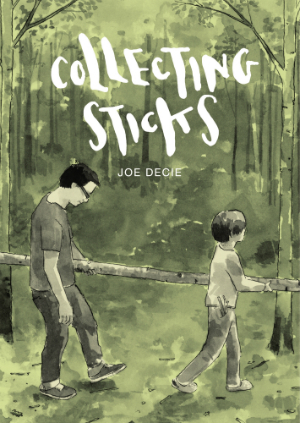 Joe Decie's work has been oft-featured here at Broken Frontier over the years. From The Accidental Salad and The Listening Agent (both published by Blank Slate Books) to self-published work like There's No Bath in this Bathroom and his numerous anthology/micropublisher contributions, his curious fusion of everyday autobiography with the wildest flights of fancy has garnered him consistent critical acclaim.
Collecting Sticks recounts the glamping holiday adventures of the Decie family – Joe, Steph and their Star Wars-loving son Sam – who forego the usual sleeping under canvas for a log cabin in the woods complete with wood-burning fire. Steph approaches the whole trip with a kind of weary stoicism, as if prepared by years of similar experiences while for the ever energetic Sam it's an opportunity to indulge in his passion for sticks and exploration. When it comes to the often hapless Joe, however, the "comforts" of glamping are largely irrelevant – he might as well be lost in the remotest of wildernesses for all the good the concessionary nature of this camping compromise does him…
Don't be fooled if that all sounds like a piece of twee, middle class autobio comics fare because that assumption could not be more wrong. This particular account of a trip to the great outdoors is merely the framework on which Decie hangs his usual hybrid line in careful observational humour and bizarre diversions into the unlikeliest fantasy. What makes Collecting Sticks such a satisfying read for those well versed in Decie's comics is the knowledge that in terms of a wider audience this is his most accessible work to date – a book that pulls his standard meandering and fragmentary humorous vignettes into a fuller narrative
Much of the slice-of-life humour revolves around the family dynamics. Joe and Sam's forays into the surrounding environs leave the reader wondering which of them is actually in charge of the other; while the pragmatic Steph remains their imperturbable guiding force. The three of them embark on this back-to-nature odyssey of discovery punctuated by the constancy of canine excrement and Joe's frequent fixations on his OCD fears ("I might just ring my mum. Get her to pop round, check I've turned the taps off").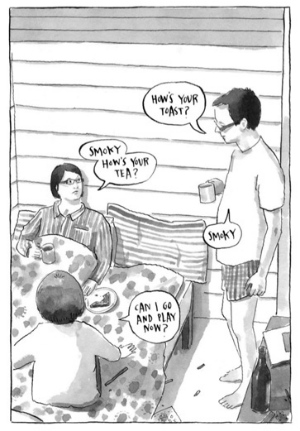 Long-time Decie aficionados, however, will be looking for those tangential sidesteps. And the moments where reality merges into Joe's sudden stream-of-consciousness reveries don't take long to arrive – using Dungeons and Dragons dice for directions in lieu of a satnav; ruminating on the symbiotic life cycle of your favourite stickers and the household items they're stuck on; drifting off into punchline-challenged drinking anecdotes; and working out the odds on the laundry being eaten by a bear are just a few choice examples.
As ever Decie's comic timing is impeccable with his build-up to his near surreal punchlines always quietly inspired in delivery, and his ever self-deprecating commentary (on worrying: "It's easy. I'm an expert at it. You should give it a try. Stop reading this for a bit, and have a go, have a worry") strangely seductive in tone. His ink-wash visual style perfectly complements both of the worlds his comics inhabit. Its mix of realism and melting dreaminess anchoring it in both storytelling realms from the mundane to the fantastical.
There's so much going on here in terms of comics craft that the book rewards repeated readings. I particularly enjoyed the way in which Decie's clever placement of speech balloons so that their full contents are obscured off-panel could be used to denote youthful excitement or his boredom with their subjects. And for Decie fanpersons there's even an Easter Egg continuity reference to one of his past comics to look out for…
It's all too easy to get sucked into Joe Decie's trademark rambling, understated and dismissive on-page persona and allow yourself to become blasé about the confidence in technique and visual storytelling on show in every page of his work. Collecting Sticks is the perfect showcase offering for the singular talents of this most distinctive practitioner of autobio comics.
Joe Decie (W/A) • Jonathan Cape, £16.99
Collecting Sticks launches at London's Gosh! Comics this Thursday April 13th. Details on the Gosh site here.