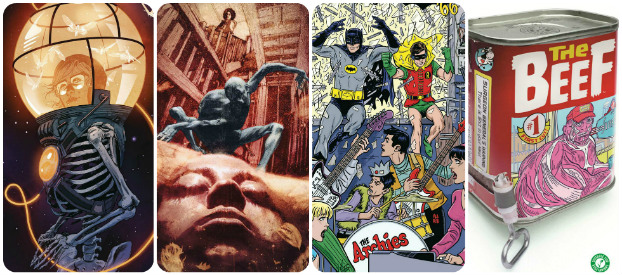 It's nearly Wednesday, and you know what that means: a fresh load of comics and graphic novels! With so many publications hitting your local comics store, comics events or digital storefront, the BF team are here to lead you through the woods with our weekly staff picks. Satisfaction guaranteed!
Comic of the Week
Dry County #5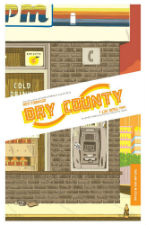 Our time in the crime-ridden Dry County of Florida has been brief yet memorable. Rich Tommaso's latest crime yarn has been spun out of equal lengths pulp mystery, self-hating underground comix and classic strip cartooning, something which has no doubt helped him land a gig illustrating the Allreds' upcoming new Dick Tracy series.
Pick up the final part of Dry County this week and you too can be one of those smug gits who crows about having gotten into him before he got famous! You might also be tempted to purchase a copy because it's a marvellously well-told mystery with killer art, including some easy-on-the-eye Miami Vice pastels.
Rich Tommaso (W/A) • Image Comics, $3.99
– Tom Baker
Archie Meets Batman '66 #1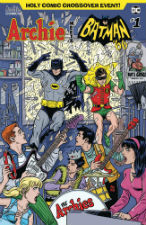 The growing list of successful Batman '66 team-ups continues this week with the release of Archie Meets Batman '66 #1. A battle in Gotham carries over into Riverdale as Mr. Lodge becomes public enemy #1 for the Dynmaic Duo.
Through his work on Batman '66 #1-30 and Batman '66 Meets The Man from U.N.C.L.E., writer Jeff Parker has thorough command of these characters and when joined by Michael Moreci (Curse, Roche Limit, Burning Fields) we can expect the story to move fast and work its way through enjoyable twists and turns we don't see coming.
Longtime Archie writer/artist Dan Parent has been working on Archie titles since he graduated from The Kubert School, and his distinctive style brings a sense of fun to the Caped Crusader, Robin, Batgirl, and the Bat Rogues Gallery while transporting them seamlessly from Gotham into Riverdale. I'm looking forward to his collaboration with J. Bone (Super Friends, The Rocketeer) on this series.
Jeff Parker, Michael Moreci (W), Dan Parent, J. Bone (A), Archie Comics/DC Comics, $3.99
– Karen O'Brien
Euthanauts #1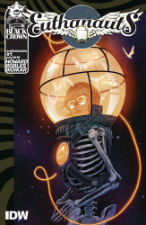 Space travel once represented an expansion of human life, of civilisation reaching past the natural border of our Earth's atmosphere to the stars. Nowadays a trip to the inky beyond is more like a suicide mission, literally in the mooted recent missions to Mars where volunteers are being recruited on the express knowledge that they won't be coming back.
This elision of the great beyond and, well, the Great Beyond is the launch pad for Tini Howard and Nick Robles's conceptually-ambitious Euthanauts, where terminal patients and the morbidly curious explore the final frontiers inner and outer space.
Tini Howard (W) Nick Robles (A) • IDW/Black Crown, $3.99
– Tom Baker
Infidel #5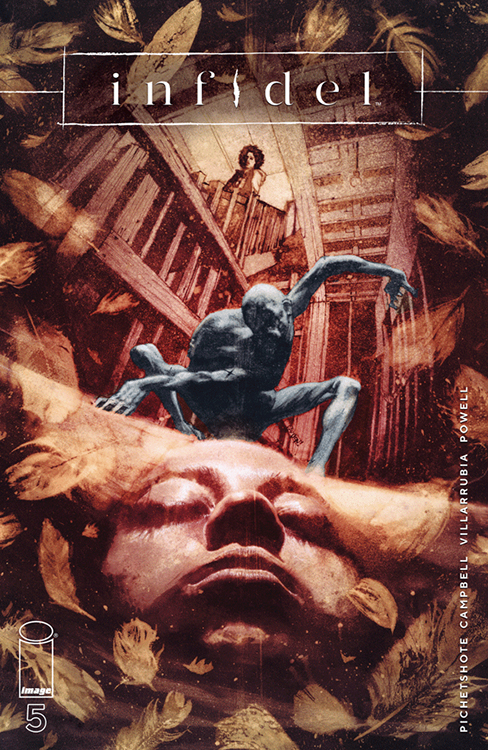 This year's best horror series concludes in spectacular fashion with an over-sized issue that wraps up the mystery behind this modern, haunted house tale!
Medina returns to the scene of the crime to find clues that would exonerate her friend Aisha. But first she must unlock the mystery behind the previous tenants, the racial tensions that fueled their actions, and the supernatural elements they unleashed on the building!
Ships with a variant cover by Jeff Lemire.
Pornsak Pichetshote (W), Aaron Campbell (A), José Villarubia (C), Jeff Powell (L) • Image Comics, $3.99
– Tyler Chin-Tanner
The Beef: "Tainted Love" A Biochemical Romance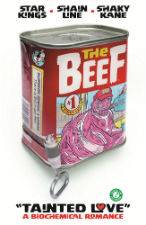 One of this year's oddest, most disturbing and yet most fun limited series is collected this week by Image Comics as Richard Starkings, Tyler Shainline and the incomparable Shaky Kane's The Beef is released in trade paperback format.
Mild-mannered slaughterhouse labourer Chuck Carter is transformed into the grotesque titular hero as he defends the woman he loves and takes on his tormentors the Vodino brothers, grandchildren of the small town's bigoted factory owner.
Parodying the standards of super-hero comics in combination with uncompromising social commentary, The Beef is a perfect showcase for the talents of Kane. You can read a full review of the first issue by our Ally Russell here at BF.
Richard Starkings and Tyler Shainline (W), Shaky Kane (A) • Image Comics, $3.99
– Andy Oliver