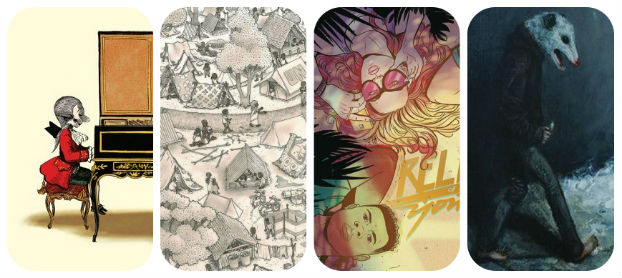 It's nearly Wednesday, and you know what that means: a fresh load of comics and graphic novels! With so many publications hitting your local comics store, comics event or digital storefront, the BF team are here to lead you through the woods with our weekly staff picks. Satisfaction guaranteed!
Comic of the Week
Vanni: A Family's Struggle Through the Sri Lankan Conflict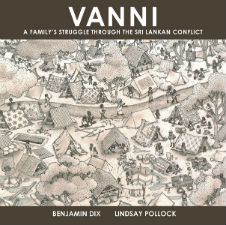 The excellent work of PositiveNegatives has been showcased before here at Broken Frontier including zoom comic North Star Fading which featured art by Broken Frontier regular Karrie Fransman. They produce comics and animation about "contemporary social and humanitarian issues, including conflict, racism, migration and asylum." You can read more of their relevant comics offerings on their site here. It's strong practice that once more underlines what a powerful medium comics is for communicating personal experience in the most connective and empathetic way.
Their first full-length graphic novel is written by founder Benjamin Dix and is based on survivor accounts of the Sri Lankan civil war and his own time working in the country. Illustrated by Lindsay Pollock, this intensively researched book has been years in the making. It follows Antoni and his family in Sri Lanka as they deal with the devastation around them and seek refuge from the turmoil that has engulfed their country. It's one that we'll be reviewing here at Broken Frontier in the next few weeks but in the meantime we're taking this opportunity to name it our 'Comic of the Week' as it hits bookstore shelves!
Benjamin Dix (W), Lindsay Pollock (A) • New Internationalist, £16.99
– Andy Oliver
Relics of Youth #1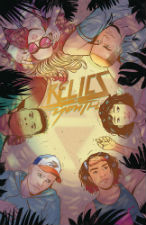 New monthly indie title Relics of Youth from Vault Comics looks to provide a grounded but smart teen ensemble supernatural thriller. With the colour palette of a tropical island setting the mood some darker themes are there to be explored.
Six socially isolated young people are drawn together by mysterious dreams of a Caribbean island and glowing tattoos which only they can see. The story provides plenty of scope for interpersonal drama as characters used to being loners need to bond together, as well as fantastical intrigue aplenty as they journey to this island and discover its secrets.
Matt Nicholas & Chad Rebmann (W), Skylar Patridge (A) • Vault Comics, $3.99
– Jenny Robins
Guts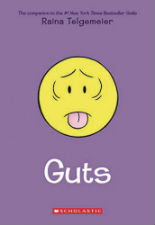 There are a number of things that make Raina Telgemeier's work accessible not just to her target audience, but to adults as well. High on that list is her unflinching honesty, followed by her ability to make even the quotidian resonate so powerfully in the lives of those who recognise their own past in her experiences. Guts follows in the footsteps of Smile, Sisters, Drama and Ghosts, documenting another chapter in the life of young Raina, this time as she battles a stomach bug.
What starts off as an amusing tale slowly turns into a profound meditation on dealing with adolescence, peer pressure and the challenges of navigating the cusp of adulthood. It's going to be another winner.
Raina Telgemeier (W/A) • Graphix, $24.99
– Lindsay Pereira
Sleepwalking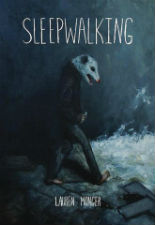 Originally printed back in 2015 by Space Face Books, this week sees Lauren Monger's 2015 comic Sleepwalking reprinted by those fine purveyors of the very best of indie, alt and experimental sequential art, Silver Sprocket.
Behind that memorable and rather unsettling cover lies the story of Clementine and her outsider friends who deal with "the perils of ex-partner drama, too-loud house shows, and the overwhelming ennui that is their twenties." The added twist is that the characters are possums, raccoons, badgers and squirrels. Broken Frontier Award-nominated Silver Sprocket's output is always worth your time if you're looking for something a little different from your New Comic Book Day!
Lauren Monger (W/A) • Silver Sprocket, $5.00
– Andy Oliver
Mozart in Paris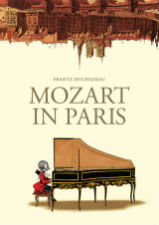 Over the last couple of weeks of Broken Frontier Staff Picks we've covered two previous SelfMadeHero books from their Autumn range – The ABC of Typography and Isadora. This week it's the turn of another title from their current set of releases in the shape of Mozart in Paris.
Fitting into that graphic biography side of SelfMadeHero's publishing catalogue, Frantz Duchazeau's 96-page portrayal of composer Mozart's time in Paris in his early twenties combines accounts from correspondence with a more speculative line in narrative, as it charts his difficulties fitting in with Parisian high society. This book from the Spirou contributing Duchazeau looks set to be a lively exploration of the composer's life.
Frantz Duchazeau (W/A) • SelfMadeHero, £14.99
– Andy Oliver