With an eclectic publishing mix that includes graphic biography, international comics, literary adaptations and original graphic novels, UK publisher SelfMadeHero's publishing schedule always demands detailed consideration. Already in 2019 we've reviewed two of their recent books – Rachael Ball's study of childhood grief in Wolf and the anthology I Feel Machine with stories by Tillie Walden and Shaun Tan among many others – with more to come in the near future.
But first we have an advance look today at their Spring 2019 line-up. The full press release is below.
SelfMadeHero are delighted to announced its Spring 2019 lineup of graphic novels by international writers and artists. The subjects include first-hand experience of internment in Guantanamo Bay, finding romance in your twilight year, America's relationship with cannabis, London's unlikeliest female detective, literary forgers in Paris and a celebration of Jean-Michel Basquiat.
March 2019
GUANTÁNAMO KID: The True Story of Mohammed El-Gharani
[Biography / Paperback with flaps / 168pp / B&W / RRP £14.99] Writer: Jérôme Tubiana. Artist: Alexandre Franc
A powerful, compelling true story about one of Guantánamo Bay's youngest detainees. Mohammed El-Gharani was no more than 14 when he left his native country, Saudi Arabia, in order to study English in Pakistan. Shortly after the 9/11 attacks, he was arrested and transferred to Guantánamo Bay.
It took eight years for his innocence to be recognised. Written by journalist Jérôme Tubiana in collaboration with Mohammed El-Gharani, and drawn by Alexandre Franc, Guantánamo Kid is an important and deeply moving graphic novel that has been endorsed by Amnesty International.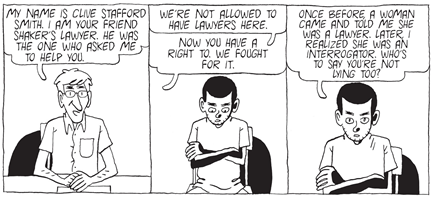 BLOSSOMS IN AUTUMN
[Fiction / Hardback/ 144pp / Colour / RRP £14.99] Writer: Zidrou. Artist: Aimée De Jongh
Belgian writer Zidrou and artist Aimée De Jongh (The Return of the Honey Buzzard) explore the underrepresented topic of finding love in later life. Since retiring, 59-year-old widower Ulysses has been in the grip of loneliness. When he meets Mrs Solenza, a former model who now runs a cheese shop, a relationship blossoms that surprises them both. A life-affirming, emotive exploration of growing old and falling in love.

April 2019
CANNABIS: An American History
[Non-Fiction / Paperback with flaps / 256pp / B&W / RRP £14.99] Author: Box Brown
From the acclaimed creator of Tetris and André The Giant, a timely and revealing history of cannabis in America. Box Brown traces the long and troubled relationship between cannabis culture and the U.S. establishment, from the drug's arrival in the country (by means of an immigrant labour force), through dishonest and discriminatory campaigns spearheaded by legislators and the press, to the drug's Schedule 1 classification. At a time of widespread legalisation in the States and fierce debate over the drug's use for medicinal purposes in the UK, Box Brown hits a new high in bringing this extraordinary history to comic book form.
MEMOIRS OF A BOOK THIEF
[Fiction / Hardback / 176pp / B&W/ RRP £14.99] Writer: Alessandro Tota. Artist: Pierre Van Hove
Paris in the 1950s. In the heyday of Jean-Paul Sartre, a new literary star emerges. When poet and book thief Daniel Brodin seizes an opportunity to read a poem in front of the Parisian literati, he chooses not one of his own surrealist verses but that of an obscure Italian poet. It's a triumph, but not every member of the audience is fooled. A witty and original drama from Alessandro Tota and Pierre Van Hove that explores the nature of protest and authenticity.
MAGGY GARRISSON
[Fiction / Paperback/ 152pp / Colour / RRP£14.99] Writer: Lewis Trondheim. Artist: Stéphane Oiry
An unconventional new heroine is set loose on the streets of London. After two years of unemployment, Maggy Garrisson lands a secretarial job with a shady private detective. But when her new boss is beaten to a pulp, Maggy finds herself in the dangerous world of bent coppers, crooked businessmen and career criminals. Acclaimed French writer Lewis Trondheim (Poppies of Iraq) and Stéphane Oiry offer an atmospheric, stylish mystery set in rain-soaked London.
May 2019
BASQUIAT (Art Masters)
[Biography / Paperback / 136pp / Colour / RRP £14.99] Writer: Julian Voloj. Artist: Søren Mosdal
Hugely influential, especially on street art and hip-hop, Jean-Michel Basquiat has become a legend since he emerged on the New York art scene in the 1980s, feted by Warhol and Bowie and dating Madonna. Since his untimely death at the age of 27, his global popularity has skyrocketed. Julian Voloj and Søren Mosdal create a vivid picture of Basquiat's life and times, from the SAMO graffiti project to the development of the addiction that would cost him his life.