Eisner and British Comic Awards-nominated creator Rob Davis's trilogy of graphic novels that began in The Motherless Oven five years ago is set to conclude in the coming month with the third book in the series The Book of Forks. A bizarre foray into a totally original abstract world it's a series that presents a contradictory world that feels utterly alien and, at the same time, has hints of the very familiar. Current readers will be aware of Davis's style from his contributions to the Black Crown line but his career in comics ranges from his truly sublime adaptation of Don Quixote and the acclaimed Nelson from Blank Slate Books, through to Roy of the Rovers and Judge Dredd: Lawman of the Future. Priced at £12.99, The Book of Forks is released on October 10th. A press release with images runs below.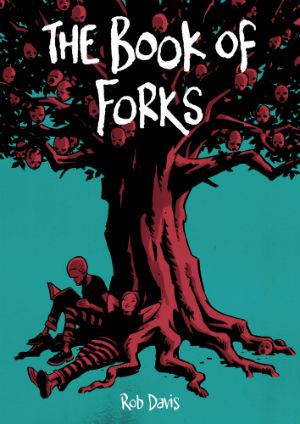 The Motherless Oven and The Can-Opener's Daughter may have raised more questions than they answered, but The Book of Forks explains everything.
Castro Smith finds himself imprisoned within the mysterious Power Station, writing his Book of Forks while navigating baffling daily meetings with Poly, a troubled young woman who may be his teacher, his doctor, his prison guard… or something else entirely. Meanwhile, back home, Vera and Scarper's search for their missing friend takes them through the chaotic warzone of the Bear Park and into new and terrifying worlds.
With The Book of Forks, Rob Davis completes his fiercely original trilogy by stepping inside Castro's disintegrating mind, to reveal the truth about the history of the world, the meaning of existence and the purpose of kitchen scales.
Already recognised as strikingly original, Rob Davis has produced his most ambitious work yet in the trilogy's much-anticipated concluding volume, taking not just the graphic novel, but imaginative fiction itself, into uncharted territory.