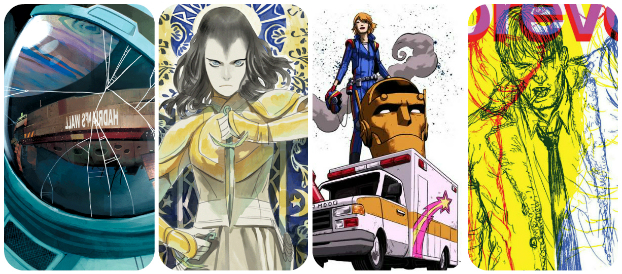 It's nearly Wednesday, and you know what that means: a fresh load of comics and graphic novels! With so many publications hitting your local comics store or digital storefront, the BF staff is here to lead you through the woods with our weekly staff picks. Satisfaction guaranteed!
Comic of the Week
Doom Patrol #1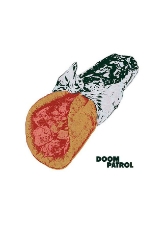 From their offbeat original 1960s incarnation to the bizarre brilliance of Grant Morrison's 1980s-'90s re-imagining, the Doom Patrol have always been at their most eminently readable when the creators involved have embraced the weirdness of their world and used it to tell boundary-pushing, experimental and reality-challenging tales.
This week the Patrol are back with a line-up that includes elements of their sprawling continuity from across the book's 50-plus year history. Be prepared to once again meet Robotman, the Chief, Flex Mentallo, Crazy Jane and Negative Man alongside some new additions to the DP mythos.
Doom Patrol #1 also marks the first issue of Gerard Way's Young Animal imprint at DC which will include Shade the Changing Girl, Cave Carson Has a Cybernetic Eye and Mother Panic. A new Vertigo for the 2010s perhaps? Only time will tell. But for those who hearken back to the days when DC's output was a little more daring and original in scope this book looks like an essential buy this Wednesday.
Gerard Way (W), Nick Derington (A) • DC Comics, $3.99
– Andy Oliver
Mirror: The Mountain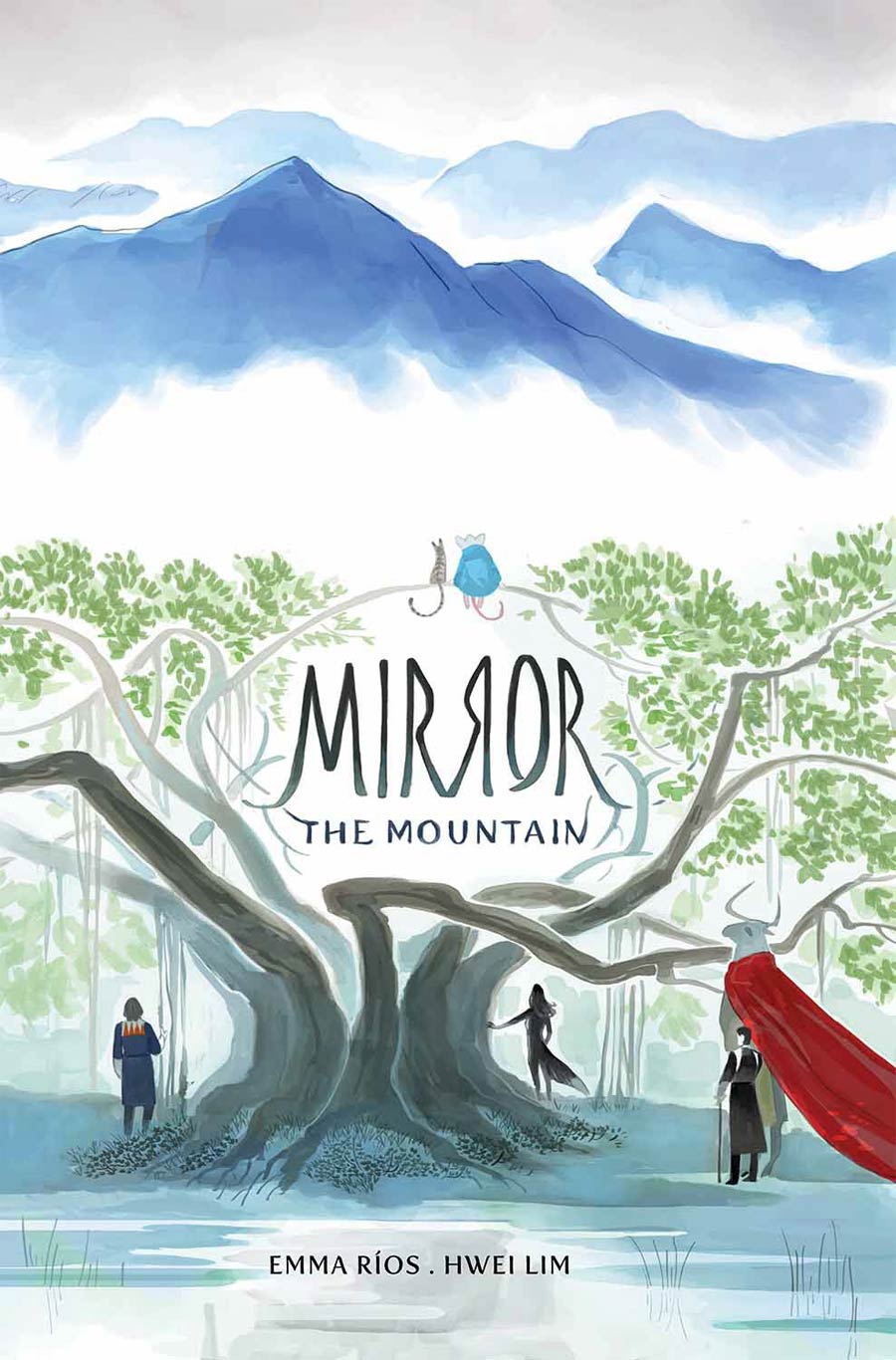 Renowned artist Emma Ríos (Osborn, Pretty Deadly) collaborated with webcomic artist Hwei Lim for this masterful miniseries set in Brandon Graham's 8House universe. On a remote colony on the fringes of a galactic war, a team of mage-scientists experiments on the local fauna in the hopes (as always) of creating a better soldier. As the years pass and the colonists struggle to survive in the new surroundings, however, a young mage and an experimental subject cement a relationship that threatens to tear Irzah apart.
I reviewed the first issue of Mirror upon its release and waited with bated breath for each subsequent issue. As you might expect from two visual artists working in tandem, almost every page features some breathtaking experiment of technique or formatting – but the virtuosity never gets in the way of this compelling saga of identity and acceptance.
Emma Ríos (W), Hwei Lim (A) • Image Comics, $14.99
– Paul Mirek
The Forevers #1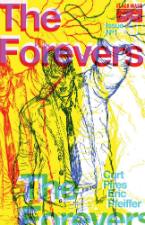 The allure of success is a powerful thing, with many people throughout history alleged to have made the proverbial "deal with the devil" to make their wildest dreams manifest.
In the new Black Mask Studios series The Forevers from writer Curt Pires (The Tomorrows, POP) and artist Eric Scott Pfeiffer (Arcadia), a quintet of young celebrity-hopefuls engages in a ritual of black magic to achieve fame the easy way. The ritual is successful and each rises to stardom in their particular field, with the unexpected side-effect of apparent eternal youth. When one member of the group later dies, however, the remaining four feel a surge – the magic, being equally dispersed among the gang, increases in each as it reaches equilibrium after one is removed. But, the group suddenly becomes the prey of a mysterious killer, almost certainly one of their own looking to concentrate all the magic for his/her self.
Pires and Pfeiffer are both highly talented creators, not needing to rely on the supernatural for success. This series is sure to be a big hit for Black Mask and one to look out for!
Curt Pires (W), Eric Scott Pfeiffer (A/C) • Black Mask Studios, $3.99
– Matthew Box
The Marionette Unit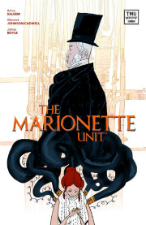 First seen as a two-minute short film, The Marionette Unit has been in the minds of filmmakers Azhur Saleem and James Boyle for several years. Originally mooted as a feature film, the core premise was eventually developed into the duo's debut graphic novel with celebrated UK artist Warwick Johnson-Cadwell brought in to provide the hauntingly atmospheric visuals that this disturbingly different tale demands.
Set in a parallel version of Victorian history it's the macabre tale of one woman's search for her missing sister in a workhouse where steam-powered machinery is fused with the workforce in order to ensure maximum efficiency. While the book has had distribution already in 2016 it gets its official launch this Thursday September 15th at London's Gosh! Comics. Catch The Marionette Unit team there on the night and look for a review here at Broken Frontier in the near future.
Azhur Saleem and James Boyle (W), Warwick Johnson-Cadwell (A) • TMU Workshop, £12.99
– Andy Oliver
Hadrian's Wall #1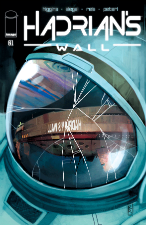 Two words: intergalactic noir. If you're a mystery junkie or a space hound, the creative team behind C.O.W.L. has the book you've been looking for. This eight-issue mini-series is a murder mystery in space full of delightfully dark secrets and the flawed people desperate to keep them silent.
From the solicitation on Previews World: "The man who shot Simon Moore four times and married his ex-wife has been found dead aboard the spacecraft Hadrian's Wall. But Simon isn't a suspect, he's the private investigator hired to explain the death, and it's his ex-wife who emerges as one of the suspects."
"Hadrian's Wall is a locked-door murder mystery in outer space," Kyle Higgins said. "This series brings together our favorite parts of noir—cold-blooded murder, the P.I. with a checkered past, and political corruption—with an epic, widescreen, science fiction story."
"Rod Reis' stellar art and designs recalls the aesthetic of Blade Runner and Alien, while creating a world that is personal and unique," Alec Siegel said. "His storytelling has gone to a whole new level."
"This book started with our love for 1970s and '80s sci-fi and quickly grew into something much more," Higgins said. "From a murdered crew member, to a failed marriage, to a colony that just wants independence, this is a story about broken relationships—what tears people apart, and what it takes to bring them back together." Fans of the intrigue in Letter 44 or the police procedural in Fuse will want to add this to their pull list—I just did.
Kyle Higgins and Alec Siegel (W), Rod Reis (A) • Image Comics, $3.99
-Karen O'Brien