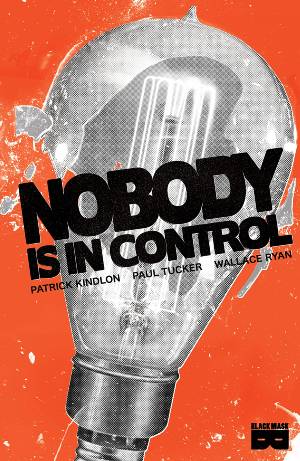 Nobody is in Control begins with retired radio-host Richard Savre surveying the vast Georgia forest he lives within. The comic provides infographic captions of the local wildlife, identifying Barn Swallows, Californian Wrens, Red Foxes, and a "suspicious stranger with a mysterious briefcase" running past his house. A mixture of curiosity and concern sends Richard after him, starting a journey as the two wander through the expansive woodlands. Freed from tethers to the outside world, Nick (the suspicious stranger) claims to be a runaway from an (alleged) "Camp Merrill", revealing himself as a conspiracy-theorist that believes in global agendas. What such agendas precisely 'are' Richard has to tease out of him. Richard himself interviewed conspiracy theorists on his radio-show, and found success not in debunking them nor in believing in them, but in attempting to understand them on their level. That a conspiracy theorist would stumble upon a sympathetic ear is a plot-convenient coincidence for Nobody is in Control, but this remarkable book questions the unseen order which exists between all things.
Nobody is in Control is a book of tangents, with Nick being frustratingly hard to get a straight answer from as he and Richard's conversations bounce around topics such as (but not limited to); types of wildlife, the planned obsolescence of lightbulbs, and the difference between Pinocchio the book and the Disney film. Patrick Kindlon writes their engaging exchanges, delivering details information on vastly different topics while keeping the pace lively. It's a good thing too, since most of Nobody is in Control is dialogue. Despite the discussions of global shadowy agendas, the tone is less Six Days of Condor and more My Dinner with Andre, Richard and Nick's naturalistic debates pinging back-and-forth. Nick tries to construct an overarching monolithic goal from his bundles of factoids, while Richard sceptically picks holes at it. But Nobody is in Control is not a hot-headed debate (despite pockets of Richard's frustration), instead showing a smart and frequently funny overview of modern history. Kindlon knows how to space out his dense script into digestible doses, not above putting a pratfall of Richard and Nick down a mountain edge. Wallace Ryan especially brings lovely hand-crafted lettering to the book, emphasising the unrelenting energy and rolling flow which emerges from the continuing conversation.
Nobody is in Control is also assisted by fantastic artwork from Paul Tucker, whose style is both rough and cartoony in exactly the right ways. The style is compact with heavy shadows, yet also has a lightness and agility that makes Nobody is in Control never wallow. Although Nobody is in Control is predominantly dialogue, Tucker's artwork illustrates and visualises the anecdotes that Richard and Nick discuss, bringing the characters (and the readers) into the subways of Bernard Goetz or onto the pages of Manga legend Kazuo Koike when both are brought up. From the infographic captions at the start, Nobody is in Control has a clever and eclectic humour boosted by all aspects of its design, touching upon several fascinating spots in cultural history.
Nobody is in Control doesn't always know where to go from the high-point of these anecdotes, becoming slightly lost when it has to invoke the 'plot' which steadily stalks Richard and Nick through their walk. Perhaps it works better in the moment than an overall package, particularly with the semi-ambiguous ending. Yet this also perfectly suits Nobody is in Control's overall point around conspiracy theorists. The crux of Nick's argument is not exactly such historical factoids veracity, but their interconnectivity. He ultimately believes that media violence and mass shootings are orchestrated by some mysterious "They" out to eliminate targets, such assassinations buried beneath the innocent bystanders there too. But the more logical explanation is that, well, nobody is in control. Such events are connected in the way that everything is, but they were undirected, a clock without craftsmen.
I'm less sympathetic towards conspiracy theorists than Nobody is in Control seems to be. A healthy scepticism is admirable, but often they result in adamant denials of facts which overshadows actual persecution. There's a straight line between Flat Earthers and Holocaust Deniers. But Nobody is in Control is less about 'real' conspiracy theorists than about how to deal with information, collecting all the pieces to try and form a cohesive whole. Nobody is in Control may not be perfectly formed, but its individual strands are extremely fun to read.
Patrick Kindlon (W), Paul Tucker (A), Wallace Ryan (L) • Black Mask Studios, $16.99
Review by Bruno Savill de Jong