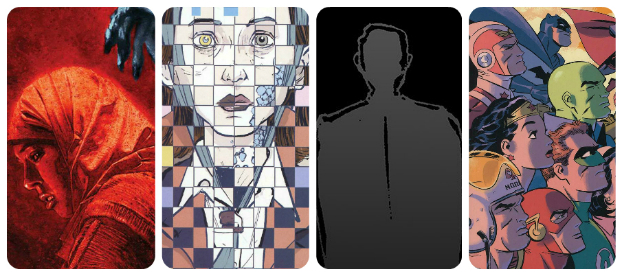 It's Wednesday, and you know what that means: a fresh load of comics and graphic novels! With so many publications hitting your local comics store, comics events or digital storefront, the BF team are here to lead you through the woods with our weekly staff picks. Satisfaction guaranteed!
Comic of the Week
Sightings of Wallace Sendek
As a writer Douglas Noble is one of the unsung geniuses of UK indie comics. I once described his work as "fiercely intelligent" and it's still baffling to me that his profile isn't far, far higher outside of the British small press circuit. His comics experiment with, interrogate and sometimes even subvert the form, constantly reminding us that we're still only scratching the surface of this medium's boundless possibilities.
In Sightings of Wallace Sendek Noble teams up with frequent collaborator and artist Sean Azzopardi – who as regular BF readers know is currently producing the very best work of his career – for a project that the The Wicked + The Divine's Kieron Gillen describes as "the Ziggy Stardust myth as imagined by David Lynch, from two of the titans of the British small press scene." The book charts the mysterious disappearance of the titular 1970s rock star, unconfirmed glimpses of him in the decades since, and the hints of something far darker behind events…
Sendek was designed as a one-shot that could be constantly revisited and added to, and this expansion of the 2010 comic includes a number of all-new sightings and revelations. One of the most unsettling horror stories in the history of comics (we mean it!), and a perfect intro to those unfamiliar with the work of two of the UK's great self-publishing stalwarts. You can order it online here.
Douglas Noble (W), Sean Azzopardi (A) • Strip for Me, £6.00
– Andy Oliver
Dry County #1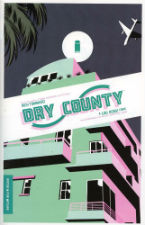 With Spy Seal on hiatus until later this year, Rich Tommaso re-imagines the seedy underbelly of early 1990s Miami in all new crime adventure Dry County. Lou Rossi, gag cartoonist for the Miami Herald, finds himself dragged into a noirish underworld when Janet, the girl he's just met and instantly fallen head over heels for, goes missing.
Described as a Generation X everyman, and said to be based on Tommaso's own experiences of life in Florida, Lou must take on the role of amateur detective to navigate his way through drug dealers, thieves, teen gangsters, and dangerous ex-boyfriends to find Janet. Think Miami Vice meets David Boring (even though Dan Clowes would shudder at that thought!).
Rich Tommaso (W/A) • Image Comics, $3.99
– Ally Russell
Infidel #1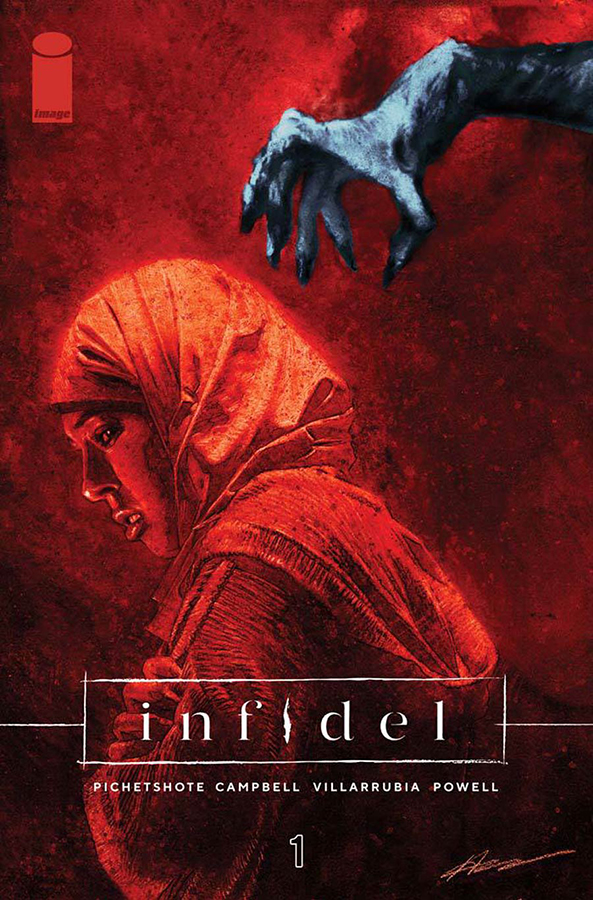 The "haunted house" concept gets a very modern and culturally relevant take in this story about an American Muslim woman who moves into a building that was the site of a racially motivated mass murder. Now Aisha is seeing visions of entities haunting her home that seem to feed off of xenophobia.
Former Vertigo editor Pornsak Pichetshote makes his writing debut and is joined by the amazing art team of Aaron Campbell (The Shadow) and Jose Villarrubia, who also makes his editorial debut, along with letterer/designer, Jeff Powell.
Pornsak Pichetshote (W) Aaron Campbell (A) Jose Villarrubia (C) • Image Comics $3.99
-Tyler Chin-Tanner
Eternity Girl #1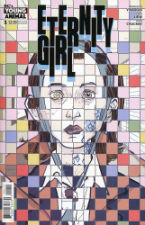 DC's Young Animal continues its mission to cover all the greatest hits of early Grant Morrison with Eternity Girl, a gender-swapped riff on Kid Eternity. The concept's been around for donkey's years but, as with the recent Doom Patrol and Shade series from the imprint, it's likely this version will be drawing specifically from the Vertigo deconstruction by Morrison and Duncan Fegredo, where the immortal superhero was brought down to Earth with some more relatable psychological maladies.
Spinning out of Young Animal's recent Milk Wars event, Eternity Girl finds a similarly immortal hero at a nexus point in her long, long life. In that time she's been a superhero, a spy, and plenty more things besides, with the inability to enact any lasting change in a life that never ends the cause for a deep, abiding depression — symbolised by a suddenly malfunctioning set of powers. Hopefully The Art of Charlie Chan Hock Chye's Sonny Liew and writer Magdalene Visaggio can hit the same sweet spot as Shade, the Changing Girl, which more than managed to escape the shadow of its Nineties forebear.
Magdalene Visaggio (W), Sonny Liew (A) • DC Comics, $3.99
– Tom Baker
Encounter #1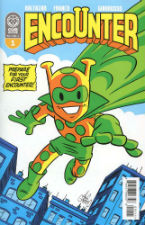 Tiny Titans creators Art Baltazar and Franco kick off a new all-ages superhero series this week. Encounter is an alien who has escaped his home planet and arrived on Earth. He can shape-shift to any form he chooses and decides to use his abilities to fight crime. His talking dog, Barko, will be there to lend a hand as Encounter gets the hang of being an Earthly superhero.
You can't go wrong with a comic from Art Baltazar and Franco; they know how to appeal to younger readers while providing entertaining stories that adults will also appreciate. Chris Giarrusso's (Mini Marvels, G-Man) bold lines and vibrant, simple colors are immediately appealing and inviting. Kids will find it easy to follow the story courtesy of Giarrusso's straightforward panel constructions, but adults will no doubt enjoy the sophisticated array of "camera" angles used to present Baltazar and Franco's fast-moving plot.
Art Baltazar, Franco (W), Chris Giarrusso (A) • Lion Forge, $3.99
– Karen O'Brien
The Sheriff Of Babylon Deluxe Edition Hardcover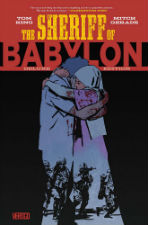 He's best known for bringing execution videos to outer space with The Omega Men and psychological turmoil to superheroes in The Vision, but alongside all that Tom King drew more directly from his former career as a CIA counter-terrorism operative for the Vertigo series The Sheriff of Babylon. Punisher artist and King's Mister Miracle collaborator Mitch Gerads joins him for a murder-mystery set in a "liberated" Iraq, collected here in its entirety, which follows an American cop-turned-military consultant's investigation of the killing of a local police recruit.
As expected from his first-hand experience, King has an unparalleled insight into the complexities of the invading Western forces attempting to pull out of the Gulf, while attempting leaving it in safer hands than they found it. At the same time, he's by no means blinded by patriotism, this Iraq still very much in a state of flux — as illustrated by Gerads' frenetic, stylised artwork — and susceptible to the self-serving opportunism of Westerners and local crooks alike. Not unlike the divided post-war Vienna of The Third Man, but with the lights turned to full-beam.
Tom King (W), Mitch Gerads (A) • DC Comics/Vertigo, $49.99
– Tom Baker
Come into Me #1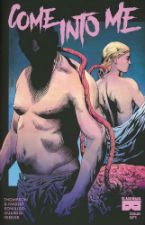 New from Black Mask Comics and the critically acclaimed writers of The Dregs comes a body horror meets Black Mirror-style technological social commentary story that provokes questions about boundaries and sharing. Piotr Kowalski is the perfect choice as artist and this promises to be viscerally creepy as well as conceptually unsettling.
The story shows us a morally suspect tech millionaire testing technology that allows two people to share the same mind and body. I don't think it's a jump to assume that all does not go to plan…
Zac Thompson & Lonnie Nadler (W), Piotr Kowalski (A) • Black Mask Studios, $3.99
– Jenny Robins
Radio On: Broadcast #4
Rob Carter's annual music-themed anthology is notable not simply for its theme but for the clever and playful ways in which its contributors use comics to explore those aural motifs. I've described the book in the past at BF as an "anthology with, refreshingly, some vastly varied approaches to the specified subject matter" and "a comic with a great deal of promise to its central premise."
This latest issue contains seven stories from luminaries of the UK small press scene and newer names including Broken Frontier 'Six to Watch' creator Emily Rose Lambert, Joel Benjamin, Mama Lips, Kit Palmer, Darrell Thorpe, Neil McKenzie, Bob Turner, Luke Halsall and Nick Gonzo. You can order the comic online here.
Anthology – Various creators • The Analogue Press, £4.00
– Andy Oliver
Rick Veitch's The One #2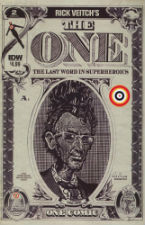 While it pains me to date myself, I was a child of the Cold War. I came of age in the mid-1980s, during the paranoia-inducing Reagan administration when the threat of nuclear obliteration at the hands of the Soviet "Evil Empire" permeated every layer of American life and shook the psyches of folks young and old. Those were weird days to say the least; not just socio-politically, but for comics too.
I was a bit young to buy it at the time, but I remember seeing the un-ignorable "Tide Detergent" parody cover art for the 1st issue of Rick Veitch's The One – a friend's older, comic-devouring brother had a copy – and I was definitely curious about what was inside. Last year that I got my hands on the original Marvel Epic issues and was able to finally scratch the itch. It was worth the wait.
So, needless to say, I was super-excited when I learned about IDW's "remastered" run of The One for 21st Century audiences, with the venerable Mr Veitch overseeing the project. This week sees the release of issue #2; so, in case you missed our Staff Picks blurb last month about issue #1, I'm here to sound the klaxon about this fantastic blast from the past.
Veitch is one of a handful of legendary creators (along with Alan Moore and Frank Miller) whose work smashed conventional ideas about how to write and construct a superhero comic book, and The One is one heckuva triumph. While the story is set in the bygone 1980s, it deals with themes that are (unfortunately) still relevant in our modern day – nuclear war, fascist politics, and social unrest – all filtered through Veitch's wild and witty imagination. This series will surely still excite readers two generations from now (if we all survive that long)!
Rick Veitch (W/A), Kirby Veitch (C) • IDW, $4.99
– Matthew Box
DC Comics: The Art of Darwyn Cooke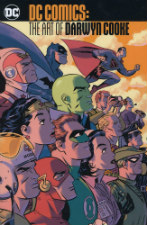 It took Darwyn Cooke, who died in May of 2016, almost twenty years to break into comics. It's a mind-boggling fact in retrospect that an artist of such obvious talent should be denied a platform, but he was always something of an outlier. He did much of his best-known work for DC, and his expressive, clean-lined style has its roots in his work for their animation department in the Bruce Timm heyday, but that same aesthetic has always appeared more akin to the publisher's Silver Age work than the busier, less refined house style they've adopted in recent years.
This collection brings together Cooke comics which are being reprinted for the first time — including one-off stories that originally appeared in forgotten anthology series like JSA All-Stars and Gotham Knights — as well as a lot of his cover work, for which he was in high demand as an artist, including a spate of wraparound variants produced for DC's New 52 relaunch which  suggested a brighter, more colourful kind of superhero comic than the sort being offered within. A vital addition to your Cooke collection, alongside The New Frontier and Catwoman: Selina's Big Score.
Darwyn Cooke, Various (W), Darwyn Cooke (A) • DC Comics, $29.99
– Tom Baker
Klimowski Poster Book
This one isn't comics but its links to the UK's acclaimed graphic novel publisher SelfMadeHero go far beyond the fact that they're releasing this collection of the artist and designer's iconic poster art. Klimowski also co-created the graphic memoir Behind the Curtain from SelfMadeHero with his wife Danusia Schejbal a couple of years back which detailed their time studying in Warsaw in the 1970s and subsequent careers and practice in Poland. Klimowski is also the designer of SelfMadeHero's logo.
With a context-setting introduction by David Crowley, the Klimowski Poster Book compiles his film and theatrical imagery in poster art that encompasses a distinctive photomontage style. From his early output to more recent work it's not just a fascinating reflection of his development as an artist but also an intriguing reflection of a very specific period in European cultural history.
Andrzej Klimowski (A) • SelfMadeHero, £14.99
– Andy Oliver