A strong intuition for visual narrative and scene structure create a beautifully rendered story with a steady pace.
Science has been on the cusp of creating a human-like artificially intelligent robot for decades. Watching Blade Runner as a kid in the 1980s, I was sure there'd be androids (hopefully not as egomaniacal as Rutger Hauer's "Roy") by the time I became an adult. But, alas, the droids are still dreaming of electric sheep, waiting for us and our ever-advancing tech to make such science fiction into science fact.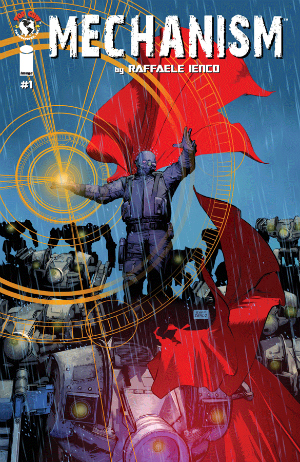 Meanwhile, novels, movies, TV shows, and (especially) comic books have all colored our perception of what the world will be like when the smart-bots finally arrive. The story has been told countless times: Humankind is on the ropes against world-ending forces and the folks in lab coats deliver a state-of-the-art humanoid machine that's faster, smarter, stronger, and sturdier to step up and fix our problems – the quintessential deus ex machina. And, time after time, these stories boil down to the same basic question – what direction will the robot's moral compass point once the tabula rasa gets its first stains…?
With this in mind, I was somewhat hesitant to pick up issue #1 of Mechanism, the new Image Comics series written and illustrated Raffaele Ienco that deals with these very themes, because I was fairly certain I knew what to expect. And, to be frank, the series doesn't seem to offer any surprises or explore fresh new angles of the robo-savior story, at least in this first chapter. However, it's still quite good overall.
Protos, the mechanized protagonist of the series, is a cutting-edge blend of robotics and AI technology representing the first model of what is intended to be a vast army of robot soldiers capable of ridding Earth of an invading alien race known as Geckos. This tenacious Green Menace has heretofore withstood the best weaponry of the military-industrial complex – in this case, giant human-driven battle mechs – and has run amok across the planet to devastate life as we know it.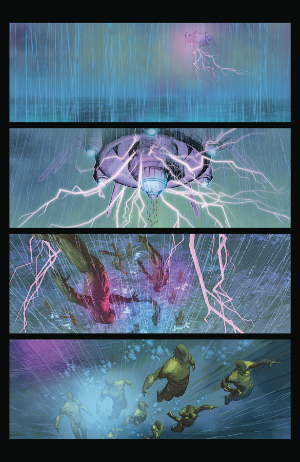 Out of desperation, Protos is sent into the field prematurely, before its systems have been fully tested, and no one is quite sure how it will behave beyond the lab. It is embedded with a couple of patrol officers and tasked with observing their actions to learn proper protocol and begin the process of evolving its AI. However, the long arm of Murphy's Law reaches down at the end of the issue, and things go snafu when the trio is ambushed by Geckos. With its human handlers (presumably) dead, Protos is now on its own in the wild.
If this sounds somewhat familiar, you've no doubt seen Neill Blomkamp's Chappie or read Asimov's I, Robot – both of which explore, for better or worse, the inner-workings of a fresh AI mind navigating the real world and its milieu of challenges. Even fans of Rom may see shades of their favorite interstellar cyborg in this story. As I said, Mechanism doesn't appear to have anything revelatory in store; however, what it does have is an incredibly talented creator at the controls.
Ienco has recently been doing the exciting art for Symmetry, another Image series (written by Top Cow's Matt Hawkins) set in a plausibly dystopic near-future, and he's doing excellent work on this series. It's clear that he's a forward-thinking futurist who has spent a lot of time envisioning the world of tomorrow. And, whatever he may lack in literary originality, he more than makes up for in the panel department.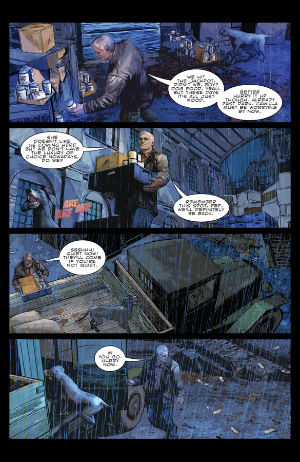 The art in Mechanism is quite stunning. Ienco somehow manages not only to give his series an almost-3D look, but also to employ the full spectrum of color in each panel, even in the darkest and dreariest scenes. (As a tip of the hat to Blade Runner, Ienco's post-apocalyptic Philadelphia in Mechanism is a place of perpetually down-pouring rain.) His technique resembles that of an oil painter with a full grasp of darkness and light, producing very bold, very supple, and incredibly realistic characters and objects. He couples this to a strong intuition for visual narrative and scene structure to create a beautifully rendered story with a steady pace.
The writing is by no means limp; in fact, Ienco interweaves the solid dialogue of his futuristic tale with of-the-now socially relevant themes like racial discrimination, economic disparity, gun control, and police harassment.
It's easy to imagine network execs salivating at the prospect of adapting this stuff for television in the not-too-distant future.
Ienco is no newcomer to the world of sci-fi comics – in the past decade, he's written/drawn the series Epic Kill and a fine graphic novel called Devoid of Life – and one gets the sense that he is, with Mechanism, at a point where he's ready to make a big mark on the industry.
It isn't always easy to fairly approve or condemn a whole series based solely on the inaugural issue. Expectations can often cloud one's judgement, as any higher intelligence (artificial or otherwise) surely knows. When you consider the amount of work it takes to conceive, develop, and execute a fully-realized work of art – let alone thirty-odd pages of new material every four weeks as a solo creator – I think it's prudent to have patience if a series doesn't immediately push all the right buttons. On artistic merit alone, I'm willing to give Ienco a chance to hit his stride here. Mechanism may not have completely started with a bang, but it will not likely end with a whimper.
Issue #2 of Mechanism is out on August 24, 2016
Raffaele Ienco (W/A/C) • Image Comics, $3.99