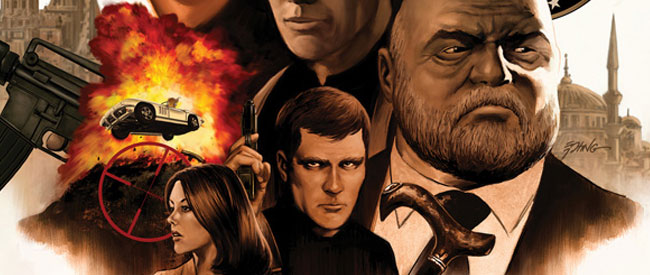 Ed Brubaker and Steve Epting's first Image project is an atmospheric Cold War yarn that has plenty going on beneath the surface.
After a string of successes with long-time collaborator Sean Phillips, writer Ed Brubaker has lured his Captain America and Marvels Project partner Steve Epting to the currently fertile ground of Image, for the artist's first venture into creator-owned comics. The result is as smooth a collaboration as you'd expect.
Set in 1973, during the frostier days of the Cold War, Velvet springs out of Brubaker's fascination with the world of espionage and stars another of the writer's kick-ass but very human female protagonists. Velvet Templeton works as a secretary for the director of ARC-7, the blackest of the West's black ops intelligence outfits. When a top field agent is killed in an unlikely ambush in Paris, the department faces the possibility that there's a traitor in its midst.
The plot rolls out slowly but efficiently from there, across the issue's 25 pages of story. When evidence points the finger of suspicion at a retired ARC-7 officer, Velvet's keen mind begins to sense that things aren't quite adding up. And when she takes it upon herself to investigate further, she suddenly finds herself at the heart of a storm.
As you'd expect, Velvet (the character) conceals an iron fist. As well as assessing every bit of information that passed through the office for 20 years, she was also previously a field agent herself, raising the question of why she ended up chained – metaphorically – to a desk. And while her narration might not be everyone's favourite storytelling device, it gives us her character on a plate and leads us into her world.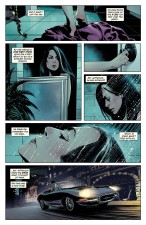 It's great to see a character like Velvet leading a comics series. She's a mature woman whose weapon is her experience – the accumulated knowledge and skills built up over years of playing the deadliest of games. Brubaker has spoken passionately about this aim for the series: to delve beyond the surface adventures and address the roles traditionally forced upon women in the male-dominated world of spy fiction. Velvet is no simpering Moneypenny, but a woman who's been there, done that and is not ashamed of having pulled the sexual strings when necessary.
Epting's art and Elizabeth Breitweiser's colouring bring the world of Velvet to life. The polished artwork is highly reminiscent of the classic illustration of the 60s and 70s, epitomised by the paperback-style cover. It's hard not to draw comparisons between Epting's work and Brubaker's collaborations with Sean Phillips as both artists have similar mastery of character and tone.
As in so many books these days, the colouring is an integral part of the storytelling; between them, artist and colourist drench the book in an atmosphere that reflects the uncertainty shrouding the inhabitants of this shadowy world. When Breitweiser switches to vibrant blue and orange for a flashback in New York City, it perfectly differentiates Velvet's happier past from the grim 'present'.
Velvet isn't going to change the medium, but hopefully Ed Brubaker and Steve Epting are highlighting a trend for creators who've honed their skills in superhero comics to leave the ghetto and produce engaging work in genres that 'normal' people are going to read as well.
Ed Brubaker (W), Steve Epting (A) • Image Comics, $3.50, October 23, 2013