Ed Brisson and Adam Gorham's bleak, gut-wrenching crimepunk epic is a relentless and unforgiving examination of the vicious circle of poverty and violence tainting our urban spaces.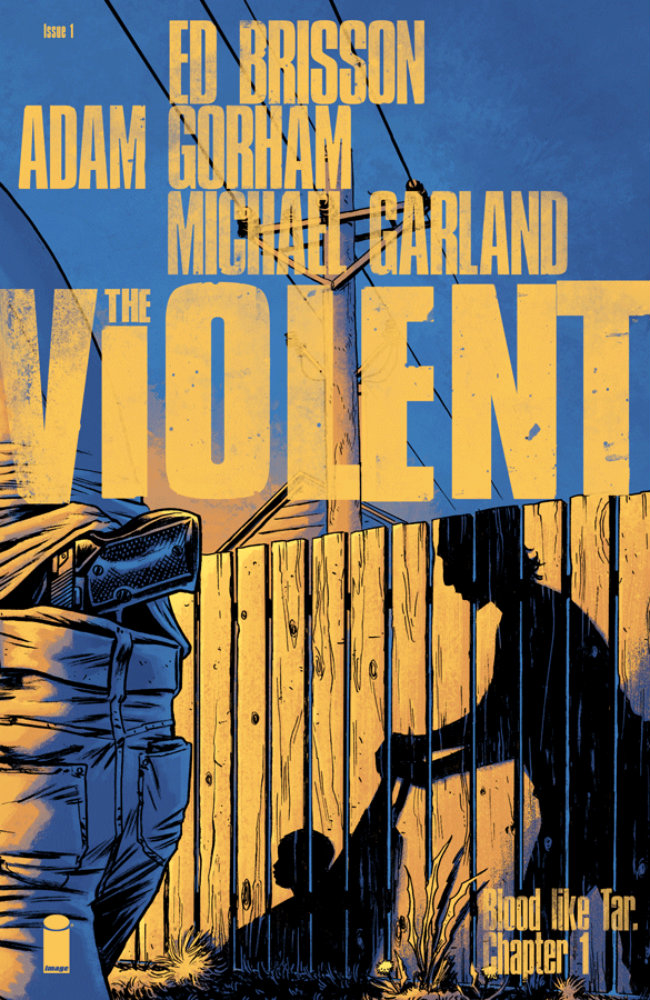 Not so long ago, Ed Brisson noted on his Twitter account that books like The Violent often seem relegated to a niche market, making it hard to sustain publication. In an era when mainstream comics not only dominate the shelves of our local comic shops but also reign supreme in our movie theatres, it's easy to see how a book like The Violent can get overlooked by fans and publishers more interested in spectacle than substance and craft.
A simmering tale of one couple's relapse into a life of crime and addiction, The Violent is an uncompromising glimpse into a world populated by desperate junkies, slimy dealers, sardonic cops, and one of the most vile, despicable mothers you'll ever encounter in a comic book. I know. It sounds like a tough sell but it shouldn't be.
Featuring moody, atmospheric art from Brisson's collaborator Adam Gorham (with lurid colours courtesy of Michael Garland), this is a book that sticks with the reader long after the final page. Timely, socially relevant, The Violent is a tightly-wound crime thriller that thumbs its nose at convention, while deftly weaving a tale of such heart-rending poignancy, it's impossible to forget.
And yet it was cancelled by Image due to low sales. We hate that kind of thing. So here are our three reasons why you should have damn well read The Violent in the first place.
#1 "Blood Like Tar"
That title—it's magic. I can't remember the last time a title resonated with me so completely, so deeply. It's a phrase loaded with atmosphere and special meaning. It evokes the gut-wrenching, visceral emotion fueling the personal relationships found in The Violent, while painting a mental picture of its stark, gritty tone.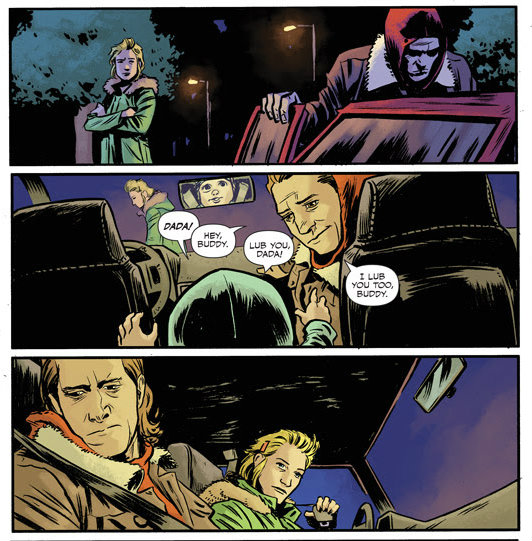 It's a title that oozes thick, ink-black potential, promising a harrowing downward spiral into the hollows of desperation that only come when there are no good options left. Perfectly encapsulating The Violent's visual and emotional tone, Brisson's title tastes like a mouth-watering piece of forbidden fruit: earthy and fermented, verging on the taboo.
#2 Hardboiled, Hardcore
This book isn't just hardboiled, it's hardcore. It's called The Violent for a reason, after all. However, the violence in the book isn't gratuitous. Brisson is very much aware of his book's hardboiled roots in crime fiction and uses violence not as a storytelling crutch but as a barometer with which to gauge his characters' descent into destructive behaviours.
Still, The Violent isn't a book for the faint of heart. Mason commits some pretty heinous crimes and Becky isn't much better, her poor decision-making and lack of willpower, while understandable, are ultimately based in selfishness. At the end of the day, these are two kids, who probably never should have a kid of their own, as harsh as that sounds.
Brisson doesn't pull any punches in this regard. The violence, the addiction, and all of the shitty choices Mason and Becky make have dire consequences. Nobody gets a free pass, here. And nobody should.
#3 The Setting
Strathcona is a neighbourhood in downtown Vancouver that is has been undergoing a period of rampant gentrification. Locals are being pushed and hounded out of the area by greedy developers, replaced by trendy condo towers that stand empty, too expensive for anybody but the obscenely wealthy or absentee owners from China, Korea, and elsewhere.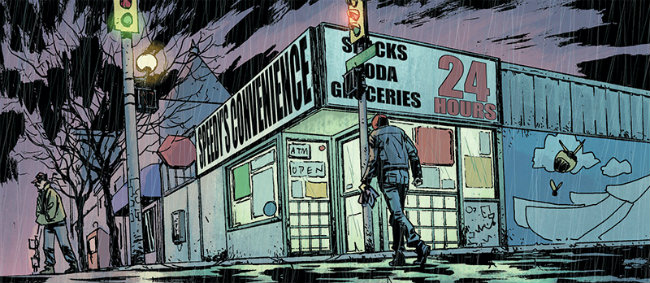 The transitional nature of Strathcona's socio-economic mores informs much of the emotional underpinnings of the book. Barely surviving on the fringes of a neighbourhood intent on pushing them out, Mason and Becky have limited options available to them. This doesn't excuse their actions, of course.

It does, however, provide insight into the choices they make, no matter how misguided or self-centred they may seem to those with the luxury of looking into their sordid world from the outside. Very much a character unto itself, Strathcona is at once stagnant and primed for rebirth, a place on the lip of a crumbling precipice, waiting for someone to pull it back from the brink or finally shove it over the edge.
Published by Image Comcics, The Violent: Blood Like Tar is currently available anywhere fine books and comics are sold.