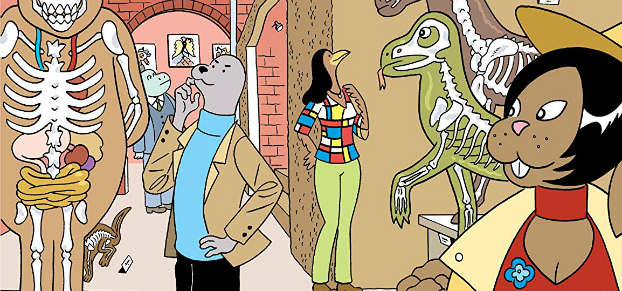 The market for translated bande dessinée is no longer the sole preserve of Tintin and Asterix. We're now lucky enough to have English-language editions of Corto Maltese, the works of Maurice Tillieux, and Valérian and Laureline, to name but a few. Following in their wake there's been a raft of North American and British cartoonists mimicking the Franco-Belgian tradition. The recent work of Charles Burns, for example, or Luke Pearson's Hilda books, which adopt the physical dimensions of the European comic album, the pacing and structure of those serialised stories, and approximations of the clear-line style. Spy Seal, the new creator-owned Image series from Rich Tommaso, is distinct from these other pastiches in that it adapts these influences into a more traditional, 24-page floppy American comic format.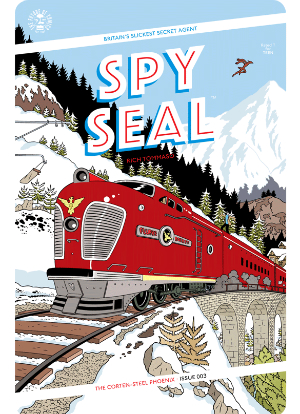 An espionage caper in the vein of James Bond or Prisoner (more colourful and populist than the grittier Ipcress File or le Carre mould), this first adventure sees eponymous "slick secret agent" Malcolm investigating a series of terrorist attacks, linked by something called "The Corten-Steel Phoenix". Teamed with fellow MI6 operative Kes — yes, she's an anthropomorphic bird, as Malcolm is himself an actual seal in a turtleneck — they come a cropper of double agent Miles McKeller, who happens to be aboard their train to Belgium.
It's a heck of a lot of fun, winsome and colourful, and unusual amongst the work of Tommaso. Having plugged away in indie comics for a quarter century, the writer/artist broke through with his two previous books from Image: Dark Corridor, a brilliantly bizarre anthology of pulp crime stories illustrated in a Daniel Clowes manner, followed by She-Wolf, which dropped the thick ink lines for a mostly watercolour impressionistic tale of the occult. Spy Seal comes hot on the heels of those and appears more immediately conventional.
Tommaso is a highly accomplished cartoonist with a ligne claire style all his own, though, and for all the self-conscious Hergé references Spy Seal is never just a pastiche. Or rather, it is a pastiche, but of a more eclectic jumble of influences than simply Tintin and his ilk. The comic riffs on the plot and character archetypes of British spy thrillers, as well as the fashions and attitudes of swinging Sixties culture in general, and then there's the fantastically imaginative cast of animal characters, who have more than a little of mononymous German cartoonist Jason to them.
This penultimate issue of the first storyline is also unusual in its shirking of the customary decompression of modern American comics. Instead, Spy Seal also adopts the snappier pacing of the European album. In the space of these 24 pages we get two chase sequences (one aboard the train, the other a mid-air pursuit with Malcolm clutched between Kes's talons), a two-page flashback to an old flame of Malcolm's, some top-notch sight gags, and more location changes than a single Bond actor got in a whole term (including a picturesque arctic hike terminating in a ski resort with a suspiciously high number of "disgruntled ex-spies" amongst the populace). That's a lot of bang for your buck, and as long as it's delivered in such a affably bright, art-pop manner, long may it continue.
Rich Tommaso (W/A) • Image Comics, $3.99