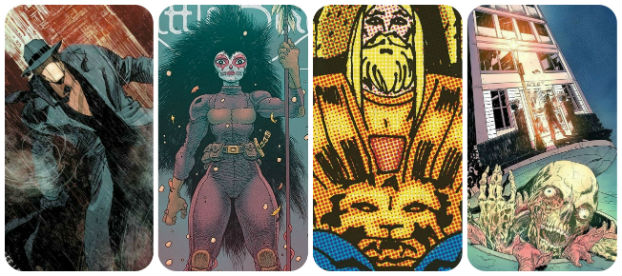 It's nearly Wednesday, and you know what that means: a fresh load of comics and graphic novels! With so many publications hitting your local comics store, comics event or digital storefront, the BF team are here to lead you through the woods with our weekly staff picks. Satisfaction guaranteed!
Comic of the Week
Olympia #1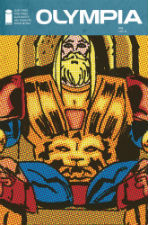 Olympia looks like a lot of fun this week, combining both meta storytelling twists with a recognisable level of nostalgic whimsy for those who are still in touch with the magical appeal that super-heroes had in their childhoods. Solitary Elon spends his days alone reading his beloved comic books. But his life changes when his favourite super-hero Olympian comes bursting from their pages and into his reality. But something far sinister has also accompanied him in the journey through planes of existence…
This double-sized opener was conceived by Curt Pires and his father Tony during the latter's cancer treatment and works on a number of thematic levels as it explores ideas of hope and loss. There's also a Christian Ward variant cover available for this debut issue of the miniseries.
Curt Pires & Tony Pires (W), Alex Diotto & Dee Cunniffe (A), Micah Myers (L) • Image Comics, $3.99
– Andy Oliver
Cult Classic Creature Feature #2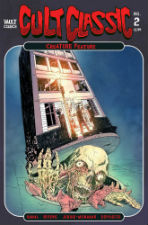 The first issue of this Vault Comics homage to a certain era of B-movie magic was an attention-grabbing opener with breakneck pacing that barely gave the reader a moment to breathe. With a passing comet's radioactive waves awakening the ancient monster dormant at the bottom of the small US town of Whisper's lake, all hell has broken loose in the area. Expect more brain slugs, gratuitous body horror and characters puking up their own skeletons in the second part of this creepy, over-the-top thriller.
Eliot Rahal and Jon Bivens did a top-notch job in the first part in providing pure escapist entertainment. Well worth jumping aboard for another notable release from the growing force that is Vault Comics.
Eliot Rahal (W), Jon Bivens (A) • Vault Comics, $3.99
– Andy Oliver
The Question: The Deaths of Vic Sage #1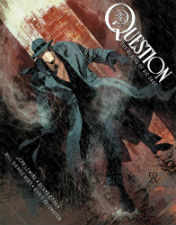 The ubiquitous Jeff Lemire writes this new outing for the former Charlton super-hero with the impressive artistic pairing of Denys Cowan and Bill Sienkiewicz as his collaborators. For those who still have an affection for DC's super-heroes, and are more interested in narrative craft than the impenetrable mess the DC Universe's continuity has become since 2011, then DC's magazine-sized Black Label line has been putting out some interesting standalone releases of late.
In this issue The Question finds himself in a moral quandary investigating a conspiracy that stretches across all levels of society in Hub City in an opener that hints at a rebirth for this most enigmatic of DC's street level heroes.
Jeff Lemire (W), Denys Cowan and Bill Sienkiewicz (A) • DC Comics/Black Label, $6.99
– Andy Oliver
Heartbeat #1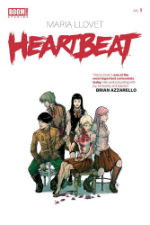 This new BOOM! Studios miniseries combines the familiar themes of the social pressures of school with coming-of-age undercurrents and adds a horror twist to them.
Eva is not one her school's most popular students but a whole new existence opens up for her when she discovers that Donatien, the school's most well-liked boy, doesn't simply relish the taste of blood but has no  qualms about killing to get it. Finding the acceptance she has craved, Eva finds herself a part of Donatien's disturbing world. But at what cost? Maria Llovet's art embodies both intricate detail and accessible clarity, and this first chapter looks like a strong recommendation for lovers of a more macabre strand of comics storytelling this week.
Maria Llovet (W), Maria Llovet (A) • BOOM! Studios, $3.99
– Andy Oliver
Green Lantern #85 Facsimile Edition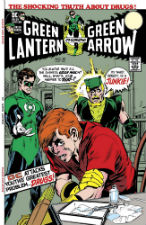 With Marvel and DC putting out so much reprint material in standard comics-sized editions it's sadly far too easy to point out how superior much of this archive content is to their current material. This re-presentation of 1971's groundbreaking Green Lantern/Green Arrow #85 revisits the famous storyline wherein Green Arrow Oliver Queen's former sidekick Speedy (Roy Harper) was revealed to be a heroin addict.
Sporting perhaps one of the most memorable covers of the Bronze Age of comics, this game-changing issue redefined Roy Harper as a character for decades to come. It's a piece of pure comics history by Dennis O'Neil and Neal Adams, and if you've never read it before then now would be a most opportune time!
Dennis O'Neil & John Broome (W), Neal Adams et al (A) • DC Comics, $3.99
– Andy Oliver
After the Spring: A Story of Tunisian Youth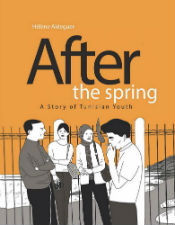 Once again, IDW's graphic novel line throws up another interesting and important project proving there's so much more to their output than the licensed properties they have perhaps become best known for. Hélène Aldeguer's book is translated into English here for the first time and takes us back to 2011 when the Arab Spring swept across North Africa.
Set in Tunisia it follows the stories of four young people Saif, Aziz, Meriem, and Chayma as their lives are changed forever in the aftermath of the socio-political changes that occurred then. After the Spring: A Story of Tunisian Youth was also the winner of the Raymond Leblanc Foundation's Belgian Prize.
Hélène Aldeguer (W/A) • IDW Publishing, $21.99
– Andy Oliver
Little Bird Vol. 1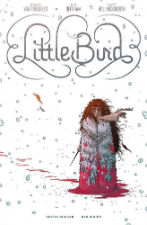 Our good friends and collaborative partners at Gosh! Comics are currently putting up their ever excellent 'Best of' lists for 2019 on their blog and they've described the critically acclaimed Little Bird as "a narrative that actually has something to say in the most visually arresting manner possible."
This volume collects #1-5 of the series following a young resistance fighter battling an oppressive American Empire. The list of plaudits for the book so far is exhaustive and indicative of your need to pick up this compilation if you haven't already been following the single issues. Expect its mix of action and social commentary to be on many more end-of-year lists before we get to 2020.
Darcy Van Poelgeest (W), Ian Bertram (A), Matt Hollingsworth (C), Aditya Bidikar (L) • Image Comics, $29.99
– Andy Oliver