Not every comic we feature here at Broken Frontier has to experimental, alternative or boundary-pushing. After all, there are times when all of us will just want to pick up something that's good old-fashioned escapist fare. Comics that allow us to step back from the daily grind and immerse ourselves in gripping, well-told, genre narratives are just as important as work looking to subvert and toy with the standards of the form. Cult Classic: Creature Feature from the Vault Comics line-up is one such offering and, two issues into this new Cult Classic miniseries, it's proving to be a morbid delight.
This love letter to schlock horror began with a first issue that had cracking pacing; an attention-grabbing opener that barely gave the reader a moment to breathe. Millions of years ago alien visitors ejected something into what would go on to become the nearby lake of the small US town of Whisper. Fast forward to the present day and a passing comet's radioactive waves awaken the ancient monstrous entity that has been dormant at the bottom of the lake and all hell breaks loose in the area. A sprawling cast of characters, including a group of local kids, horror broadcaster "Rip G. Raves" and the young Parker brothers, must contend with the gradual invasion of their previously comfortable existence as behemoth swamp monsters, secreted brain slugs and deeply unsettling body horror become the order of the day.
Eliot Rahal throws us right into the action in the first issue which is unrelenting in its build-up and immediately hooks us with his frenetic terror tale before wisely stepping back in the second instalment to provide a character-oriented episode that gives us time to connect with the cast after the carnage of that initial part. John Bivens' art pointedly contrasts the everyday smalltown America environment with the fantastically macabre invading forces. Both the scale of the horror and also its very human consequences are creepily realised in issue #1 and #2 contains a couple of pages where inventive panel structure is particularly effective in emphasising the drama of events.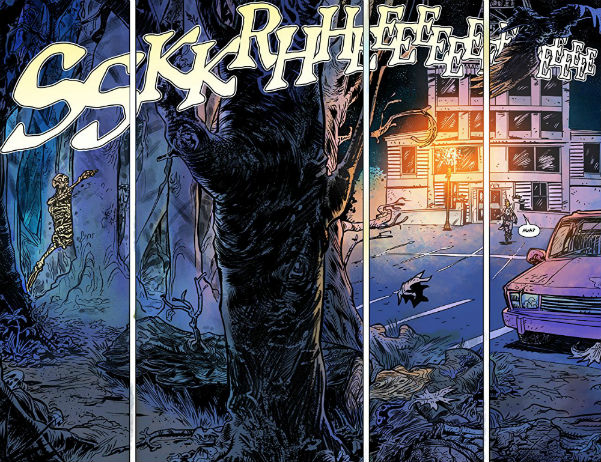 Moodily murky colouring by Jerrie & Monahan adds extra thematic layers while the ever reliable lettering of Taylor Esposito plays a vital role in characterisation at points. Just check out how he underlines the obnoxiousness of the unpleasant Sarah (one of the group of kids who will stumble upon Whisper's hidden secrets) in the sleepover sequence in #1, for example, with her own bespoke lettering style. Her anger and entitlement virtually burst out of her speech balloons in places. Similarly effective is the melodrama of Rip G. Raves' dialogue, the nervousness of Irving Parker reflected in his speech balloons, and the indecipherable language of the alien visitors in the comic's prologue. All lettering nuances that layer the cast's personalities just that little bit more.
As B-movie homages go Cult Classic: Creature Feature is A-grade entertainment. It's not breaking new territory but it's not trying to. This is pure homage and it's all the more fun for its lack of pretension.
Eliot Rahal (W), John Bivens (A), Jerrie & Monahan (C), Taylor Esposito (L) • Vault Comics, $3.99
Review by Andy Oliver