Well this looks rather stunning! Announced at SDCC over the weekend Beyond Real from Vault Comics looks set to immerse its audience in that whole "language of comics" ideal. Just check out the preview pages below
VAULT COMICS ANNOUNCES MASSIVELY AMBITIOUS NEW SERIES, BEYOND REAL
Zack Kaplan teams with an all-star lineup of artists including Fabiana Mascolo, Toni Fejzula, Vincenzo Riccardi, Dennis Menheere, Jorge Corona, Liana Kangas, and Jordie Bellaire for the year's most mind-bending series.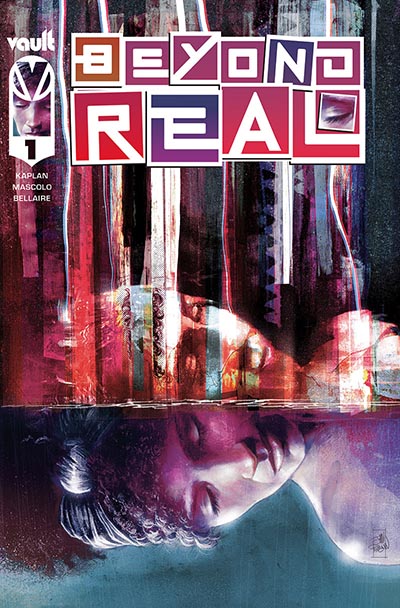 Vault Comics showed up at Comic Con International earlier this week with their biggest slate of programming to date and an exclusive pre-release of one of the year's most anticipated series. Today the company announces Beyond Real, an ambitious and psychedelic series from Zack Kaplan and a lineup of seven spectacular artists whose works will weave together through each issue.
Beyond Real sees Zack Kaplan return to Vault after his recent celebrated series Mindset, joined by a slate of phenomenal artists including Fabiana Mascolo, Toni Fejzula, Vincenzo Riccardi, Dennis Menheere, Jorge Corona, and Liana Kangas. Each issue of this cerebral and ambitious series will see these artists working in tandem, handing off scenes back and forth to each other as part of the narrative structure of this mind-bending story about simulation theory, the creative spirit, and the struggle for self-determination.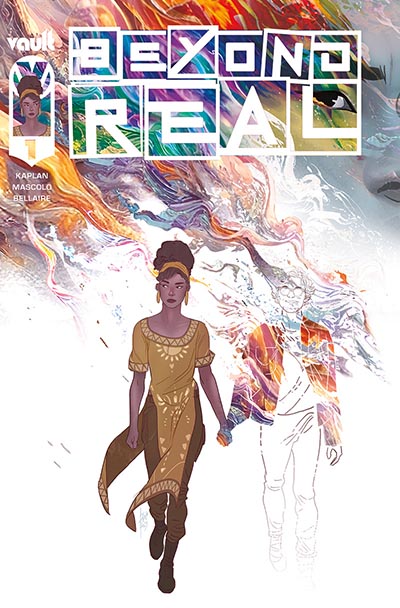 Alternative cover by Fabiana Mascolo
Much of Beyond Real will be colored by the legendary Eisner-winning artist Jordie Bellaire alongside the series artists who will color their own work. The series' lettering will be crafted by Eisner-winner Hassan Otsmane-Elhaou, and every issue will be designed by the inimitable Tim Daniel. Each issue will have a main cover painted by Mindset co-creator and Eisner-winning artist John J. Pearson.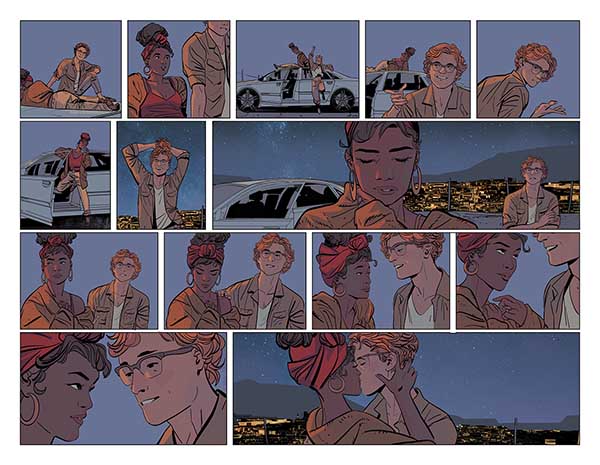 Fabiana Mascolo & Jordie Bellaire
The series follows the struggling artist June following a severe accident which leaves her boyfriend in a coma and causes her to experience bizarre visual phenomena. When she discovers that the world she considers "reality" may in fact be a computer simulation, she must set out on a perilous journey through metaphysical layers of the simulation to reach the true creator and save her love from death.
Fabiana Mascolo & Jordie Bellaire
Zack Kaplan says "Simulation Theory, this odd but engaging idea that we are all living inside a sort of computer simulation, has grown in popularity in the last decade amongst scientists and the public alike. But we often think of this concept in very digital, robotic terms. With Beyond Real, we turn simulation theory on its head, and imagine the layers of life's simulation in the most artistic and astonishing of ways. It's a dark Neil Gaiman-esque adventure series into the unknown, it's a thoughtful and complex character drama about navigating creativity, at times inspiring and unsettling, and it's a love letter to artists and creatives everywhere. We're in an inflection point for creators right now, and it's never been more important to appreciate the challenges they face and respect their profound contributions to our experience in this little world."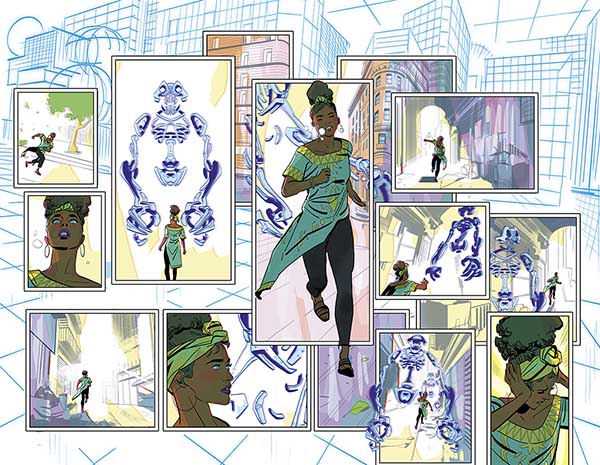 Fabiana Mascolo & Jordie Bellaire
"As a female comic artist, it's invigorating to contribute to a project that defies stereotypes and portrays a strong yet flawed, multifaceted lead character like June" says Fabiana Mascolo. "When that is matched with a thought-provoking story, emphasis on free artistic expression and an array of diverse and talented artists, it's hard not to be absolutely thrilled to be a part of it. While working on the first issue of Beyond Real, one of the most exciting aspects for me was the approach to page layout and visual storytelling. There was an effort to break the traditional boundaries of the comic-book page, incorporating meta-comics techniques to convey the depth and surrealism of June's journey, as well as the emotions and chaos that constellate her experience. I love it when that happens, and I'm so happy Vault backed this project and its bold scope, without imposing any limits on the artists' creative freedom. I am very excited for the readers to grab a copy and embark on a compelling, inspiring adventure that will ignite their imaginations and – who knows – maybe leave them questioning the very nature of reality itself."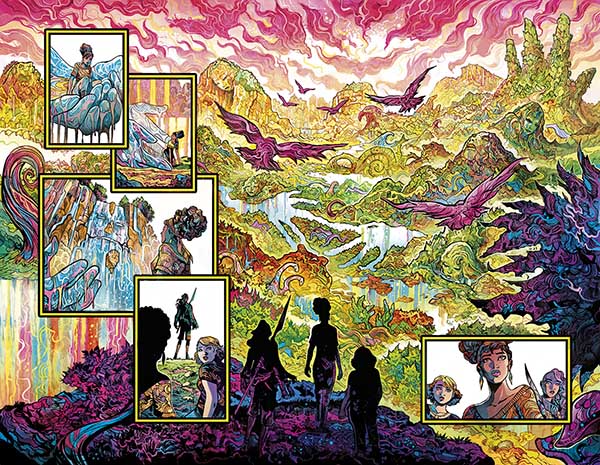 Vincenzo Riccardi
"Zack and The Vault crew offered me the opportunity to participate in this unique, collaborative experience that I simply couldn't resist," says Toni Fejzula. "The story is amazing, and the artistic challenges, regarding the designs and the overall shaping of my part of this universe, are so, so high… how could I say no? I'm so proud to be a part of it, indeed."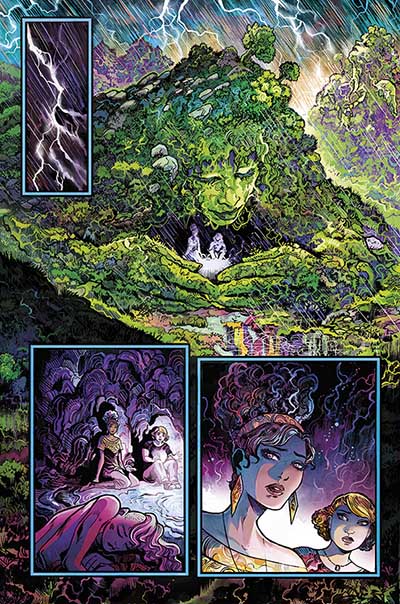 Vincenzo Riccardi
"For my part of the story I had the opportunity to create pages using my most personal and colorful style," added Vincenzo Riccardi. "It's a fantasy world full of amazing landscapes, creatures and elements and I had a lot of fun, especially on the double splash pages where I was able to really indulge myself. Creating mountains that look like people, mist dragons, water minotaurs, I certainly couldn't complain about the opportunity to be able to draw a lot of different cool elements, and it's been really exciting to be able to take June and her companions on this journey."
Toni Fejzula
Dennis Menheere has a similar joy to share about the process. "The section of beyond real I'm working on is a very relatable one to me; where the artist in question has to decide if they want to forfeit their autonomy in their artistry and take the easy route, or stay true to themselves despite any hardships that might come along. I'm truly very excited about the material I get to work with!"
Jorge Corona adds "The thing I'm most excited about in Beyond Real is how the story perfectly allows all these different styles and artists to blend together in creating the mosaic that is basically a journey through imagination, the creative process, and one's psyche. Funny enough, my section of the book deals with a void/vacuum of all these things. In that space, the challenge was to show in a visually interesting way how June would deal with looking into the abyss and fighting back from it. It is a deeply emotional intense scene that had me hooked as soon as I read it."
Beyond Real #1 hits store shelves in October 2023, and is available to preorder through your favorite retailer beginning today.