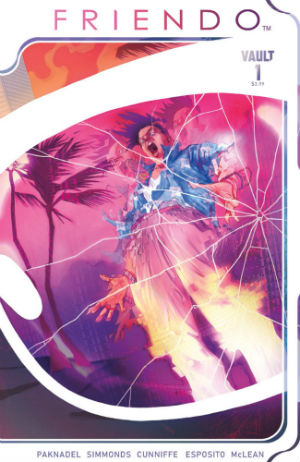 Wannabe actor Leo Joof's life is a mess. Living off his partner Rachael in a near future LA, and reduced to ambush marketing stunts for recognition, even the entertainment news industry drones hovering across the city see him as worthless and irrelevant. Receiving a pair of augmented reality glasses as a present, Alex starts interacting with the AI installed in them – an avatar known as a "friendo" who is seen by the wearer in human form. The personality of "Jerry" (the AI) is based on an analytical assessment of Leo's character and is designed to act as a kind of personalised marketing interface. But events are about to conspire to change that relationship between man and intelligent app in significant and worrying ways…
Promoted as a road movie of a comic, with an odd couple relationship between human and malfunctioning Artificial Intelligence, Friendo #1 introduces concepts and environment with a rapid-fire speed. Rising star writer Alex Paknadel takes very contemporary concerns surrounding our virtual surrender to online influences – both the subtle tracking/marketing kind and the more pernicious manipulations of social media – and refashions them into a futuristic yet very relatable morality play. From the insidious way that Jerry retools himself as Leo's VR confidante through data analysis to the myriad smaller details lurking in the backgrounds of the book (watch out for what one game show contestant is willing to do for a year's free health care!) this is a story that, for all its science fantasy, seems very tangible as well.
That is, perhaps, unsurprising given that Friendo often reads like a metaphorical extrapolation of the perils of our current online existences; not just in terms of the sinister, intrusive influences they attract but also our complicity in the surrender of our own identities. Paknadel cleverly brings this home not by overt preaching but by involving us so fully in the experiences of his protagonist and ensuring we quietly recoil in discomfort at his choices.
It's a busy and involved opening episode which has a lot to establish in a relatively short page count and that does work against the story to a degree. It's hard by issue's end not to come away with the feeling that we've read half of the first chapter with elements of the book's premise still to be established; that the introduction to these characters needed more room to breathe. That, of course, is also a testament to Paknadel's imagination and the scope of the concepts he's developing but it does also point to some of the limitations of serial comics in their incremental narrative building.
Martin Simmonds, who has been making such a mark on Punks Not Dead over at IDW Publishing's Black Crown imprint, provides the visuals and notably employs some neat visual devices to express the reach and nature of the technology involved. One page where conversation between Leo and Jerry (in nascent AI form) is told via glasses-shaped panels impresses upon us Leo's unique experiential interactions with his newfound buddy. His occasional use of parallel but related scenes running in different orientation on pages is also an effective employment of comics' special relationship with the passage of time, and visual characterisation is strong. Particularly in an early sequence of the young Leo with his overbearing father that poignantly reveals much about the reasons for his current outlook on life.
Dee Cunniffe's colouring is a perfect fit for a story that continually blurs the borders between reality and an online simulation of it. In places it feels almost overpowering in intensity, matching and capturing the mood of scenes, and yet also creating something unreal and almost otherworldly… a future that is both recognisable and alien, as befits all good dystopian parables. On the lettering front, Taylor Esposito's border-free speech balloons work to integrate the dialogue into the very fabric of the page in a manner that feels almost organic given Cunniffe's often potent hues.
Undoubtedly, this is a book to keep a close eye out for when it debuts in the second half of September. In these pages we enter a world that is out of control, terrifying and extreme. Strip back the future tech and setting, though, and it's essentially also the one we're living in now. And that's what makes Friendo feel like one of the most prescient and disturbing serial comics of 2018 so far…
Alex Paknadel (W), Martin Simmonds (A), Dee Cunniffe (C), Taylor Esposito (L) • Vault Comics, $3.99
Advance review – Friendo will be available in shops late September
Review by Andy Oliver