It wasn't as if I hadn't already fostered a sense of growing appreciation for the output of Ahoy Comics. Second Coming and Billionaire Island feature the writing of Mark Russell – whose biting satire follows in the comics tradition of the late, great Steve Gerber – after all. But over the last few months, and perhaps in reaction to the ever growing darkness of the real world around us, I have come to enjoy the mix of sheer escapist fun that their range of books embodies with far greater resolution. Their comics don't take themselves too seriously, are offbeat and often unpredictable, and there's that sense of joy to every page that implies every creative team is having an absolute ball bringing these stories to life. Their latest book G.I.L.T. by Alisa Kwitney and Mauricet is no exception, giving us a time-travel tale that just from this opening chapter alone looks set to create its own playful rules in a genre that often feels tapped out.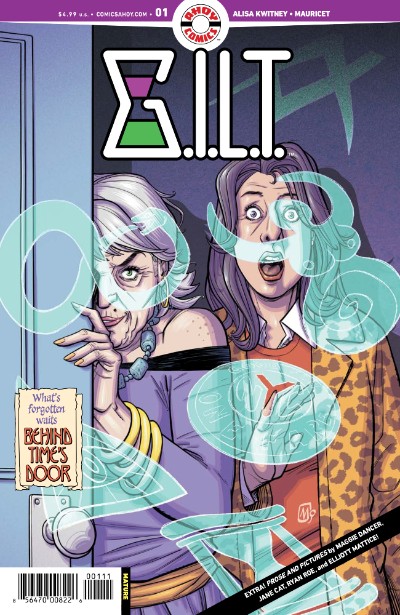 There's a line midway through G.I.L.T. #1 where home health care aide Trista Lefever is advised by Hildy Winters, the older client she is visiting, of the rules of her apartment. "It's my house. You can't just wander whenever you please" she says, with a slip of the tongue that teasingly hints at what is to come. While this first issue is about establishing the two principal characters – the jaded, directionless Trista and the eccentric, acerbic Hildy – and their relationship, we do know that Hildy is part of something called the Guild of Independent Lady Temporalists and that there's a time portal located in her home. But in G.I.L.T., the conventions of temporal adventuring are very different as we discover in this issue's neatly paced, cleverly cyclical cliffhanger…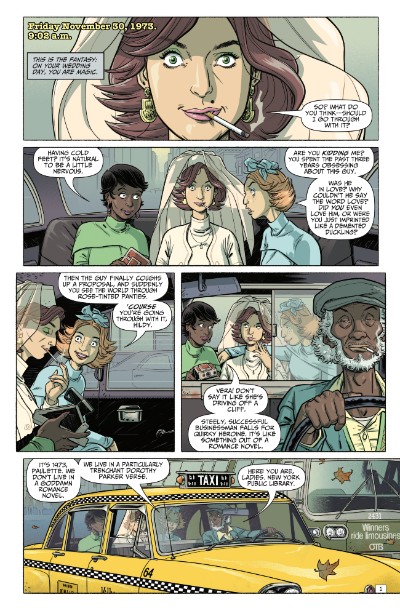 It's interesting, and perhaps a little contradictory, that in a comic where very little is actually revealed about premise and overarching storyline Kwitney and Mauricet still tell us all we need to be immediately hooked. Such is the immediately engaging and sparky dialogue, which quickly grows into knowing banter between the leads, that our focus shifts from the fantasy elements to the circumstances that shaped Trista and Hildy into the people they are today. That's no mean feat in a 20-something page comic but that immediate reader investment only makes the latter time-travel twists all the more enticing.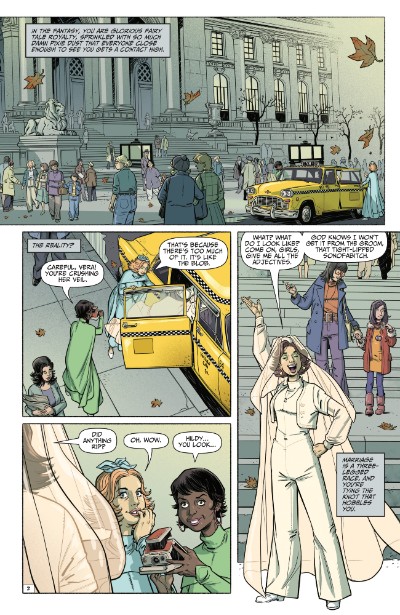 Given the domestic situation that drives this first instalment Mauricet's visual storytelling needs to be inventive in shifting perspectives and visual characterisation, and it succeeds throughout with a buzzing back and forth between Trista and Hildy, and even the odd moment of slapstick humour. There's also a level of consideration gone into character designs and physicality that ensures the duo look and feel like real women, and the emphasis on older leading characters is refreshing in the extreme. A special mention to letterer Rob Steen whose work here guides the eye intelligently around dialogue-heavy sequences.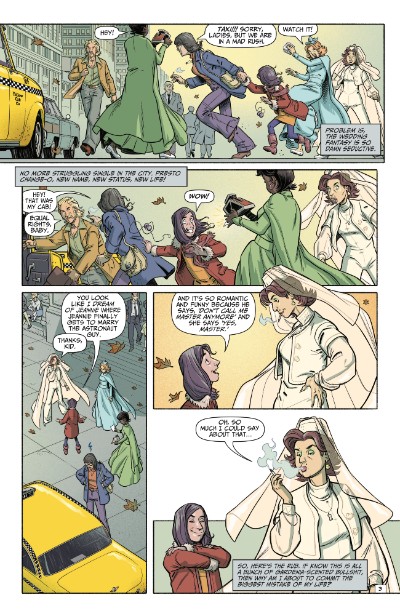 Where Kwitney and Mauricet take us next remains to be seen but this opener, full of alluring hints, mysteries and visual cues, is an impressive and finely structured opener. Witty, captivating and instantly appealing G.I.L.T. is a must-read addition to the ever-growing Ahoy Comics catalogue.
Alisa Kwitney (W), Mauricet (A), Rob Steen (L) • Ahoy Comics, $4.99
Review by Andy Oliver