Press Release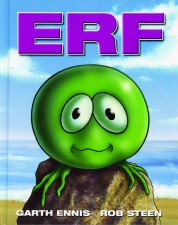 Dynamite is proud to announce their partnership with bestselling writer Garth Ennis (Preacher, The Boys) and celebrated artist Rob Steen (Flanimals) to bring their creative collaboration, a children's storybook called ERF, to comic shops in October.  Originally announced as a project on the crowd-funding website Kickstarter in 2012, ERF received steadfast support by dedicated fans and saw publication initially as a hardcover available to consumers directly.  The Dynamite partnership marks the first time that Ennis and Steen's project will be available through hobby and book market distribution channels.
Set at the dawn of time, ERF introduces its titular character and his three amphibious friends – Figwillop, KWAAAH, and the Booper – as they take their first nervous steps out of the ocean.  Their exploration of exciting new lands beyond the shore leads to a confrontation with the mighty Colossux, a terrifying creature lurking in the prehistoric jungle.  What follows is an evolutionary tale of love and loyalty for readers of all ages.
"The success of ERF was a pleasant surprise," says writer Garth Ennis.  "I'm glad to see the life of the project extended in comic stores on both sides of the Atlantic."
"Garth and I had been looking for a chance to work together, but the last thing I expected was a children's book," says artist Rob Steen.  "All the same, the idea for ERF grabbed me right away and I'm very proud of the end result.  Kickstarter gave us the chance to get this strange little project off the ground and do it the way we wanted.  I'm glad it's now finding a new audience in comics shops in the US, Canada, and the UK."
While numerous publishers took interest in ERF from its inception, Ennis and Steen chose to self-publish the project, thereby maintaining creative control over the story.  They turned to Kickstarter to raise funds, setting a goal of $12,000 to aid in the printing costs.  Thanks to the considerable support of almost 500 backers, the Kickstarter fundraiser was easily met within the forty-day funding period.  The successful venture resulted in a hardcover storybook measuring 8″ x 10″, with 48 full-color pages to tell the tale of Erf and his friends.
An established and successful writer for adults, British comic book writer Garth Ennis took his first foray into the world of children's books with ERF  Living and working in New York, he is best known for the Vertigo series Preacher.  His other credits include The Boys, Battlefields, Crossed, Red Team, and a successful run on Marvel Comics' The Punisher.  He has won the Eisner award for Best Writer.
Rob Steen is the illustrator of the children's book series Flanimals, written by Ricky Gervais.  Other work includes The Things in Ted's Head and Elephantmen.  Flanimals of the Deep won the Galaxy Award in the UK for Best Children's Book.
"We've had the pleasure of working with Garth Ennis throughout the years, publishing The Boys, Battlefields, Jennifer Blood, and The Shadow," says Dynamite CEO and publisher, Nick Barrucci.  "He's a writer who keeps you on your toes, and tells the type of stories that you'd never expect — especially the variety that includes high-impact, thought-provoking, and often controversial 'mature reader' content.  With ERF, he once again does what we'd never expect — teaming with acclaimed children's illustrator Rob Steen to create a story for readers from age four and upwards.  It was a bold move, a success story on Kickstarter, and something that Dynamite feels deserves to be brought to the wide comic-reading audience at hobby stores everywhere."