Press Release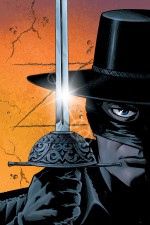 Dynamite Entertainment is proud to announce that pioneering filmmaker Quentin Tarantino and award-winning writer Matt Wagner will be joining the Dynamite 10th Anniversary Panel at San Diego Comic-Con 2014.  The two master storytellers will discuss bringing two Western icons together in Django / Zorro, the official comic book sequel to the blockbuster film Django Unchained, slated for release in November 2014 from Dynamite Entertainment and DC Entertainment.
On stage, Tarantino and Wagner will join Reginald Hudlin, the co-editor of the Django / Zorro crossover and a producer of the Django Unchained film; Nick Barrucci, CEO and Publisher of Dynamite Entertainment; and Joseph Rybandt, the Senior Editor of Dynamite.
The Dynamite 10th Anniversary Panel will take place on Sunday, July 27th, from 2:15pm to 3:15pm, in Room 6BCF.  The panel will be moderated by Alan Kistler, and is open admission to all ticketed convention attendees.
Dynamite Entertainment released a joint announcement with Zorro Production, Inc. and DC Entertainment on June 18th, announcing the Django / Zorro comic book series scheduled for release later this year.  Tarantino (perhaps best known for his films Pulp Fiction and Kill Bill) and Wagner (of the acclaimed Grendel and Zorro comic books) share plot duties on the new series, with Wagner providing final dialogue and Esteve Polls (The Lone Ranger) illustrating the work.
Regarding the Django / Zorro crossover, Tarantino says, "I'm very, very excited about both this story and the opportunity to work with Matt.  It was reading his Zorro stories that convinced me what a good idea it was to join these two icons together.  The story idea we came up with is thrilling, and I think it will be an exciting new chapter for both characters."
"We're extremely grateful that San Diego Comic-Con was able to give us such a great time slot for our panel to help cap off the show, and excited that Quentin and Matt will help headline the panel.  We cannot wait to interact with our fans, talk about our upcoming projects, and answer questions," says Dynamite CEO/Publisher Nick Barrucci.
San Diego Comic-Con International is a multigenre entertainment and comic convention held annually at San Diego Convention Center, this year between July 24th and July 27th.  It is the largest convention of any industry in the Western Hemisphere, with over 130,000 attendees and massive media attention.