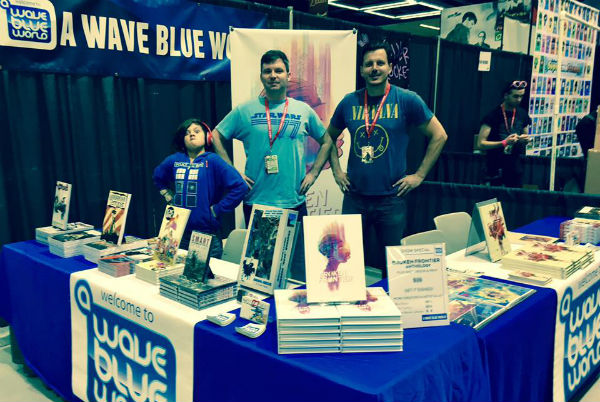 After yet another year of rapid growth at Emerald City Comicon that led to some reorganization of the show floor, including moving Artist Alley all the way up to the sixth floor, I'm tempted to dub ECCC as the "Escalator Con."
Now under the direction of Reed Exhibits (who also run NYCC and C2E2) for a second year, ECCC 2017 (March 2-5) continued its expansion in terms of both its exhibitor and attendee numbers. And since they couldn't make the show floor any wider (they're already using the entire fourth floor and skybridge), they went up. Most notably, this meant putting a double escalator ride between publishers' booths and the artists' tables.
To my surprise, the reaction to this was mostly positive. If artists were concerned that not enough people would make their way up the the sixth floor, it certainly didn't prove to be the case. Not only was the room packed during the entire show, but many people remarked that it had the feel of a much smaller show with its carpeted floors, nice lighting and tables upon tables of comic creators.
I have to admit, despite being on the main show floor myself as a small pr ess publisher, Artist Alley was my favorite part of the show. It was the perfect atmosphere to meet your favorite creators and get some comic signed or pick up some original art. I particularly enjoyed seeing some of the "old-timers" who came out like Jose Luis Garcia-Lopez (below right) and Matt Wagner (below left).
Incidentally, Image Comics will be publishing the third installment of Wagner's Mage series later this year as part of the 15 new titles they just announced at the show. See all of them here.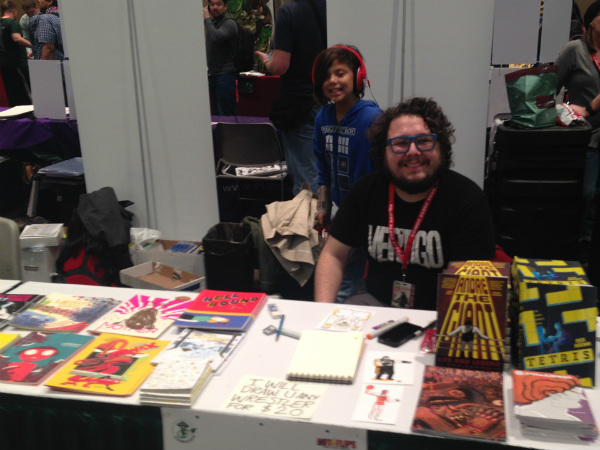 I also stopped by to see some of the recent contributors to the Broken Frontier Anthology including Daniel Warren Johnson (below left), Toby Cypress (below right), and Box Brown (above – making a rare appearance on the west coast).
By far, the longest lines in Artist Alley were for the Deadpool co-creators Rob Liefeld and Fabian Nicieza. My daughter drew Fabian a picture of Deadpool and he let us take a picture of her rubbing his head (this was Howard Mackie's suggestion).
There were a couple of convention exclusives I made sure to grab; Royal City #1 by Jeff Lemire and Extremity #1 by the aforementioned Daniel Warren Johnson. I'm not crazy about spending $10 for variants, but at least I was supporting creator-owned projects and I was able to get them signed.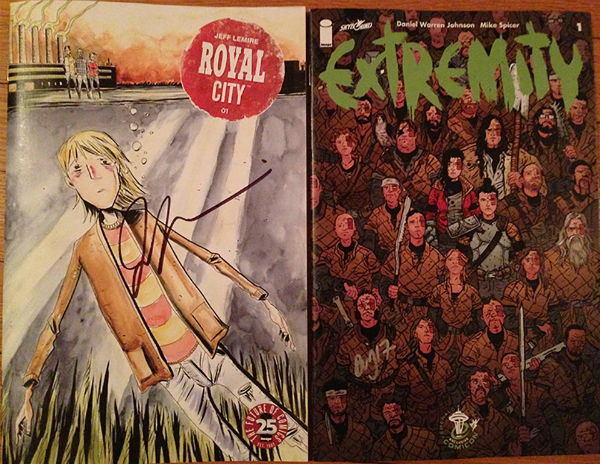 One of the interesting knock-on effects of Artist Alley taking up the entire sixth floor is that the celebrity photo ops had to be moved into rooms previously dedicated to tabletop gaming. This pushed the gaming down to the open halls of the second floor right by the escalators. Once again, I was surprised to find this had a mostly positive reaction. The gamers felt like they were more apart of the show rather than tucked away somewhere. They were very open to new challengers and even took the time to teach young kids the ins-and-outs of the games.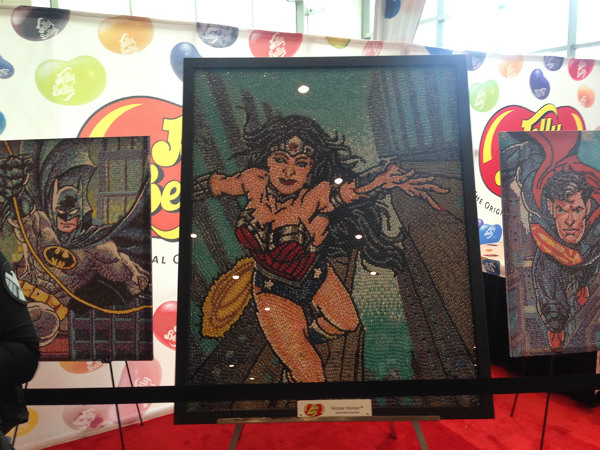 Speaking of kids, ECCC continues to excel at providing extra exhibits outside the show floors for both the young and young-at-heart. Brick Nation features some amazing Lego displays and Jelly Belly was there with some superhero portraits made from jelly beans. They also let you play a game of "jelly bean roulette" where you had no idea what flavor you'd get. And this could mean a pleasant flavor or a disgusting one like "boogers."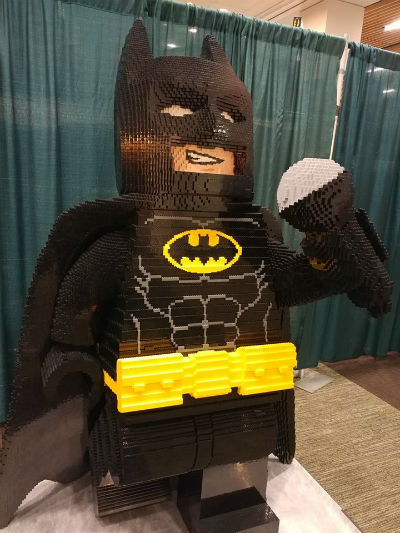 All of this meant the main show was dedicated more to the general "pop culture" appeal than pure comics. But it did have more of a natural flow to it now that artists were moved out. Plenty of room to shop for toys, vintage comics or walk around in cosplay.
I thought this Lying Cat statue from Saga was pretty cool, and this giant Funko Eleven (from Stranger Things) was about as close to any of the celebrity guests that I got (this year included Stan Lee, Jason Momoa, Millie Bobby Brown among others).
I'll cap off this report with the best part of Emerald City Comic Con. Every year they produce an art book called Monsters & Dames featuring the work of exhibiting artists. This is their ninth year doing it and all money raised goes to the Seattle Children's Hospital. Attendees love to pick up this book and go around to all the creators to get it signed.
Justin Zimmerman, who was at the show with me, had a piece in the book and it was a great way to get more people out to our booth. His illustration actually featured characters from his new series The 27 Run, out later this year from A Wave Blue World (my one plug).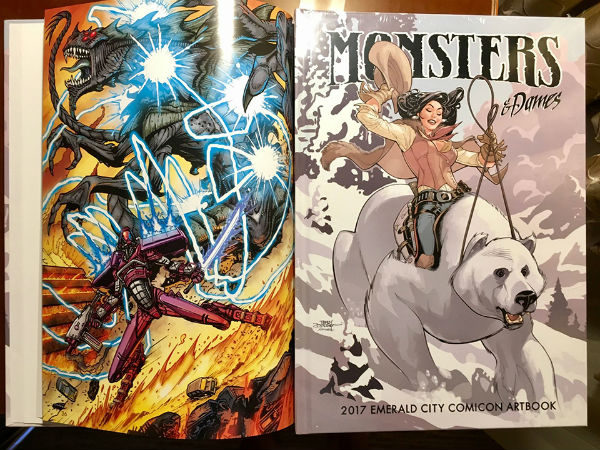 We had one attendee come up who had been getting signatures in the book for all nine years. He remarked that the feel of the book was getting more "cutesy" with the monster and the dame being too friendly with each other. It wasn't so much that he minded the progress from scantily clad women being terrorized by monsters but thought there should be more tension involved. For this reason, he appreciated the piece we included.
That's it for this year. Can't wait to see what they do with ECCC 2018. Maybe some of the exhibitors will be on the roof!