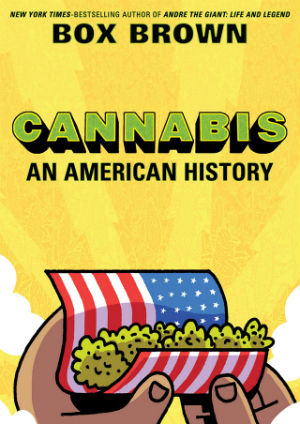 Part biography, part social commentary, and part scathing skewering of fearmongering and dubious science, Box Brown's Cannabis: An American History (published in the UK by SelfMadeHero and in the US by First Second as Cannabis: The Illegalization of Weed) is an intensively researched account of the history of cannabis and the reasons for its perception in the general public's consciousness.
Beginning with a brief introduction into cannabis's origins and its place in mythology, the main thrust of Brown's 244-page visual essay is a socio-political exploration of the reasons behind its illegalisation in the US and the manipulation of reality that led to its demonisation. Tracing its introduction to the Spanish conquests of Mexico in the sixteenth century, Brown portrays its gradual movement northwards after the Mexican Revolution and how it was used by the authorities as a reason to persecute Mexican immigrants.
That's a theme that runs throughout the book; an inextricable link between overt racism and the victimisation of cannabis users. It's a sentiment that begins with Mexican workers and will later be used to oppress a black labour force. Federal Bureau of Narcotics chief Harry J. Anslinger's exacerbates the situation, exploiting his position, ignoring legitimate research and sensationalising accounts of violence linked to marijuana with the help of a complicit media. By the 1970s cannabis had become schedule 1 classified with thousands – usually young black men – criminalised for petty misdemeanours. Not until the AIDS crisis and the realisation of the medical benefits of cannabis does the tide begin to turn.
Clearly extensively researched with a comprehensive bibliography (including pages of easily accessible online content) Brown's skill as graphic communicator is reminiscent of that of Darryl Cunningham in his ability to convey convoluted and complex issues with clarity and visual precision. It's a story of out-of-control deception and injustice on a national level; one that would have global repercussions as the US's influence on the issue was felt on an international level.
Brown's clear line ensures this is an always engaging read; accessibly uncomplicated cartooning married with sophisticated visual storytelling. His playful use of the formal elements of the medium to depict intoxicating effects in ways that only comics could is particularly notable but it's his ability to use that same control of the structure of the page to dispel social myths with a quiet authority that most impresses here. Ultimately Cannabis: An American History is as much a damning indictment on institutionalised societal racism and paranoia as it is a plea for a more open and realistic approach to cannabis use. This is graphic journalism at its most piercing and commanding.
Box Brown (W/A) • SelfMadeHero/First Second, £14.99/$24.99
Review by Andy Oliver