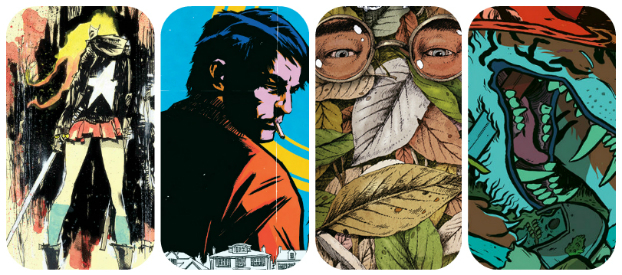 It's nearly Wednesday, and you know what that means: a fresh load of comics and graphic novels! With so many publications hitting your local comics store or digital storefront, the BF team are here to lead you through the woods with our weekly staff picks. Satisfaction guaranteed!
Comic of the Week
Dirty Rotten Comics #10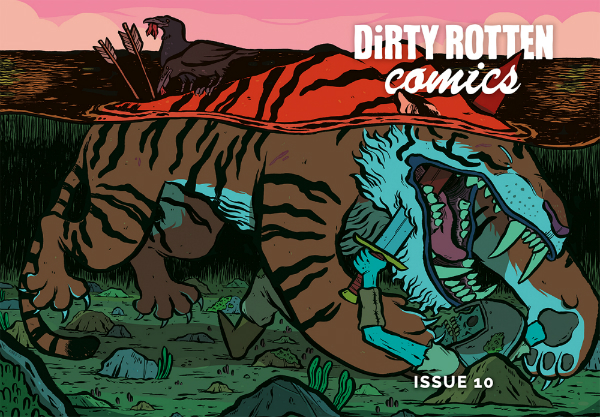 When Dirty Rotten Comics emerged in 2014, as a new platform for both wannabe creators and more well-known artists, it was one of the most significant developments for the UK small press scene over the last two or three years. It wasn't exactly a game-changer – there have been anthologies filling a similar role in the past and no doubt there will be in the future – but it came at a time when the scene seemed to have moved away from such enterprises. There was a void that needed filling and DRC not only filled it but did it with infectiously enthusiastic style. It's hard now to imagine British small press comics without them.
To celebrate their tenth issue, editors Kirk Campbell and Gary Clap have curated the first all-colour issue in DRC's history. And what a line-up of short stories it includes! Naturally we're going to emphasise the fact that no less than seven Broken Frontier 'Six to Watch' creators have work herein (Peony Gent, Rozi Hathaway, Josh Hicks, Emily Rose Lambert, Jey Levang, Danny Noble and Olivia Sullivan) but the issue also includes a brilliant Lucie Ebrey cover and comics from the likes of Julian Hanshaw, Alex Potts, Tim Bird, Matthew Dooley and many, many more.
You can pre-order what will, no doubt, be one of the biggest UK small press events of 2017 online here and check out an exclusive Broken Frontier preview here. This one is not be missed!
Anthology – Various creators • Throwaway Press, £8.99
– Andy Oliver
You & a Bike & a Road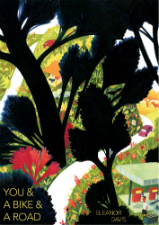 Eleanor Davis's account of her cross-country solo bike trip was recently reviewed by Broken Frontier's Ally Russell who described it as "a remarkable achievement for both the cartoonist and the amateur cyclist behind it." You can read the full review on the site here.
Employing a looser, sketchier style than some readers may be used to, Davis provides an anecdotal travelogue that touches on the therapeutic nature of her journey, a landscape that is ever shifting in terms of both culture and environment, and the diverse characters she meets along the way.
In their tenth anniversary year Koyama Press are releasing some cracking projects. Each and every one of them will undoubtedly be worth your while. This one is a most excellent starting point…
Eleanor Davis • Koyama Press, $12.00
– Andy Oliver
4 Kids Walk into a Bank #4

I've been a huge fan of this series since it debuted last year. Unfortunately, circumstances beyond the creators' control have caused numerous delays in its regular publication. In this welcome fourth installment, Paige, Berger and the rest of the crew uncover new secrets about her father's plan to rob a bank, and once again but heads with the gang of fools putting him up to the job.
Rosenberg's crackling dialogue and tight plotting move the story along at a brisk pace. As ever, his comedic timing is absolutely on point, aided and enhanced by Boss' expressive visuals. 4 Kids is one of the few books available today that will make you laugh out loud until you cry—and maybe even vice versa.
Matthew Rosenberg (W), Tyler Boss (A) • Black Mask Studios, $3.99
– Jason Wilkins
Crawl Space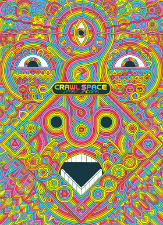 When last I reviewed a Jesse Jacobs comic at Broken Frontier – the quite brilliant foray into an alien landscape in Safari Honeymoon (also from Koyama Press) – I described it here as "a spellbinding use of the form". As part of Koyama's Spring launch of books Jacobs returns to the publisher's line-up this week with Crawl Space, a tale of suburban youngsters discovering a strikingly hued realm of otherworldly creatures that exists in distinct contrast to their mundane reality.
Jacobs has a proven track record when it comes to creating bizarre new realms on the comics pages with their own internal logic and, in a week of multiple "must-buy" releases from Koyama, this one must be the near the top of any indie fan's wishlist. Look for a full review on Broken Frontier in the near future.
Jesse Jacobs (W/A) • Koyama Press, $19.95
– Andy Oliver
Resurrection Perverts: Hunter's Point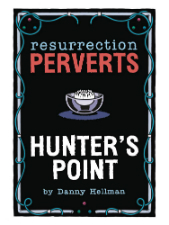 Set in a world just a little way in the future from ours, Resurrection Perverts: Hunter's Point is the first in a continuing graphic novel series that begins with porn baron Harry Homburg hoping that his publishing empire will be saved from financial disaster by the set of compromising photos he has of the US President. But fate has other plans for him and one pivotal encounter will send his existence spiralling off in the weirdest of new directions…
Created by Danny Hellman (Bizarro World, Last Gasp Comics & Stories) this darkly humorous opener is presented in striking one-page panels and published by Alternative Comics, that ever reliable promoter of all things alt and indie.
Danny Hellman (W/A) • Alternative Comics, $15.99
– Andy Oliver
Grrl Scouts: Magic Socks #1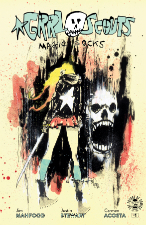 It's been a while since Jim Mahfood brought out a new Grrl Scouts adventure—Image Comics published Grrl Scouts: Work Sucks 2003—and with this week's debut of his creator-owned Grrl Scouts: Magic Socks #1, it's clear that Mahfood still enjoys tossing Gwen, Daphne, and Rita into the non-stop action of Freak City. If you follow the artist on Twitter, you've been treated to the occasional sneak peek at the psychedelic world he's perfected for these badass characters—his style has evolved from the strictly street-inspired look of 2003 to one that also includes more abstract page construction, and you're going to enjoy it.
As is customary with Mahfood, the book comes with bonuses that are worth the cover price on their own, including art, a soundtrack listing, some images from his sketchbook, and a look behind the scenes. This is an in-your-face indie wild ride that I recommend to all fans of underground comix, alternative comics, street art, and the artist.
Jim Mahfood (W/A) • Image Comics, $3.99
 – Karen O'Brien
Outburst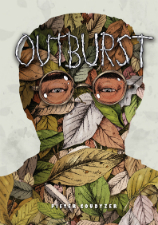 Another fine publishing outfit celebrating their tenth anniversary in 2017, SelfMadeHero release their latest graphic novel offering this week in the shape of Pieter Coudyzer's Outburst; a bleak fantasy coming-of-age story.
Tom is the isolated loner of the class with a love of the natural world. But when the school bullies go too far he reaches breaking point and the power of his imagination is unleashed…
From the darkly entrancing preview pages that are available, animator Coudyzer's debut graphic novel looks utterly stunning. SelfMadeHero are one of the UK's most exciting publishers of the moment. Check out Outburst this week to see just why that reputation is so deserved.
Pieter Coudyzer (W/A) • SelfMadeHero, £14.99
– Andy Oliver
Sunburning
It's two years ago this very week since I first reviewed the autobio work of Keiler Roberts here at Broken Frontier when I looked at the self-published Miseryland which compiled a number of vignette-style offerings looking into the day-to-day lives of Roberts, her husband Scott and their daughter Xia.
I described it then as "autobiographical comics at their absorbing best – frank, blunt and forthright on the one hand but engaging, inspiring and utterly genuine on the other. A standout offering for those who love accessible slice-of-life comics work."
So I was delighted when it was announced that Koyama Press would be publishing a collection of her work as Sunburning. Roberts is one of those creators who, no matter how acclaimed they are in indie circles, deserves a far wider audience and one whose refreshingly candid work will appeal to non-traditional comics audiences as much as enthusiasts of the form. Grab Sunburning this week to see exactly why.
Keiler Roberts (W/A) • Koyama Press, $12.00
– Andy Oliver