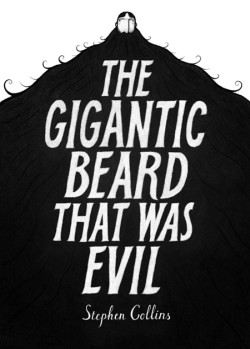 At the Edinburgh International Book Festival this afternoon the winner of Graphic Scotland's inaugural 9th Art Award for the best full-length English language graphic novel of the last year was announced. The judging panel consisted of respected champion of the medium, author and Comica Festival director Paul Gravett, arts critic and broadcaster Hannah McGill, the writer of acclaimed OGN Dotter of her Father's Eyes Mary Talbot, and Freight Books publisher and Gutter magazine co-editor Adrian Searle. The book to walk away with the award was Stephen Collins's The Gigantic Beard that was Evil published by Jonathan Cape; a quirky parable in the vein of a darker Dr. Seuss story that has endeared itself to critics with its honed hirsute humour, and a graphic novel that further cemented Collins's reputation as an artist with a canny command of the comics canvas.
What was so exciting about this particular accolade was that the deserving books on the shortlist so fully represented just how eclectic the comics form can be in terms of presentation and approach. Of the other nominees Chris Ware's tactile, immersive and interactive Building Stories (Jonathan Cape) has been widely lauded, of course, as a triumph of alternative narrative technique, while regular BF readers will remember that Glyn Dillon's gorgeously crafted The Nao of Brown (SelfMadeHero) was the winner of our own Broken Frontier Awards for 2012 in the category of Best Graphic Novel (review here by BF's Bart Croonenborghs). Its thoughtful and memorable examination of a young woman living with mental health issues has already been rightly praised as a contemporary classic.
Of Joff Winterhart's beautifully observed  tale of a dysfunctional mother-son relationship in Days of the Bagnold Summer (Jonathan Cape) I said, when I reviewed it here last year at Broken Frontier, "At turns deeply poignant and desperately funny, Winterhart's creations will touch you in a way that few comics characters do. Days of the Bagnold Summer sees stroppy, monosyllabic adolescence and resigned, weary middle-age come crashing together in a tender and agonising clash of generations."
And Hannah Eaton's fusion of slice-of-life comics with the mysteries of folklore in Naming Monsters (Myriad Editions) is, quite frankly, one of the most memorable graphic novels I have covered in seven years at BF. No wonder then that I described it as "a book that rewards a second reading with a finale embodying self-awareness, realisation, and acceptance that is quite beautiful in its cyclical nature. Eaton's idiosyncratic psychodrama is an absorbing mix of the quirky, the sinister, and the very human, and yet another perceptive publishing choice for the Myriad back catalogue" earlier this year here.
Congratulations then to Stephen Collins and Jonathan Cape and, of course, to all the other nominated creators and publishers involved. Five astonishing books that provide a showcase for the robust health and rich diversity of graphic novel publishing in 2013!