Press Release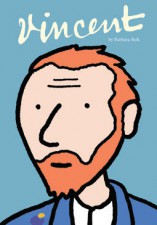 Vincent Van Gogh is arguably one of the world's most popular artists and a man who led a turbulent, tragic life in pursuit of his dreams. During his short stay in Arles, Provence, he had one of his most intense, creative periods and this provides focus for this graphic novel biography by Dutch writer and illustrator Barbara Stok. She captures the vibrant colours of Van Gogh's art and devises a distinctive style to depict his emotional turmoil.
When Van Gogh left Paris for the countryside in 1888, his art became a celebration of the landscapes and the light that the south of France offered. It was a prolific period of painting where he planned to set up an artists' studio. Fellow painter Paul Gauguin joins him briefly before increased bouts of
mental illness destabilise him, leading to him cutting off his ear and taking up residence at Saint-Rémy asylum before his eventual suicide in 1890.
Barbara Stok's vibrant clear storytelling evokes the energy, colour and passion of Van Gogh's work, peppering the story with excerpts from the insightful letters to his brother Theo, celebrating the landscape of cypresses, corn fields, and almond trees. An affectionate tribute to a revered figure, she also reinterprets some of his most acclaimed paintings, including Sunflowers, Vincent's Bedroom, Wheat Field With Crows and, of course, Starry Night.
Officially commissioned by the Van Gogh Museum in Amsterdam, VINCENT is the second in SelfMadeHero's Art Masters series. Future volumes will focus on Picasso and Dalí. Published in the UK on 6 March.
Paperback | £12.99
144pp | Full Colour
ISBN 978-1-906838-79-9