Press Release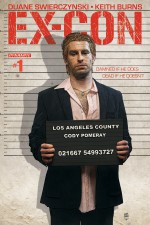 Dynamite is proud to present the next book in a series of creator driven comics, featuring all new characters from the industry's best and brightest! Ex-Con is written by the acclaimed author Duane Swierczynski (Cable, Deadpool, Judge Dredd) – accompanied by the incredible art of Keith Burns! Single issues in this line will be priced at $2.99 MSRP, allowing fans the opportunity to affordably try all of the new series! And to help retailers stock up with confidence, each launch issue will be completely returnable! To sweeten the deal for fans and retailers alike, Ex-Con #1 will feature covers by fan-favorite Tim Bradstreet! Be sure to look for Ex-Con #1, coming this August to September and digital platforms!
Ex-Con #1 begins in 1985 with L.A. con artist Cody Pomeray, who had a gift for looking inside a mark's soul with just a glance. But one fateful night, he targeted the wrong man — and was sentenced to the most savage prison in California. Pomeray would have been beaten to death on his first day if not for the intervention of Barnaby Creed, the most powerful crime lord in the Southland. Now it is 1989 and Pomeray's out on parole, robbed of his special ability and tasked with doing Creed "a little favor." He has no idea he's just stepped into a long con, and this time, *he's* the mark!
"EX-CON is probably my first balls-out crime story for comics, as opposed to other comics that have had a superhero or science-fiction element to them," says writer Duane Swierczynski. "Granted, Cody has an ability that could be considered a superpower, but he's no hero, believe me. Fans who've liked my darker novels — THE WHEELMAN or THE BLONDE, for instance — will feel at home in Cody's twisted little noir world."
Ex-Con #1 will be solicited in Diamond Comic Distributors' July Previews catalog, the premiere source of merchandise for the comic book specialty market, and slated for release in September 2014. Comic book fans are encouraged to reserve copies of Ex-Con #1 with their local comic book retailers. Ex-Con #1 will also be available for individual customer purchase through digital platforms courtesy of Comixology, iVerse, and Dark Horse Digital.