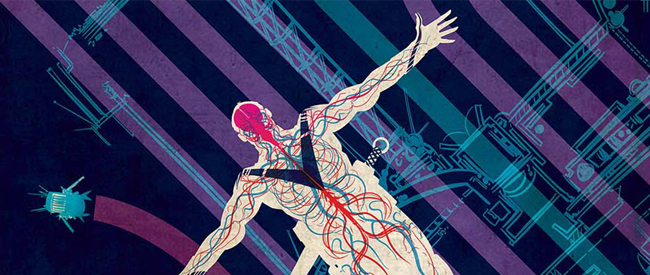 Joe Casey and his crew of crack artistic rangers launch Jack Kirby's cosmic defender into new frontiers of identity and the imagination.
Dynamite Entertainment's latest foray into the Kirbyverse, as it's come to be called, received a much-needed injection of imaginative might this week with the release of Joe Casey's version of the King's classic 1980s space odyssey, Captain Victory and the Galactic Rangers.
This isn't to say that the publisher's previous efforts were off the mark. Kurt Busiek, Alex Ross, and their numerous collaborators did an admirable job during the launch of Kirby: Genesis a few years ago. But these are comic books we're talking about, here.
As such – and for reasons quite unfathomable to the outside world – that means a reboot every so often. Even if the work in question is not only solid but critically acclaimed and popular among fans and fellow creators, the push for better sales and wider exposure always seems to trump good, old-fashioned storytelling.
Thankfully, in Casey, Dynamite has quite smartly recruited one of the few people working in comics today capable of carrying Kirby's vision to the next level of graphic storytelling. Through his constant desire to push the boundaries of the form and an instinctive understanding of the workings of the Kirbyverse, he manages to successfully steer Captain Victory straight into a collision course with our imaginations.
In Casey's version of Captain Victory, the theme of identity is central to the plot, so that readers are set up to discover the titular protagonist through the perceptions of his crew of Galactic Rangers.
Victory's supporting cast is actually more developed than he is in this opening chapter of the series. It is through their efforts and emotional attachment to their commanding officer that we will really come to know him as the series progresses.
The Galactic Rangers are the perfect foils for Victory, each one representing a facet of his personality, realizing a formidable and balanced whole in their beloved leader. As tragedy strikes and the Captain's consciousness is rebooted into two different clones, it is impossible to know which entity – if either – is indeed their recently fallen comrade.
Casey's chronicle of Captain Victory's exploits is a journey through the inner cosmos as much as it is an expedition through time and space. With his identity spliced onto two separate entities, it will be interesting to discover which the various crew members gravitate towards.
Already, thanks to the actions of his second-in-command, Klavus, one can't help but notice the crew is willing and able to do whatever is necessary to ensure not only Victory's safety but his adherence to their mission. We are forced to ask where their loyalties truly reside: the man or the mission?
Casey finds support in his three artistic collaborators, Nathan Fox, Jim Rugg, and Ulises Farinas, each of whom evokes the robust kinetic energy of Kirby's signature style and employs his unique design sense in their depiction of space and technology.
Character designs, despite modern interpretations, remain distinct and eye-catching, if a tad grittier than Kirby was known for. Fear not, though: the Kirby Dot is alive and well in this modern re-imagining!
Each creator also retains his own artistic voice, with innovative, interactive page layouts and seamless transitions. All three artists use a grounded approach to the work, which lends Dynamite's Kirbyverse a refreshing gritty immediacy to balance out the huge ideas and bombastic action.
Smart, surreal, and over the top in that way previously only the King could make us take seriously, Casey and company prove they are more than appropriate scions to his inestimable legacy. One of the best reads of the summer so far, this incarnation of Captain Victory comes highly recommended.
Joe Casey (W), Nathan Fox, Jim Rugg, Ulises Farinas (A) • Dynamite Entertainment, $3.99, August 6, 2014