It's almost Wednesday, and you know what that means: a fresh load of comics and graphic novels! With so many publications hitting your local comics store or digital storefront, BF is here to lead you through the woods. These are the books that need to be on your pull list this week.
Comic of the Week
Captain Victory and the Galactic Rangers #1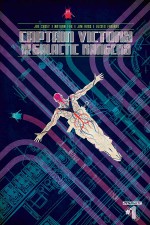 The ever-versatile Joe Casey (Sex) unites with a stellar crew of artistic rangers to chronicle the return of one of Jack Kirby's greatest and strangest creations, Captain Victory, in this new series from Dynamite Entertainment.
There are few creators working today even remotely capable of stepping into the King's rather large imaginative shoes but this
is a project seemingly tailor-made for Casey, who is no stranger to the absurdly cosmic, as shown in his previous work on books like the critically acclaimed Gødland and Catalyst Comics.
Featuring stunning artwork and high-level visual storytelling from the entire creative team, this is a series that pushes the boundaries of Kirby's vast cosmic mythology into the stratosphere, while relating a quest for identity and purpose relevant to modern audiences.
Kaleidoscopic, cosmic action-adventure at its finest, Captain Victory and the Galactic Rangers, like the best of Kirby's creations, reminds us that even when dealing with the high themes intrinsic to our uniquely human condition, comics should first and foremost always be fun.
Joe Casey (W), Nathan Fox, Jim Rugg, Ulises Farinas (A) • Dynamite Entertainment, $3.99

– Jason Wilkins
The Sixth Gun: Days of the Dead #1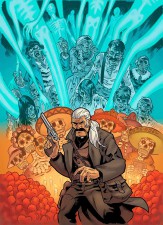 Apart from their heyday in the 1950s, Westerns have never had it easy in comics. 60 years onwards, there are hardly any pure Western series left —  All-Star Western comes to mind, but DC's cancelling it this month. The only way the Wester recipe seems to stick nowadays is when there's a supernatural element added to the gun-slinging as Pretty Deadly and East of West have proven.
But before those two titles saw the light of day, there was The Sixth Gun, which for the past four years has been blazing the trail for kindred titles. It has done so in amazing fashion, with Cullen Bunn and Brian Hurtt crafting a thrilling ride that will soon see its organic conclusion.
Before they reach that point, artist Hurtt joins Bunn behind the keyboard for a prequel story that details how series regulars Brother Roberto and Jesup became the men they are today. Prepare to run into ancient gods, necromancers and the undead!
Cullen Bunn & Brian Hurtt (W), Mike Norton (A) • Oni Press $3.99
– Frederik Hautain
Moon Knight #6
The creative team responsible for resurrecting Moon Knight and making him a relevant (and totally crazy) player in the Marvel Universe is concluding its run with issue #6. And it looks like they are going out with a bang. The Black Spectre is coming to cause trouble for Mark Spector, and we can be sure that the encounter won't be without consequences for both characters.
Warren Ellis successfully embraced some of the more outlandish elements of Moon Knight's origin and make them believable. An ideal artistic team-up, Declan Shalvey and Jordie Bellaire added a sense of mystery to every panel, as if asking us to confirm Spector's reality because he's not sure of it himself. Issue #6 should be a fun (and warped) swan song.
Warren Ellis (W), Declan Shalvey (A) • Marvel Comics, $3.99
– Karen O'Brien

The Ring of the Nibelung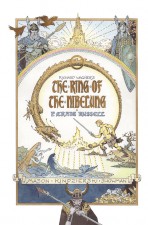 It takes a certain amount of confidence to take Richard Wagner's epic operatic cycle and adapt it into a medium that couldn't carry a tune in a bucket. Fortunately, artistic maestro P Craig Russell – a lifelong opera fan – had both the ambition and illustrative chops to pull it off (with Patrick Mason translating and adapting the original libretto and long-time collaborator Lovern Kindzierski providing colours).
And the way Dark Horse pitches it, you can see how it's the sort of epic story that might appeal to a certain breed of comics reader: "Giants plot against gods, who in turn tear human lovers apart, while the lives of great warriors are ruined, and murder after murder is committed in the name of love and gold".
Collecting the entire work (originally released in monthly form during 2000 and 2001), this deluxe 448-page hardback also includes process art and sketches, notes by Russell and scans of the original pages. The lush quality of Russell's art is a perfect vehicle for this kind of mythic storytelling, which takes place on the biggest scale imaginable.
Patrick Mason (W/Tr), P Craig Russell (A) • Dark Horse Comics, $29.99
– Tom Murphy
On the Trail of Sandalwood Smugglers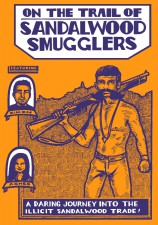 On the Trail of Sandalwood Smugglers recounts the exploits of Agnès Gendry and Simon Constantine, two members of the buying team at cosmetics company Lush, and follows their investigation into the illegal activities that have built up around the trade in sandalwood, a vital ingredient in a number of their perfumes.
Falling firmly into the graphic journalism strand of comics the GN "tells a true tale of deceit, duplicity and decapitation" as the intrepid pair follow a dangerous global route that takes them to New Caledonia, Australia and India in search of the facts behind the illicit trade in this much sought after aromatic wood. With underground style visuals from Chicago-based artist Plastic Crimewave adding to the sense of intrigue this is a book that will both inform and enlighten, as all good graphic reportage should.
Agnès Gendry, Simon Constantine, Plastic Crimewave & Matt Fairhall (W), Plastic Crimewave (A) • Lush Comics, £9.95 
– Andy Oliver
I Was the Cat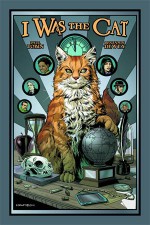 I'm not a cat person, but I'm pretty sure every cat person I meet has theories on how their cat is actually super-smart, or had a past life as a spy, or is plotting world domination. World domination seems to come up a lot. Well, cat lovers unite… here is the graphic novel to validate your claim!
In this imaginative book, written by Paul Tobin and richly illustrated by Ben Dewey, a struggling young journalist and blog-stress Allison has been offered a money-making opportunity too good to turn down – writing the memoirs of a mysterious stranger going by the name of Burma. A stranger with stories of how, over the course of eight lives, he's shaped the world and the path of history. A stranger with remarkable, unbelievable tales and a hidden, darker secret that Allison risks all in uncovering. And this stranger just happens to be a cat.
Paul Tobin (W), Ben Dewey (A) • Oni Press, $24.99

– Conori Bell-Bhuiyan

Usagi Yojimbo: Senso #1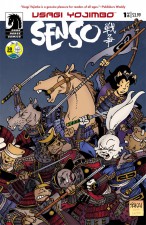 Travel ahead twenty years in the life of Miyamoto Usagi for this new miniseries, Senso. Everyone's favorite long-eared samurai has gone from wandering the lands of feudal Japan as a ronin to serving as a general in Lord Noriyuki's army. With the help of his old friends, Gennosuke and Lady Tomoe, and even his son, Jotaro, Usagi leads the Geishu Clan against the treacherous Lord Hikiji in order thwart his plot to overthrow the Shogunate.
In the fury of the final battle, a metal rocket crashes to earth – and inside is an enemy that neither side could have ever imagined! Witness the final fates of your favorite Usagi characters, in this all-new samurai epic with a startling science fiction twist!
Stan Sakai (W/A)  • Dark Horse Comics, $3.99
– Tyler Chin-Tanner