Dark Horse Comics have announced the next miniseries in the Black Hammer saga, this time featuring Colonel Weird. It's written by Broken Frontier Award-winning Jeff Lemire with visuals by Tyler Crook. The full press release and cover image are below.
Jeff Lemire and Tyler Crook Explore the Strange Origins of Colonel Weird in this Spacetime Adventure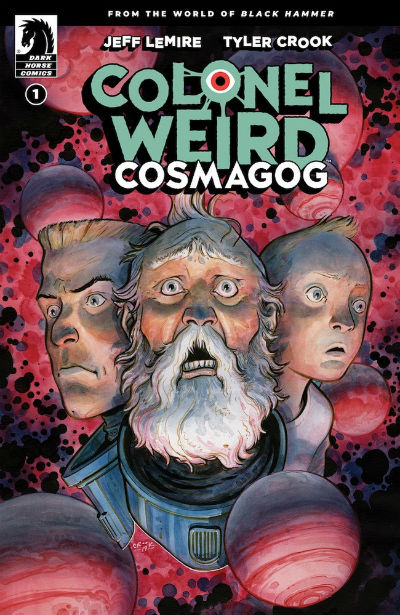 MILWAUKIE, Ore., (January 10, 2020)—From the world of the Eisner Award-winning Black Hammer series comes a bizarre, sci-fi adventure origin story! Black Hammer writer and co-creator Jeff Lemire and acclaimed artist Tyler Crook (Harrow County, Manor Black) bring the next story from the world of Black Hammer: Colonel Weird: Cosmagog.      
Wacky space adventurer Colonel Randall Weird leaves the Black Hammer farm and embarks on a strange journey through space and time for something that he's long forgotten with his sanity and life at stake!
"Colonel Weird has been my favorite Black Hammer character since Dean Ormston and I created him. I've always wanted to do a series where the storytelling would echo Weird's unique mind, and unique perspective. Tyler Crook's work more than lives up to the challenge. This is a deep dive into Colonel Weird's past and his future. This series will answer the question of what happened to him after the events of Black Hammer: Age of Doom."–Jeff Lemire
"I think Jeff and Dean have created one of the most interesting and heartfelt superhero universes that we've seen in decades. I feel lucky to get the chance to contribute to the world. Colonel Weird is a personal favorite because he is the most human and most bonkers of the bunch. The story is full of cosmic weirdness but it's all in the service of telling a touching, personal drama. I'm really excited for readers to see this book!"–Tyler Crook
Colonel Weird: Cosmagog #1 (of four) goes on sale April 22, 2020, and is available for pre-order at your local comic shop.
Praise for Skulldigger + Skeleton Boy:
"Lemire, yet again, delivers a book that is enthralling and visual with the aid of his creative team of Wands and Zonjic. Complex characters and an engaging crime atmosphere add to the already wonderful world of Black Hammer and its accessible to new readers."–But Why Tho?
"With stunning artwork and a bold take on a familiar tension from older superhero universes, Skulldigger + Skeleton Boy is a must-read comic and a worthy choice to start the next phase of the Black Hammer world."–Comics Bookcase
"With an incredible art team and a writer with a strong and cohesive vision, this book is just begging to be read."–Sequential Planet