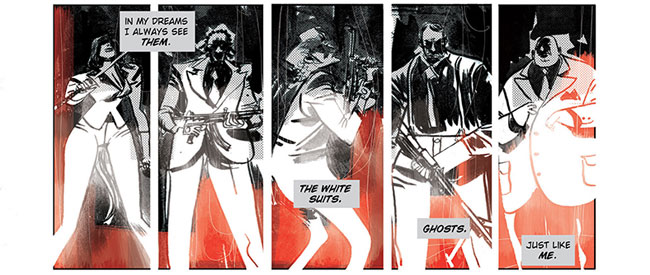 What's black and white and red all over? How about White Suits #1 from Dark Horse, by Frank Barbiere and Toby Cypress – the perfect cure for those 100 Bullets withdrawal symptoms.
On Twitter a couple of days ago, meteoric comics writer Ales Kot asked his followers if they'd like to see a TV version of his eye-opening Image series Zero. And, predictably, the response was almost unanimously affirmative.
Now I've never really understood the enthusiasm comic readers have for seeing their fave works bastardised into other media. At best, adaptations struggle to recreate the almost infinite versatility of comics; at worst, they do a damaging disservice to both the original material and perceptions of the medium as a whole.
And this is where – finally – I get to this week's White Suits #1, the opening salvo in a four-part mini-series by writer Frank Barbiere and artist Toby Cypress. Because the wild expressionistic splendour of the book's storytelling epitomises everything about comics that would be impossible to create in any other medium.
Barbiere launched White Suits in the anthology title Dark Horse Presents a couple of years ago, with original artist Luke Radl, and the story picks up again so steeped in noir that you can almost smell the desperation and hear the mournful jazz soundtrack.
In a lonely bar, we hear the first-person narration of what could be a doomed protagonist: an amnesiac with fractured memories of the White Suits, a gang of ruthless and highly accomplished killers who cut a murderous swathe through the underworld of the Cold War Soviet Union.
Before long, his femme fatale, looking to manipulate him into what could be an ill-judged venture, obligingly turns up: Sarah Anderson, an FBI agent whose father – a State Department official – vanished in the USSR around the time the snappily dressed hit squad was going about its grisly business.
However, far from being a bloody footnote in history, the Suits have turned up in Noo Yoik for a repeat performance. Agent Anderson thinks our memory-challenged man of mystery can help in her mission to find the killers and solve her father's disappearance, and dangles a piece of bait in front of him that he can't resist – the opportunity to discover his identity.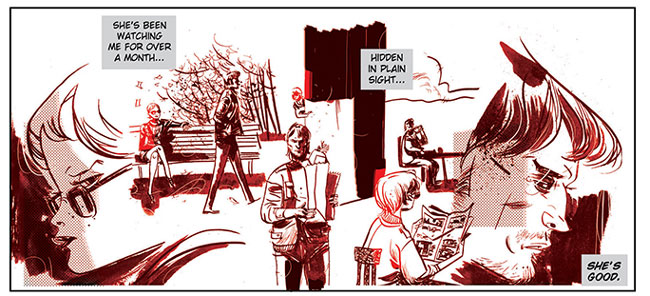 So far, so generic, you might think. But while Barbiere's set-up and script are punchy enough, what really kicks this book to the next level is the artwork of Toby Cypress. Everything about it, from the scratchy, kinetic inking to the surgically precise use of colour, screams sensation.
As early as the spread on pages two and three, we get an idea of what we're in for: a violent story delivered extravagantly, depicting with graphic imagination the narrator's shattered state of mind and hinting at his history. Looking closely at Cypress's style suggests the influence of Paul Pope, Bill Sienkiewicz or Ashley Wood in places – not in a derivative way, but in the way he makes every part of the book's world his own.
And, as in the collaboration of Wes Craig and Lee Loughridge in Deadly Class #1 a few weeks ago, Cypress's colouring choices are crucial here. The book is predominantly black and white, with telling accents of red, occasionally bursting into highly effective (but still stylised) full colour to land a killer blow on a couple of splash pages.
With only four issues to play with, there's a real sense of urgency about White Suits, and a sense that the pace is only going to pick up from here. If you've been suffering withdrawal symptoms since the conclusion of Azzarello and Risso's 100 Bullets, White Suits is definitely the book for you.
Frank J Barbiere (W), Toby Cypress (A) • Dark Horse Comics, $3.99, February 19, 2014