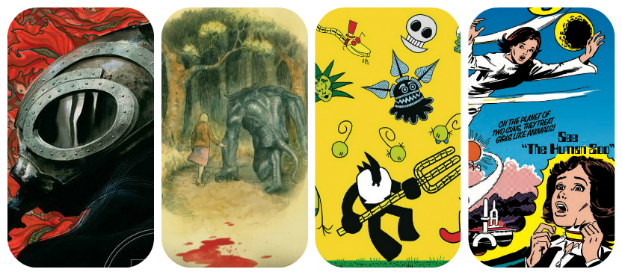 It's nearly Wednesday, and you know what that means: a fresh load of comics and graphic novels! With so many publications hitting your local comics store, comics events or digital storefront, the BF team are here to lead you through the woods with our weekly staff picks. Satisfaction guaranteed!
Comic of the Week
Harrow County #32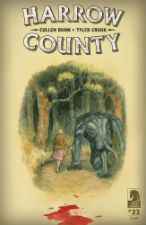 It's been creeping out readers for three years now with its Southern gothic horror overtones, some truly unsettling imagery and tautly paced storytelling but Cullen Bunn and Tyler Crook's supernatural thriller finally comes to a dramatic end this week.
The Eisner-recognised Harrow County has been one of Dark Horse's most acclaimed serial comic books over the last few years. In this finale Emmy faces Hester Beck in an ultimate magical confrontation. Those who have been following the series from the beginning will no doubt be looking forward to that final pay-off. Those who haven't really need to get investing in the trades…
Cullen Bunn (W), Tyler Crook (A) • Dark Horse Comics, $4.99
– Andy Oliver
A Study in Emerald
While Neil Gaiman is certainly no stranger to writing actual comics, there seems to be a new trend to adapt his short prose stories into graphic novels (e.g. last year's How to Talk to Girls at Parties by Gabriel Bá & Fábio Moon).
This time around Eisner-award winning artist Rafael Albuquerque takes on a tale originally told in the short story collection Shadows Over Baker Street, which combined the worlds of Sherlock Holmes and the Cthulhu mythos. Two settings ripe for visual storytelling.
A complex investigation takes the Baker Street investigators from the slums of Whitechapel all the way to the Queen's Palace as they attempt to find the answers to this bizarre murder of cosmic horror!
Neil Gaiman with Rafael Scavone (W), Rafael Albuquerque (A), Dave Stewart (C) • Dark Horse Comics, $17.99
– Tyler Chin-Tanner
Beanworld Omnibus Vol. 1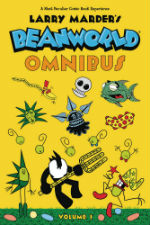 From its early Eclipse days to its Dark Horse Comics re-presentation, Larry Marder's Beanworld has been a truly unique reading experience in comics since the 1980s. This softcover omnibus compilation collects issues #1-21 and is the perfect entry point to a pivotal piece of indie comics history.
This strange environment is home to characters like Mr. Spook, Professor Garbanzo and Beanish but, however odd its eccentric fantasy stylings may seem, at its heart Beanworld is full of more recognisable social commentary. A true alternative comics classic.
Larry Marder (W/A) • Dark Horse Comics, $24.99
– Andy Oliver
Shanghai Red #1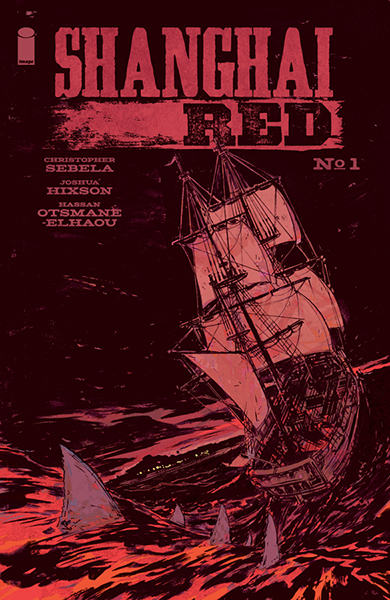 In the late 1800s, being "Shanghaied" was the all too common practice of kidnapping someone and throwing them on a ship headed out to sea where their only choice would be to work as crew or be sold into slavery in a far off land.
Red is a victim of this herself, with the added challenge of needing to hide her gender or face even more serious consequences. Having been backed into a corner, Red leads a revolt against the captain. She  commandeers the ship and turns it back around toward Portland, OR where she plans to find the men responsible for stealing her life out from under her.
Don't miss out on this bloody, revenge tale on the high seas!
Christopher Sebela (W), Joshua Hixon (A), Hassan Otsmane-Elhaou (L) • Image Comics, $3.99
– Tyler Chin-Tanner
Jinty Vol. 1: Land of No Tears and The Human Zoo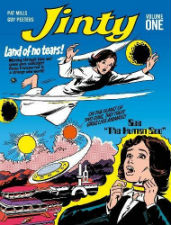 Rebellion continue to spoil us with their repackaging of classic UK weekly comics serials from the 1970s and the 1980s in their Treasury of British Comics range and yet another collection of comics we thought we'd never see again (outside of the original ageing newsprint) hits bookshelves later this week.
The first volume of stories from girls weekly Jinty includes 'Land of No Tears' where schoolgirl Cassy Shaw is transported to a dystopian future where those with disabilities are considered inferior citizens. Volume 1 also re-presents 'The Human Zoo' wherein twins Shona and Jenny are kidnapped by aliens and put on show on their planet.
Pat Mills, Malcolm Shaw (W), Guy Peeters (A) • Rebellion, £10.99
– Andy Oliver
Absolute Sandman: Overture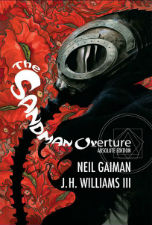 When Dream of the Endless died (kind of) and the epic Sandman series shuddered (gently) to a halt in the late Nineties, there was never any sense that further tales were unimaginable. The sprawling epic that has inspired so many comic fans and enticed so many into the medium since was never particularly chronological or linear in its structure, but it did very much have a beginning. Though the stories told within the Sandman run span aeons the narrative that lead Morpheus (yeah he has lots of names, it's a thing) to his demise began with his imprisonment, and he was only vulnerable to that imprisonment because he was returning from a never detailed epic battle.
Sandman: Overture details that battle. And of course it is stranger, and simpler and more complicated than we could have guessed. And none of it would have been possible without a young blue girl. If you haven't had a chance to read this prequel (of sorts) yet this is an excellent excuse to do so. Usually I am not a big fan of bumper editions with bonus pre-coloured artwork also, but I must confess to being curious as to what can possibly have existed in the first days of Dave Stewart's extraordinary symphonies (see what I did there) of colour.
Neil Gaiman (W), J.H. Williams III (A) • DC Comics/Vertigo, $125.00
– Jenny Robins