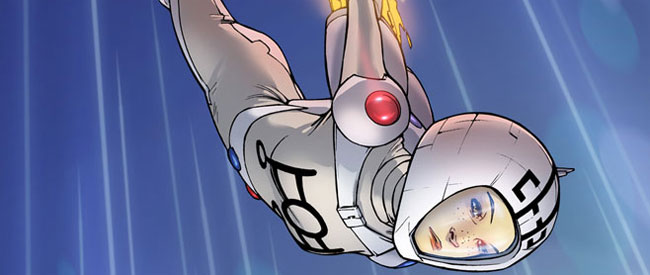 Talk with Amy Reeder and you will be immediately aware that not only does she love comics, she truly understands them as a unique storytelling medium. Her collaboration with writer Brandon Montclare has resulted in Rocket Girl (from Image Comics), one of the best debuts of the last year.
Rocket Girl is the story of teenage time cop DaYoung Johansson, an officer who recognizes that something is drastically wrong with her present 2013 and travels back to 1986 in order to set things right. Overcoming the culture shock is a constant challenge for her, and the executives at Quintum Mechanics are still pulling all the strings in both times. DaYoung has her work cut out for her.
Montclare and Reeder have created an irresistible sci-fi action-adventure story laced with humor and humanity. The second story arc begins with issue #6 to be released on October 8, so you have time to add it to your pull list.
Reeder recently discussed Rocket Girl and shed some light on her creative process.
Can you walk me through your process of laying out a page? What is the first thing you draw? Is your approach different when you have an action sequence versus a more dialogue-driven scene?
Layouts are by far the most difficult for me; and they double as underdrawings for the final page, so they're doubly important.
I find that most of my time is spent trying to visualize what I'd like, and I almost always have to get it wrong before I get it right. And I'm constantly training myself to go as general as possible with it…blocking out shapes and getting super messy. Otherwise I'll have committed to something too quickly and wasted my time on something that's just not right.
It's really all a big mind game I have to play against myself, and I still haven't figured out a system for it that works. I just take however long it takes to know they're done. Luckily, I'm able to recognize when it's good! I know people who toil and toil, only to find out that their first idea was their best.
Brandon leaves some of the action sequences for me to figure out first, and he adds dialogue or narration to whatever I've come up with. But the process for both is fairly the same, really. In some ways it's harder to come up with what you want to do, but it's equally harder to work with someone else's script instead of from your own imagination.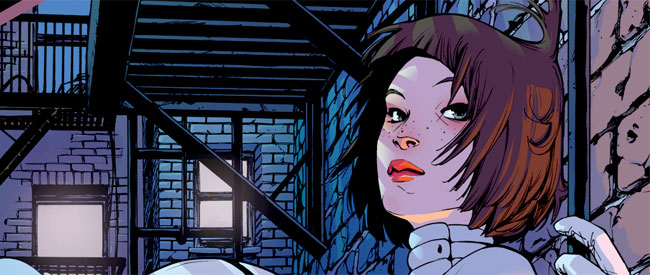 Despite its serious time-traveling save-the-future premise, Rocket Girl has a gorgeous sense of humor that makes the characters endearing. How do you and Brandon collaborate to balance the serious with the humor?
Brandon is amazingly awesome at humor, which is really refreshing to me. I haven't worked on something humorous since I did my own stories in my Tokyopop days, and I didn't realize how much I've missed it.
It probably helps that we're good friends and I'm familiar enough with his sense of humor that I usually understand what he's going for. And he knows I like a good challenge, where the punchline is told physically, sometimes just with a look. I like to be given that sort of responsibility—and being able to pull it off—so he writes it in for me.
What are your favorite sequences/scenes to work on?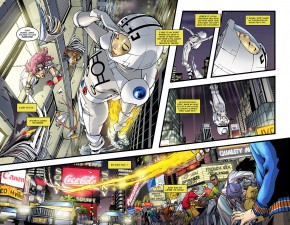 I definitely like the action scenes with DaYoung. The challenge, again, is a fun one, because I get to figure out how far I can stretch myself. Brandon gives me extra space in those pages so I can decide how to play it out…the freedom makes me better able to move the reader's eye around or try something experimental.
I remember Brandon had a short "future" scene in issue #3 with Commissioner Gomez and LeShawn O'Patrick, and I got super excited about it because I loved the "bromance" they had going. So he took it upon himself to write a similar bromancey scene into issue #4 with the two of them. I really can't get enough of those guys.
But really, everything Brandon writes is pretty exciting to draw.
It's obvious that you are having fun with the 1980s. What references have you used to get the '80s vibe correct?
It's a continuous education for me. At first, I watched a bunch of '80s movies and TV shows, did image searches, bought '80s fashion books. But every time I see something new (and that happens quite often—we all love the '80s and love to share!), I add to that library. I have a pretty extensive reference collection.
I think one important aspect to this is that it's specific – this is happening in New York in the '80s. So I have to be careful with the landscape as well as the fashion, and the fashion can't just be '80s middle-American fashion. Sears catalogs aren't going to cut it!
I feel like at this point I can watch an '80s movie and guess within a year of when it was made. But I'll fudge it when I feel like it. Sometimes I insert some stuff that you wouldn't see until '88 or '89 because those were some pretty awesome years, too. Bill & Ted! Excellent!
Can you tell me the specifics of what you use to draw and color Rocket Girl?
I draw mostly by hand… and have pretty unrefined tastes. I use Microns and various fountain brushes and such. I don't own any actual ink that you dip into and don't have the training to use a nib.
I draw on a type of cardstock, which unfortunately has changed its formula! It probably doesn't work well for nibs but it works great otherwise. Hammermill Color Copy Cover. Now it's Color Copy Digital Cover and it's a little too slick. Sturdy stuff, though. I color on the computer with a Cintiq.
Probably the most interesting thing about my supplies is that when I pencil, I have a pencil in my left (dominant) hand and an electric eraser in my right. Electric erasers are the best; double-fisting it like this makes drawing so much easier and faster, and it feels like you're moulding your drawing. I feel like it's something of an equivalent to how some people feel about drawing on the computer.
Rocket Girl #6 is out from Image Comics on October 8.