A strong black-and-white debut from artist Megan Levens is hindered by a sketchy set-up and elusive characterisation.
In Billion Year Spree, his history of science fiction, Brian Aldiss hails Mary Shelley's Frankenstein as the fountainhead of the genre, so it's no surprise that the book and its themes have had any number of treatments down the years.
However, apart from Danny Boyle's stunning production at London's National Theatre in 2011, starring Benedict Cumberbatch and Johnny Lee Miller, the story seems to have been left behind in recent years by the waves of zombies, werewolves and vampires that have led the pop horror charge.
So I had high hopes for a riff on the myth from writer Jamie S Rich, who has established a niche for himself by depicting realistic personal relationships in genre settings. For example, in A Boy and a Girl (Oni), his recent collaboration with Natalie Nourigat, he brought an emotional edge to a tale of advanced robotics and secret government programmes. I was therefore intrigued to see what he and his collaborator, Megan Levens, would bring to a staple of the horror genre.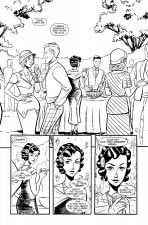 Set around Boston in 1932, Madame Frankenstein (scheduled for seven issues) tells the story of country doctor Vincent Krall, who – in his secret laboratory – reanimates in classic style a young woman called Courtney Bow.
We see the couple introduced, somewhat obliquely, on the comic's interesting first page; the 'male gaze' might be a contentious issue in the industry at the moment, but here – with the focus firmly on Courtney, from Krall's point of view – it fits perfectly.
However, in that key scene we don't see either Krall or the 'Henry' who introduces them (and will also presumably play an important role), and that illustrates the biggest problem with this series opener. As nicely crafted as it is, the first issue spends too much time on the 'money shot' laboratory scenes and not enough setting up the characters and their relationships.
Other than the first page and a few brief flashback images of a fateful car crash, we're not given much of an indication of who the characters are and how they got to this point. (And the waters are muddied a bit further by a scene with Krall that hints at either hallucination or supernatural intervention and threatens to divert the story altogether.)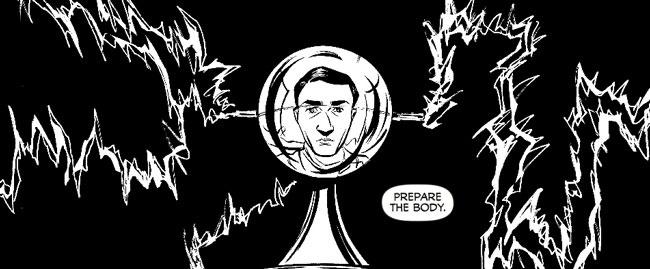 The problem is reinforced by the fact that the 'new' reanimated Courtney – whom Krall names 'Gail' in a nod to the Pygmalion myth, in which a sculptor fell in love with one of his statues (Galatea) – is very much a blank slate (like the lead character in Veil). While we can empathise with her terror and disorientation at being flung into the world, she again lacks much in the way of 'character'.
The series was actually originated by Megan Levens, an experienced commercial artist who's finally making her breakthrough in comics. And she has produced a very self-assured piece of work: her confident line and use of the shadows evoke the period well.
It's no coincidence that the story is set in 1932, as Levens's storytelling makes a knowing nod to the golden age of Universal monster movies. Tod Browning's Dracula and James Whale's Frankenstein, with their iconic lead performances from Bela Lugosi and Boris Karloff respectively, both came out in 1931, heralding a prolific run of classic horror films.

However, even if the central narrative of the first issue is a little sketchy, I think there's enough thematic depth to the story to warrant a return visit. The pre-publicity made much of the book's 'Frankenstein meets My Fair Lady' pitch, and those two narratives have always seemed to me like two sides of the same coin.
Even if we accept that a hubristic scientist could breathe life back into the dead, how would that 'monster'* be socialised? Life might be restored as a series of biological processes, but how and to what extent could that being become a 'person' again?
(* And although we don't see much of the characters, it's clear that poor old Courtney/Gail isn't the real 'monster' of the piece.)

I think Madame Frankenstein is definitely a work that will benefit from being read as a whole rather than as a serialisation, and the debut issue generates enough faith in its creators to suggest that there's going to be a rewarding pay-off.
Rich's work always has a welcome element of humanity and empathy, and he picks his collaborators well; I'm already keen to see Ares and Aphrodite, the book on which Rich and Levens are collaborating for Oni.
However, the end of #1, like an unfortunately timed ad break in a TV drama, might just provide too convenient a dropping-off point for a lot of readers.
Jamie S. Rich (W), Megan Levens (A) • Image Comics, $2.99, May 7, 2014